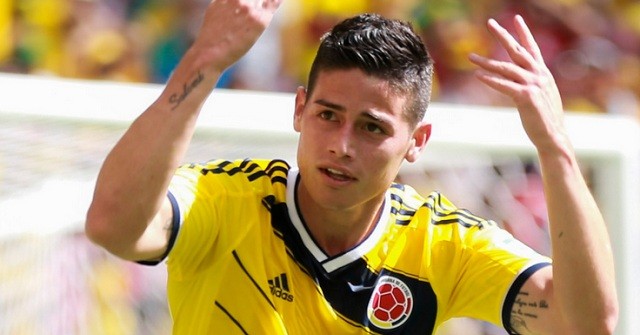 Following the long international break, Real Madrid must stand up again after El Clásico and prepare for the hardest months of the year. On paper, their calendar is easier than FC Barcelona's, yet isn't a time for underestimating any rival. Granada will visit the Bernabéu sitting in the relegation zone. Despite their situation, Madrid's usual groggy form after breaks is something to take advantage of.
Preferred Formation: 4-3-3
With the return of Modrić and now James Rodríguez, Carlo Ancelotti can finally have some peace of mind as all his men are available. There will be one player that won't benefit from this, as there isn't room for 12 men on the pitch. However, this will give the coach a very talented substitute to revolutionize a match, something he has lacked the entire year.
GK: Iker Casillas
His fatal mistake versus Barça might cost him some disapproval from his fans on Sunday. As the end of the season nears, the captain needs to impress and perform very well, as his future at the club is still at stake.
RB: Dani Carvajal
While new boy Danilo won't arrive until the next term, Carvajal must start fighting for the right back now. Granada's weak defense will be ideal for him to exploit his offensive abilities.
CB: Raphaël Varane
Pepe suffered a minor injury that will keep him away for about two weeks. This will give the Frenchman a chance to show his worth again. The rivals won't pose much of a threat, as they are the second team with the least scored goals in the top four leagues.
CB: Sergio Ramos
Involved in extracurricular controversy concerning his contract and salary, it's time to put that in the back seat and work hard until the end. His performances have decreased lately, but that must change if he wants that extra money.
LB: Marcelo
The Brazilian was considered one of the best performers at Barcelona. Hopefully that will be a preview of what he will offer in April and May. Much like Carvajal, Granada has the right defense for him to abuse.
RCM: Luka Modrić
Since his return, the team have relied on his magic to win games. Once his fuel is low, the team starts to decline. With time, he will recuperate his full fitness and be able to distribute his efforts wisely.
CM: Toni Kroos
The world champion hasn't gone back to his old version, still there's hope now that he has his old partners back. At least now he could be benched if he doesn't perform well, since the midfield competition will be high again.
LCM: James Rodríguez
The Colombian is back after two months off the pitches. His clinical passing, crossing and defensive contribution are a breath of fresh air. The original midfield from the start of the season will  finally reunite.
RW: Gareth Bale
Last April he started to write his best pages of his Real Madrid story. He scored that goal in the Copa del Rey final and was important in the conquest of Munich. Hopefully he can channel that form and lead the way for titles again this year.
ST: Karim Benzema
The fight for the titles will depend on his form and the rest of the BBC's. If they don't deliver, there isn't much else that Ancelotti can rely on. He hasn't scored in La Liga since February, so it's time for it to happen again.
LW: Cristiano Ronaldo
Scoring at the Camp Nou should motivate him to recover his killer instinct. He has lost a lot of ground in the Pichichi race in 2015. This is the defining moment of the year and his best form might bring titles home.
(4-3-3)