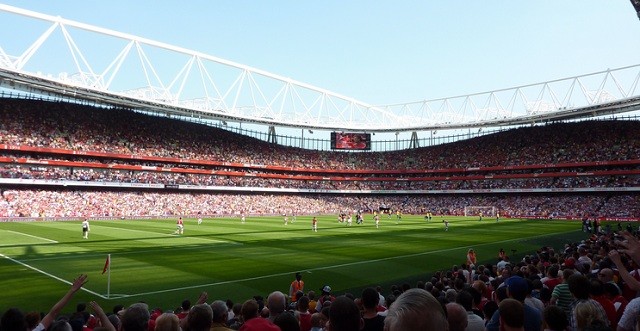 Arsenal and Liverpool clash early Saturday at the Emirates Stadium, in a matchup between two of England's most in form teams.
Arsenal have taken 27 points out of 10 games and Liverpool have come away with 25. Both are vying for a place in the hotly contested top 4. A win for Arsenal would put them 9 points clear of Liverpool, solidifying their bid for 3rd place with 2nd place well in their grasps.
The international break was kind to Arsenal with no injuries reported besides Danny Welbeck, who is still in contention to play this weekend. Liverpool on the other hand, suffered a bit with both Daniel Sturridge and Raheem Sterling returning with injuries. Sterling looks likely to go but Sturridge, who just returned to training on Thursday and should go, had to be convinced apparently.
Further good news was reported when Arsenal were boosted by the return to health of four players who took part in a friendly with Brentford. Mikel Arteta, Jack Wilshere (scored one and assisted another), and Abou Diaby all completed 45 minutes with Mathieu Debuchy completed 60 minutes, in a 4-0 win. None of the four players are in contention to start, Mathieu Debuchy seems the closest, but Arsene Wenger didn't rule out the possibility of them featuring in the squad on Saturday.
Also relevant to the aforementioned friendly match that Diaby featured in, Arsene Wenger as not ruled out giving Diaby a new contract. It seems to be a pay as you play type of deal though.
Arsenal will be without the services of Alex Oxlade-Chamberlain for one more week after just returning to training following a hamstring injury. This could mean a starting place for either Aaron Ramsey or Theo Walcott, depending on how the manager decides to approach the game.
Starting Walcott would send a message that Arsenal are intent on attacking through the counter. This could also leave Arsenal's flanks exposed by the speedy Coutinho and Sterling, who made some interesting comments about Arsenal on Wednesday.
Starting Ramsey would push Mesut Özil out wide and would reduce the available pace on Arsenal's flanks when countering, but add dangerous runs through the middle from Ramsey, and allow for more possession.
Both players are viable options and Arsenal are comfortable with both styles of play. Walcott seems like the most logical option as he is a natural right wing player with a knack for getting into dangerous positions. Betting on logic in football, actually sports in general besides maybe baseball, is not usually a good bet.
Here is Arsenal's probable lineup:
Goalkeeper – Ospina
David Ospina will have to watch out for Coutinho who is comfortable and accurate with his long shots. The Brazilian opened the scoring against Arsenal in their previous matchup and Arsenal will want keep a close eye on him.
Right Back – Bellerin
The fact that Debuchy completed 60 minutes during this week's friendly points to the Frenchman returning to fitness quite soon. Saturday may be too soon though and Hector Bellerin will keep hold of his place and put up a fight against the experienced Debuchy for the remainder of the season.
Competition for places in a staring eleven is healthy and both players should push each other for the rest of the season.
Left Back – Monreal
Nacho Monreal seems like safe bet in this match as his defensive qualities are most suited for Liverpool's pacey attackers. While Kieran Gibbs may be faster than Monreal, the Spaniard is more conservative going forward and more effective when doing so.
Gibbs tends to leave himself exposed a couple times a game, something that Monreal hasn't done much this season. Liverpool will look to try and expose Arsenal out wide and Monreal is a good counter to that.
Center Back – Gabriel & Koscielny
Liverpool lack an aerial threat in their front three if Mario Balotelli doesn't start (he won't), they make up for that in speed though. The combination of Gabriel and Laurent Koscielny is most suited to this threat as both are fast players and excellent in the air. This means that Per Mertesacker will be on the bench.
This would mark the 3rd time in 4 appearances that Koscielny and Gabriel are paired together when Gabriel is fit to play. This could mean that Mertesacker may soon be deemed as the third center back option, with Gabriel and Koscielny being the preferred pairing of the future.
This shouldn't mean that Mertesacker leaves at the end of the year though as Arsenal have finally established depth in this position.
Defensive Mid – Coquelin
With the return of Arteta, Francis Coquelin finally has some genuine competition for his place in the team, Arteta will have to put up a fight though.
Coquelin will be key in neutralizing Coutinho, who tends to roam a bit, while two out of Santi Cazorla, Ramsey, and Özil will be tasked with containing either Jordan Henderson, Joe Allen, or Lucas Leiva, higher up the pitch.
Central Mid – Cazorla
With Cazorla starting here, it means that Ramsey will be on the bench. Wenger doesn't like to tinker with a winning midfield formula, and the combination of Cazorla, Özil and Coquelin have been part of Arsenal's best run of form in the league this year.
Attacking Mid – Özil
He has showed more willingness this season to contribute defensively. This may the most welcoming of all his new found attributes this year as he is less of a liability. The confidence he is showing in his attacking game probably plays a role in his willingness to defend as does his new "buffness".
It's no accident that Arsenal's best run of results coincided with Özil's return from injury back in January.
Wide Right – Walcott
If Welbeck is healthy than he starts as he seems to be the preferred choice behind Oxlade-Chamberlain. Indications are though that thoughts of Welbeck being fit for Saturday are optimistic. This leaves Walcott is the most natural player to fill this role.
I get the feeling that Walcott is going to make 1 or 2 major contributions that will be important to Arsenal's campaign, regardless of how Wenger uses him. He is the kind of player that only needs 1 or 2 chances to make a huge impact for his team.
His absence in the first team is puzzling but has been written about to death. The issue is most likely a combination of fitness and the fact that Arsenal have completely transformed to a different team since he injured himself over a year ago. An influx of new players and improved players in Walcotts position, puts him in a spot he hasn't been in at Arsenal before.
Walcott is a player rises to challenges though, and that's why I fully expect him to make a significant contribution at some point in the next two months.
Wenger still values Walcott's abilities and knows that he can be an important asset to the team. He is not afraid to use him.
Wide Left – Alexis
Alexis played 90 minutes for Chile against Brazil, but the match was held at the Emirates, so no travelling for the fatigued Chilean. Considering the match was on Sunday, he has had a good rest and should be refreshed for Arsenal's run in.
He is due for a goal and for some reason players who almost make the switch to Anfield but don't in the end, tend to score against Liverpool.
Striker – Giroud
Olivier Giroud recently spoke about how the arrival of Alexis has pushed him this season and that he wants to outscore his teammate by the end of the year.
This is friendly and healthy competition and both have contributed to Arsenal in immense ways during different parts of the season. Alexis sits at 19 goals in total and Giroud at 17. Most of Alexis' goals came in the first half of the season while most of Girouds have come since January. This shows what a signing such as Alexis does for other players in the team and how it improves squads in different ways.
With Marten Skrtel missing for Liverpool due to suspension, Giroud will jostle with Kolo Toure, Emre Can, and Mamadou Sakho. This should be a physical affair between one of those three center backs and Giroud, and could be a key to the game. Without Skrtel though, my money is on Giroud.
(4-5-1)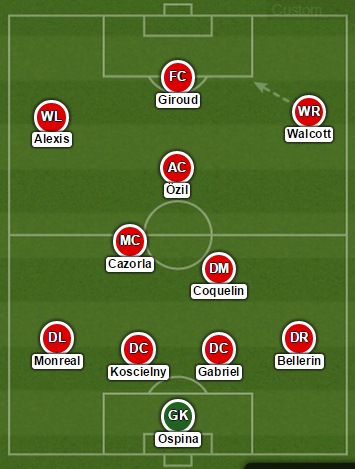 Via – Lineup Builder