Both good and bad things came from the international break for Brendan Rodgers and Liverpool. They were able to recollect themselves after the loss to Manchester United that put a dent into their top four hopes and Steven Gerrard was able to celebrate his career with a fantastic charity match.
On the other hand, both Raheem Sterling and Daniel Sturridge suffered injuries during the break. Sterling should be healthy enough to play this weekend but Sturridge will have to prove to Rodgers and the team doctors that he will be good to go.
The team faces an Arsenal side that has won six straight in the Premier League and will be looking to cement its third place status in the league standings. While their defense can be a bit leaky, the team's offensive talent is capable of scoring goals in bunches.
Goalkeeper
Simon Mignolet will have his work cut out for him since he faces an incredibly dangerous Arsenal attack that has scored the third most goals in the Premier League this season. With creative players such as Alexis Sanchez, Alex Oxlade-Chamberlain and Santi Cazorla supporting the fantastic Olivier Giroud, the Gunners are capable of scoring at any time in the match.
Center Backs
With Martin Skrtel likely out for the next few matches, Emre Can, Kolo Toure and Mamadou Sakho will have to work together to keep the defense from creaking this weekend. While they do not necessarily possess the speed to keep up with the tricky Arsenal attackers, their tackling ability, as well as the leadership of Toure should be able to keep them afloat.
Right Wing Back
Lazar Markovic may the player who benefits the most from Sturridge's injury, the Serbian winger could regain his spot in the starting 11. His energy is always welcome out on the wing and he should help the defense more than Sterling, who played out wide the last few games. He should also try to exploit the space that the Arsenal left back could leave behind if he charges forward.
Center Midfield
The Reds' midfield of Jordan Henderson and Joe Allen should be able to keep up with whoever starts in the opposing team. They have become comfortable playing with each other after playing so many matches together and it will be interesting to see if Rodgers keeps it going now that Lucas Leiva is completely healthy after a long stint on the sidelines.
Left Wing Back
Alberto Moreno will likely be challenged by another speedy player in Oxlade-Chamberlain. The Spanish winger really struggled against Manchester United, he was caught put of position for Juan Mata's first goal and had a hard time communicating with the back line for the second. He will need to be much better if the Reds want to win the match.
Forwards
The Liverpool attacking trio of Adam Lallana, Raheem Sterling and Philippe Coutinho may actually be better than one that includes Sturridge. They have been playing together for most of the season and Coutinho excelled in the last meeting against Arsenal where he opened the scoring.
Sterling will have to make sure that his ongoing contract talks do not distract him from playing his best. All three have the speed and creativity to exploit any mistakes that the Arsenal defense commit, they just have to make sure that they take advantage of those chances.
(3-4-3)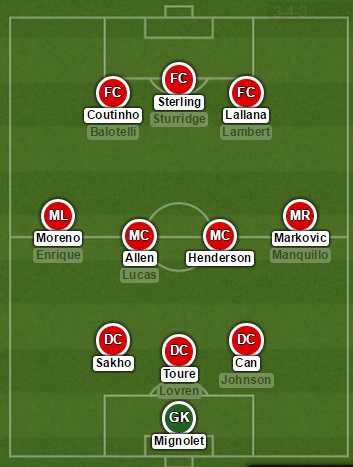 Via – Lineup Builder