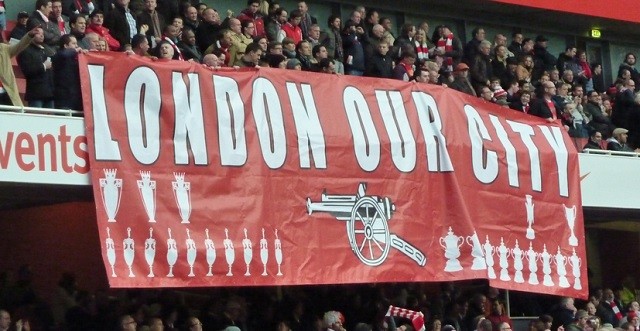 Surely everyone can agree that the most satisfying element of supporting a team is seeing them achieve success. But not far behind the joy one can feel when your rivals fails. In recent history, Tottenham has supplied Arsenal supporters with many great moments. In honor of April Fool's Day, it is only appropriate to reminisce.
Lasagna Wooaahhh Lasanga Woaahhh
Entering the final weekend of the 2005-2006 season, Tottenham led Arsenal in the race for 4th place by a single point. Tottenham were due to play West Ham at Upton Park, while Arsenal would be up against Wigan in what would be their last ever match at Highbury. With their destiny in their own hands, Spurs entered the match needing only to match Arsenal's result to claim superiority.
The night before the match, which was no different than any other, would end in disaster. Edgar Davids, Teemu Tainio, Michael Dawson, Aaron Lennon, Radek Cerny, Robby Keane and Michael Carrick, all fell ill from what they claimed was a bad batch of lasagna. Their sickness was to such a degree that Tottenham attempted to postpone the game. Their pleas with the Premier League fell on deaf ears and they were forced to play the game with 10 sick players.
The end result was a 2-1 loss to West Ham, while at Highbury, a memorable Theirry Henry hat trick secured a 4-2 victory for Arsenal. Arsenal reclaimed 4th place and spot in the Champions League.
The day was meant to be a turning point for Tottenham who had not finished above Arsenal for 11 years. The big lights of the Champions League were beckoning, yet they were left to wonder, "What if we had ordered the chicken?"
Arsenal supporters have not let Tottenham forget their misfortune and have created a song in their honor.
Tottenham fans celebrate a non-existent Newcastle equalizer
Arsenal entered the final day of the 2012-2013 season, 1 point ahead of Tottenham, where yet again 4th place and a Champions League place on the line. Arsenal fans had already taken much joy from Tottenham's epic collapse. In early March, Tottenham had beaten Arsenal to go 7 points clear of their North London rivals.
On the final day of the season, Spurs needed to beat Sunderland at home and hope that Arsenal dropped points away at Newcastle. In what can only be described as a nervy afternoon for all involved, both sides won their respective matches, which gave Arsenal the all-important 4th spot.
The cherry on top for Arsenal fans were the scenes from White Hart Lane when the Spurs faithful got news of a Newcastle equalizer.
There was no Newcastle goal and no joy at White Hart Lane as Tottenham again missed out on the Champions League. If it must be known, there is a small part of me that really enjoys that video.
Spurs get a draw, Arsenal win the Title
All Arsenal fans will know that the Gunners officially clinched the 2003-2004 Premier League title away at White Hart Lane. The Gunners only needed a point on the day to secure the league, and that is exactly what they got.
Arsenal stormed out to a 2 goal lead after a couple of quintessential goals from Patrick Vieria and Robert Pires. But the manner in which Tottenham tied the game left Spurs supporters jubilant. A late Robbie Keane penalty, complete with an unnecessary cartwheel, sent White Hart Lane alight.
The home support seemed to forget what the overall result meant, and moments after Spurs supporters finished celebrating an irrelevant equalizer, the away section began to celebrate their league championship which completed silenced the home crowd.
Happy April Fool's Day to Arsenal fans worldwide!