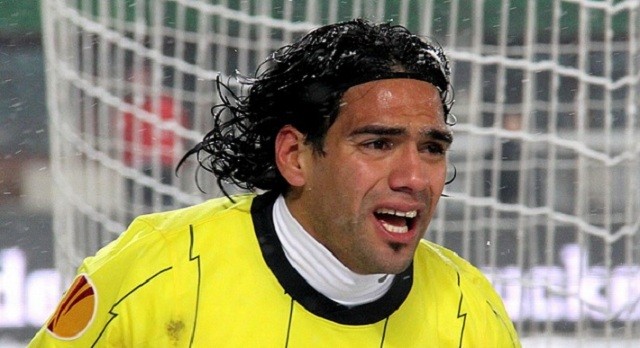 Star striker Radamel Falcao has stated that he would like to stay at Manchester United beyond the end of the current campaign despite various reports stating the contrary
Falcao has been a huge flop ever since his loan move to Manchester United over the summer and it is looking very unlikely that the Red Devils will be turning his deal into a permanent one – especially given the fact that they will have to shell out around £46million to secure the striker's services.
Recently, Falcao has been relegated to the bench by manager Louis van Gaal and the 29-year old had himself gone on to state that if he does not get regular first team football from now till the end of the season, he would have to think about leaving Old Trafford.
However, Falcao now seems to have changed his stance and has stated that he would like to continue at United beyond the end of the current season.
Speaking to reporters, Falcao said, "Much is being said, but I am one hundred percent with Manchester United. There are eight big games left and I hope that the situation will change."
Falcao managed to leave his blues with Manchester United behind by grabbing a fine brace in Colombia's 6-0 victory over Bahrain and the striker will now be hoping that he can translate such form for the Red Devils as well.
https://www.youtube.com/watch?v=xCmk96_Pfpg