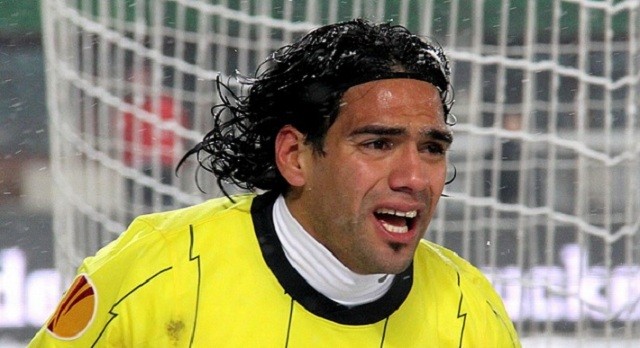 Manchester United striker Radamel Falcao has hinted that he will not turn his loan move into a permanent one at the end of the season
Despite a lot of Euphoria surrounding his arrival to Old Trafford on loan from Monaco at the start of the current campaign, Falcao has been very disappointing so far this season.
The Colombian striker has managed only 6 goals in 25 appearances for United this season and his poor form in recent times has meant that the striker has had regular minutes on the pitch hard to come by.
While there is no doubting that Falcao is still a very good player, it seems unlikely that United will exercise the option of signing the 29-year old on a permanent basis at the end of the current campaign – especially due to the fact that the Red Devils will have to shell out around £43million in order to do so.
Now to cast a further doubt regarding his long term future at United, Falcao himself has moved on to state that he will not be willing to remain at Old Trafford if he is not awarded regular first team football and added that manager Louis van Gaal has a decision to make regarding his future.
Falcao said, "He [Van Gaal] has to make decisions like any other coach. Regardless of whether they are favourable for me or not, I try to behave in the best way possible, to be professional at all times and to take advantage of the time he gives me. That's it.
"I know there has been a lot of talk, but I try to distance myself from that. People speculate, but I am good and feeling calm.
"I just need to play. I can't let myself get worried, I need to be prepared to take the opportunity when it comes. I am happy at the club and with how the fans and my teammates have treated me. I will keep fighting until the end at Manchester United."
https://www.youtube.com/watch?v=xCmk96_Pfpg