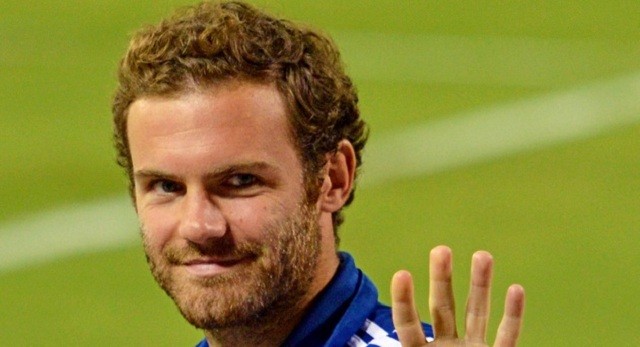 Mata is allowed to play. Subsequently, Anfield becomes Juanfield in a matter of 90 minutes.
If you thought Liverpool was going to continue its red-hot form and trounce their bitter rivals United at home, you probably weren't alone.
Unfortunately for the Reds, Louis van Gaal's cold heart is starting to thaw when it comes to Spaniards and Mata was recalled for his second start in a row.
Juan Mata didn't disappoint.
Mata provided one of United's top individual performances of the season, finishing off the best attacking move of the match following a tremendous run and clinical finish before scoring a breathtaking scissor kick off of a brilliant interchange with Angel Di Maria.
Mata still can't get a look at his favored number 10 role, but his passing and composure on the ball seem to elevate this United team whenever he's on the field.  It's too early to say, but this could be a pivotal turning point in Mata's United career, which has never really been allowed to gain full steam for one reason or another.
United's slim 2-1 result was uncomfortably close at times, but outstanding individual performances all over the field from the likes of Ander Herrera, Daley Blind, and, yes, even Marouane Fellaini (not to mention the much abbreviated cameo of one Steven Gerrard) puts them 5 points clear of the 'Pool for the 4th and final Champions League spot.
There's plenty of time for Liverpool to rebound, but the Red Devils are finally beginning to resemble a side that plays decent attacking football at times on the back of two really great results.
Harry Kane: England's next great hope
Harry Kane can't be stopped.
Even Tottenham's own Spurseyness couldn't negate his hat-trick heroics as the North London outfit survived bonafide relegation candidates Leicester City at White Hart Lane with a 4-3 victory.
This latest outing is a testament to why Kane is the EPL's greatest success story this season.
In a league where even the most promising youngsters are denied opportunity at top clubs by expensive foreign imports, Harry Kane has gone from expendable reserve player to indispensable difference maker.  He is now tied with Diego Costa, the same Diego Costa who helped will Athletico Madrid to an improbable Spanish title last term, as the league's top scorer with 19 goals.
He also has nice hair, doesn't sleep with his teammates' wives, and abstains from late-night sparring bouts with his mates (or, at least, I haven't heard anything to the contrary yet).
Perhaps he is the breath of fresh air that English football has been waiting for, but only time will tell if he is a one hit wonder or a budding superstar.
My money is on Kane becoming a superstar.
Even a complacent Chelsea is better than most EPL teams
Chelsea vs. Hull City began like so many other Chelsea matches this season: a couple of splendid early goals as a result of inspired attacking excellence with the expectation that not much would happen for the remainder of the 90 minutes.
Unexpectedly, a Hull City reply came in the 26th minute.  Did Chelsea leave it's bus outside?  No bother, it's still only 2-1.
Then Thibaut Courtois, in the vein of so many goalkeepers, thought he could be an outfield player in the 28th minute.
He thought wrong, and his errant first touch gifted the leveler to Hull.  Game on.
Instead of morphing into a rugby team of mongoloid henchman that seeks to batter and bruise its opponents into submission, as Chelsea often did in their slip-up against PSG several weeks back, they played football.
When Chelsea plays its brand of sweet, expressive football, nobody in this league can keep up.
Hull City eventually succumbed to Loic Remy's 2nd half goal and Chelsea continued its unimpeded march to the EPL crown.
Just give them the trophy already, damn it.