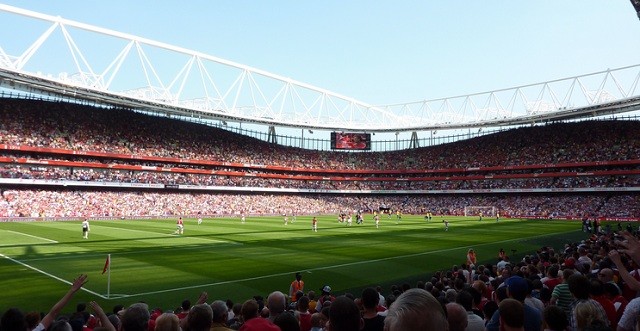 Since the start of the New Year, Arsenal have dropped just 3 matches. Aside from their New Year's Day defeat to Southampton, and losses to Tottenham and Monaco, the Gunners have won their other 14 games. In that time, Arsenal have scored 36 goals and conceded only 14, giving them a goal difference of +22.
Interestingly enough 8 of those victories have been shutouts. With the end of the season fast approaching Arsenal have 9 matches remaining with the FA Cup being a possible 10th.  If Arsenal wish to celebrate any sort of victory at the end of May they will need to continue on their current path.
So what have we learned about Arsenal so far in 2015?
Consistency
During their current run Arsenal have defeated Manchester City, Manchester United and Monaco away from home. While those higher profile matches can go a long way to building confidence and are more easily recognized by the media and pundits alike, it should be of equal importance that Arsenal have dispatched of the bottom half opponents with consistency.
Let's not forget that early this season Arsenal dropped points to Leicester City, Hull City, Stoke City and Everton. It should also be of note that all of those matches were played away from the Emirates. But since the defeat at Stoke in early December Arsenal have not dropped a point on their travels to an opponent outside of the race for the Top 4.  With trips to Burnley, Hull City and Manchester United still remaining, the form against those in the bottom half will be crucial.
Defensive solidity!
Aside from the home match to Monaco, Arsenal's defensive record has been of particular importance during their excellent run of form. Arsenal have shutout their opposition in 8 of the 17 matches they have played in 2015. Unlike the beginning of the season, Arsenal have found consistency from a positional standpoint.
The emergence of Francois Coquelin, Hector Bellerin and improved play of Nacho Monreal have given the Gunners a more stable backline. Laurent Koscielny is fit again, and Gabriel has come into the side to spark further competition among the center backs.
Alexis Sanchez has been overworked
In the beginning of the season it was Alexis who was Arsenal's savior time and time again. Alexis has an undeniable intensity to his game that only a few players in the world can boast. Not only did he take on the physical burden of having to play every match with that intensity, the mental burden must have weighed heavily on him as well.  Knowing that his performance would play a pivotal role in the team's success and taking on that responsibility for so long has clearly drained the Chilean.
Fortunately for Alexis his teammates have picked up the slack and taken the burden off of him. Alexis has seen a dip in goal scoring form but remains a threat in every match he plays in. Ultimately his execution is not as sharp as it was in the beginning of the season and this is a result of fatigue. Although the goals are not flowing as they were earlier in the season, the work rate and creative attacking ability will be important for the Gunners throughout the remainder of the season.
Olivier Giroud and Mesut Ozil are in fact very good players
Both of these players have been criticized heavily during their Arsenal careers but they have both been silencing their critics as of late. Giroud is proving he can be a top goal scorer. His current form is bordering on world class, having netted 11 goals in 2015.
Ozil as well has contributed with a couple of goals a number of assists. In addition, his ability to control the game and dictate the pace at which Arsenal play has been exceptional. He and Santi Cazorla have formed a decent partnership and with the addition of Aaron Ramsey to the lineup, Arsenal have turned in a number of impressive, fluid attacking performances.
Theo Walcott looks to be on his way out
With transfer talks being put on hold until the end of the season, it appears that both Arsenal and Walcott are not close to an agreement. Add this to the fact that Arsene Wenger seems reluctant to use the English winger away from home and Walcott might be reading the writing on the wall.
Although Walcott was amongst the goals upon his return from injury in January, when he plays, Walcott does seem to be more of a bystander (both offensively and defensively) than a player whose has a constant presence in a match. Only time will tell what the future holds for Walcott, but either he will adapt his game
Still remaining on Arsenal's schedule are matches against Liverpool, Chelsea and Manchester United as well as a possible cup final. We will surely learn more about this team during the run in to the end of the season. But Arsenal supporters the world over will be hoping the Gunners can continue their current form to finish the season on a high.