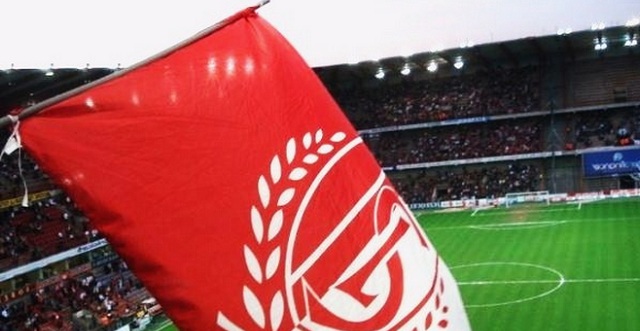 Belgian football has received a lot of attention for its youth movement in recent years with the likes of Eden Hazard, Vincent Kompany, and others becoming household names, but the Jupiler Pro League is also redefining the very concept of playoffs in professional sports.
Competitive formats throughout world football are all basically the same minus the odd nuance or two.
Domestic leagues usually include a home and an away fixture against each opponent where the champion is determined by whoever has the most points at the end of the season. Cup competitions are often single-elimination knockout tournaments or, in the case of the Champions League for example, are decided on aggregate from after a home and away leg for each team.
That is, until Belgium delivered a game-changer.
The Jupiler Pro League, Belgium's highest domestic league, instituted the most wonderfully chaotic and confusing playoff format that the world has ever seen after undergoing sweeping changes to its system prior to the 2009-2010 season.
This radical new format was adopted after members of the Belgian FA presumably locked themselves away in a cabin in the middle of the woods for 48 hours and engaged in heated debates over endless pints of Stella.
Okay, so that may or may not have happened, but the Belgian FA implemented changes in order to improve the quality of play (the field of teams dropped from 18 to 16), increase the amount of games played (which equates to more TV revenue earned), and generate more interest by eliminating pointless matches between non-contenders at the end of the season.
Their solution was whacky, unorthodox, and meticulously complex, but it also checked all of the boxes and provided a modern, alternative take on determining the domestic champion and who gets to play in Europe the following season.

Trying to understand the most complex league format in world football
Understanding the Jupiler Pro League format is difficult. In fact, you almost have to be a rocket scientist to fully comprehend it…almost.
As a 20-something American who grew up following leagues that virtually all feature playoffs (and despising the never-ending gauntlet that has become the MLS playoffs in recent years), I was intrigued as to what it was and how it worked.
I tried researching it on the internet, I had no less than 5 Belgian nationals explain the finer details to me in person, and I even went so far as to spend my own money on the latest Football Manager to experience a domestic campaign in the hopes of better understanding it.
I can safely say that, after all of that, I get it…kind of. I tried to explain how the JPL works to a friend last week and he just stared at with me with glazed over eyes before showing me this clip and telling me, "this is what you sound like."
I would like to think I can do a better job explaining it by putting it in writing so here it goes.
Club Brugge the current favourites
The Jupiler Pro League consists of 16 teams that each play 30 games, or one home and one away match against every opponent in the league. At the end of the regular season, teams are placed in three different playoffs depending on their final position.
• Playoff I consists of the top 6 teams in the league
• Playoff II consists of teams 7-14 split into two different groups: 7th, 9th,
12th and 14th are placed into group A while 8th, 10th, 11th, and 13th are placed in group B
• Playoff III consists of the bottom 2 teams
Simple enough, right?
The 6 teams in Playoff I each play 10 games – a home and away match against each of the other 5 PI sides. Prior to those 10 matches, each team has its point total from the end of the 30 regular season games cut in half. For example, if Lokeren finished the season with 70 points, they would start the playoffs with 35 points.
If Club Brugge finished with an odd number of points (say, 69), the halved number would be rounded up (34.5 would round up to 35). This rounded number can be used as a tiebreaker if two teams are tied on points at the end of the playoffs (i.e. if Lokeren and Brugge finished level, Brugge would be deducted one point because their regular season total was rounded up).
Confused yet? Don't worry, this is only the beginning.

Playoffs II and III
Lokeren wonderkid Hans Vanaken is a player worth keeping an eye on for the future
Playoff II, as previously stated, is composed of the teams that finished 7th-14th. While none of these teams can win the championship, they do have the possibility of still qualifying for European football.
Unlike Playoff I, everybody starts with a clean slate and there are no point carryovers. The fixtures are similar to PIayoff I in that each team plays a home and away fixture against every other team in its group. After the completion of these matches, the winners of group A and group B play a home and away fixture against each other to determine the winner of Playoff II.
Unfortunately, the winner of Playoff II still doesn't qualify for European competition Instead, it has to beat the 4th-placed team from Playoff I in another two-legged tie in order to clinch the final spot (or the 5th placed team if the Belgian Cup winner, who automatically qualifies for Europe, finishes in the top 4).
Meanwhile, the two bottom feeders are entered into a sort of football purgatory where they are forced to face each other an outrageous 5 times in their bid to stay up. The 15th placed side gets a couple of noteworthy benefits such as home-field advantage for 3 out of the 5 matches in addition to beginning the competition with 3 points.
The winner of the tête-à-tête Playoff III isn't guaranteed to stay up, however, and is entered into another playoff with the clubs that placed 2nd-4th in the 2nd division. Each team plays a home and away fixture against each other, and all teams start on an equal footing. The winner of this playoff receives the final spot in next season's Jupiler Pro League.

Nonsense or the wave of the future?
If you're still reading after all of that, I'm impressed if not slightly relieved that I didn't bore you to death.
As you can see, the Jupiler Pro League is something else. It's not perfect (you probably shouldn't expect Don Garber to bullishly install a similar system in MLS), but it is revolutionary and facilitates fresh ideas.
The biggest issue facing Belgian football on a domestic level is staying relevant. Belgium has to compete with the likes of the EPL, La Liga, and Bundesliga in its own backyard (not mention the Dutch Eredivisie). It might have turned itself into an exciting provider of talent, but it doesn't possess nearly the same quality or star power of its more illustrious European neighbors (although I must contend that the level is still very high – much higher than that of the MLS if you're looking for a point of reference).
Youri Tielemans – Belgian football's hottest rising talent
If nothing else, the Jupiler Pro League format is a good-natured attempt to spice things up with the locals and keep the supporters of middling teams interested longer.
I would be remiss if I didn't offer the other side of the coin, here: this model hasn't been welcomed with an open heart by many Belgian supporters or clubs and one could argue that it supports and breeds elitism in the Belgian game.
The Belgian FA adopted the system after pandering to the big 4's call for a more competitive domestic league to better prepare them for European competition (the biggest 5 clubs include Anderlecht, Genk, Club Brugge, Gent, and Standard Liege – Standard Liege is the only team opposed to this system). Anderlecht originally proposed a 14 team league before the Belgian FA decided on the current format, which would have effectively eliminated 4 teams from the top tier of Belgian football instead of 2.
Yes, less teams in the top flight means more money to go around for everybody, but it also breaks the hearts of minnows everywhere by leaving them out of the competition altogether and starving them of vital funds to grow and elevate their stature.
The Jupiler Pro League's current format needs to be simplified and could do without so many match ups that pit the same teams together – especially the 5 match marathon series between both basement dwellers – but it does offer some intriguing ideas.
For starters, offering sides that have already been eliminated from winning the league the opportunity to play in Europe isn't such a bad idea to keep things competitive.
Additionally, placing the top 6 clubs into a sort of mini-league to decide the title is interesting. Instead of sorting them into a knockout format where a team can essentially eliminate itself by having one bad game, the JPL takes results against every team into account in addition to a club's results from the regular season.
The Jupiler Pro League playoffs kick off April 3rd.