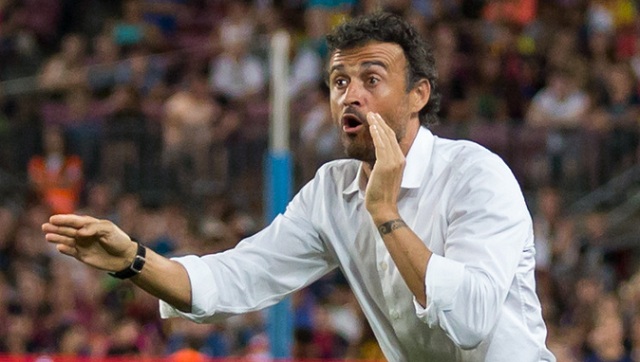 As Ray Hudson would say "It was a superb ninety minutes for the Catalans in The Camp Nou" as Barcelona managed to extend their La Liga lead against Spanish giants, Real Madrid. The game concluded 2 – 1, in Barça's favor with goals from both Luis Suárez and Jérémy Mathieu.
The victory puts the Catalans 4 points ahead of Los Blancos but leaves them with a small cushion, as they still have face the likes of Sevilla, Valencia and Espanyol. The league is still far from over but Barcelona still deserve recognition in the triumph. Here are the Five Tactical decisions that changed the flow of El Clásico.
1st – Stabilization of midfield
Sergio Busquets suffered an ankle ligament injury in the Copa del Rey semifinal against Villarreal which prompted uncertainties for games against Man City and also Real Madrid. Luis Enrique promptly needed a way to stabilize his midfield presence for the two upcoming fixtures. The first tactical decision he made in El Clásico, was to start Javier Mascherano in his natural position as a defensive midfielder where he does so for Argentina.
This provided not only a quick fix but also a reliable solution because by doing so he was able to bring Jérémy Mathieu; a strong and level headed player. His decision proved immaculate and he rewarded accordingly ; a headed goal from sloppy defending from Sergio Ramos to put one past Casillas.
2nd – High Pressure
Luis Enrique is well aware of Real Madrid's reliance on its starting eleven. Unlike Carlo Ancelotti, he gives rest to key players when he needs to or aren't performing. He knew they would come in with some form of fatigue.
He knows Ancelotti would attack with a 4–3–3 formation and defend with 4-4-2 which is what they essentially use all the time . He instinctively knew that by pressuring Madrid's congested midfield it would lead to lost balls and possession. We can conclude from today's performance , Lucho riled the players to stick to their man apply high pressure to choke Madrid's midfield presence.
3rd – Handing Messi the central role
By halftime Barcelona had steadily lost its initial momentum. The game was tied and Lucho needed to reinvigorate the squad. Throughout the first half Lionel Messi was playing on the right wing and at times failing to track back to cover his mark. Enrique was well aware of this and thus placed Messi in a more focal point, where he moved him to the center.
What did this accomplish ? First it changed the way Los Blancos had to deal with the Argentine in the middle half of pitch. Secondly and It freed up space on the side flanks giving enough space for Dani Alves to provide an exquisite lob for Suárez to tab in.
4th – The experience heads of Xavi and Busquets
With a goal difference and only fifteen minutes left Lucho needed to maintain possession and make breakthroughs. It was a perfect time to take advantage of Madrid's midfield fatigue. He was well aware Luka Modrić wouldn't be able to perform at high levels throughout the entirety of the match and thus resulted in substituting Xabi as well as Busquets.
Luckily for Barca , Busquets was deemed match fit and proved ever so vital to set midfield dominance. According to Whoscored.com , an analytical website, after Barcelona substituted these midfielders they put six shots towards Casillas compared to only one attempt from Madrid.
5th – Optimized performance levels of the MSN trio
Lastly another crucial decision Enrique took was to fully utilize MSN to their full potential. What I mean by that is he wasn't quick to replace Neymar for all the missed opportunities he didn't take advantage of, as we've previously seen him done before.
There is a real connection with the South American trio and they tend to bring the best out of each other when they work collectively as a partnership.Overall Lucho deserves some recognition for doing some things right.