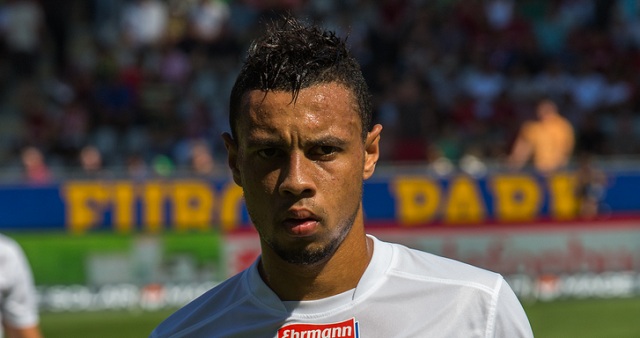 For the past few years, Arsene Wenger has tried to hold Arsenal's midfield with players that weren't cut out for the position. The defensive midfield spot lies in front of the center backs and behind the central midfielder, providing cover for the defense but also being able to create and start an offensive attack. It is a position that is hard to fill, and has been left void since the departure of Alex Song seemingly forever ago. The emergence of young Frenchman Francis Coquelin though has eased Gunner minds worldwide.
Players like Mikel Arteta and Mathieu Flamini have served as stop gaps at the position but each could not fully contribute on both ends, and eventually lost their spots. In December, Arsene Wenger was decimated with injuries after then starter Mikel Arteta was forced into surgery. The Spaniard will be 33 upon return, and with his contract to expire at the end of the season, may have played his last game as a Gunner. Desperate, Wenger recalled Francis Coquelin from his loan spell with Charlton Athletic of the Championship, and the rest was history.
For the last couple transfer windows, Gunner fans everywhere have been demanding for a new holding midfielder to be bought. Flamini was brought back on free transfer, but fans wanted a big signing to sure up their midfield for good. Wenger disappointed time after time, but finally looks to have had his arrogance and maybe even his naivety pay off. Coquelin has rewarded Wenger since his return with performances that have been comparable to Chelsea star Nemanja Matic.
According to statistics held on whoscored.com, Coquelin would appear to have better numbers than his Serbian counterpart Matic. Per game, Coquelin is averaging 3.1 interceptions while Matic only averages 2.2. Matic holds the slightest of edges in tackles per game at 3.7 compared to Coquelin's 3.6, although the Serbian averages .4 more fouls per game more than Coquelin does, which somewhat offsets his advantage in tackling. Both are very formidable, and that is the point made here. Matic has been hailed as a star for Chelsea this year, and Coquelin's stats demand he deserves the same treatment at Arsenal.
Coquelin is also been impressive in moving forward throughout his spell thus far this season. Longtime teammate Jack Wilshere was open is his admiration of Coquelin in all aspects of the game. In an interview with Express, Wilshere says that he has an ability to tackle and recover the ball that most don't, and then can also move the ball forward better than he's given credit for.
"I used to win him by saying, 'Listen, you do all the dirty work and the tackling and then let me have the ball!'"
Wilshere has high hopes for his teammate, and is glad to see him finally make his break into the starting lineup.
"I thought it was strange how he didn't break through before because I've always felt that he could be the one to play in the position for us. He's a great defensive midfielder, but going forward he was always a threat in the youth team. I think he can score goals too."
At Arsenal since 2008, Coquelin has put in his dues in three different loan spells before finally getting his chance with the first team. After scrutiny upon arrival of being just another Arsene Wenger stop gap, he has surely silenced the critics with his play over the last few months. His only knock against him could be something he can't even control, his size.
At defensive midfielder you would typically want a taller more physical player to sure up the defense in front of the centre backs. But what Coquelin lacks in size he makes up in presence and determination. The Frenchman suffered a broken nose in their win against Everton early in March. Arsene Wenger says he wanted to stay on despite needing possibly needing surgery. He then has reopened the wound in seemingly every game since, and Coquelin has played through. He shows the strength and toughness needed in the position, especially in the Premier League.
Coquelin may not have been the marquee big name signing Gunners have been desperately wanting (i.e. Khedira, Schneiderlin), but he has shown his worth over the last few months. In the first half of the season, Arsenal's midfield was lacking discipline and shape and the defense was left exposed. Arteta was great moving forward in the attack but was a liability in defense. Flamini was the opposite. Neither could put together a full holding performance that was worthy of winning the spot. But then Coquelin came, and he relished. With signing a new contract extension to hold him at the Emirates until 2019, this is just the beginning of Francis Coquelin.