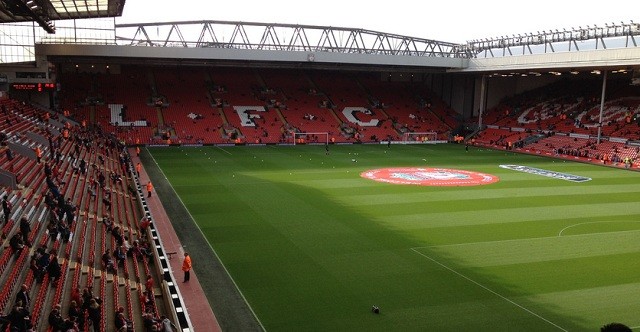 Brendan Rodgers and Liverpool were able to pull off a victory against Swansea last week despite not playing well. They will have to come out of the funk they have been in the past two weeks since they will be facing rivals, Manchester United, in a very important match.
Whoever wins this Sunday will take over the fourth Champions League spot. Both teams have been in good form in the Premier League, United have won 4 of their last 6 matches while Liverpool have won 5 of their last 6.
Goalkeeper
Simon Mignolet was excellent against Swansea, but he will have to step up again this weekend against United. With Wayne Rooney and other dangerous players in the United lineup, Mignolet will need to focus the entire match.
Center Backs
Emre Can, Martin Skrtel and Mamadou Sakho will have to work together to prevent Rooney from finding space he could take advantage of but they will also have to make sure to mark Marouane Fellaini when he enters the box. They have to make sure that they aren't caught out by a through ball or a long pass.
Right Wing Back
Raheem Sterling has been shifted out wide the past two matches, and it looks like he will start here again. He should be able to use his speed to get past Daley Blind or Luke Shaw, but he will also have to keep track of his defensive assignment, Ashley Young.
Center Midfield
Jordan Henderson and Joe Allen are likely going to be out-numbered again in the middle of the pitch and they will have to deal with different types of players with a physical Fellaini, a passing savant in Ander Herrera and a smart veteran in Michael Carrick.
Henderson and Allen will be essential in helping Liverpool keep possession of the ball and Henderson should still make an effort to find space where he can charge forward into a dangerous area.
Left Wing Back
Alberto Moreno will have a hard time beating Antonio Valencia with his speed since the Ecuadorian is also a capable runner. He should focus more on the defensive part of the match since he will likely be defending Juan Mata, a crafty winger.
Forwards
Rodgers has made the front-line of Adam Lallana, Daniel Sturridge and Philippe Coutinho a mainstay the past three matches. However, despite all the talent, they have not been able to find the back of the net effectively, they have collectively scored 1 goal in the time they have been together.
Lallana and Sterling have not been able to link up properly during their time on the same flank, and Coutinho has cooled off after his fantastic run of form. The two forwards behind Sturridge should try to get him some open shots while also finding time to test David de Gea themselves.
(3-5-2)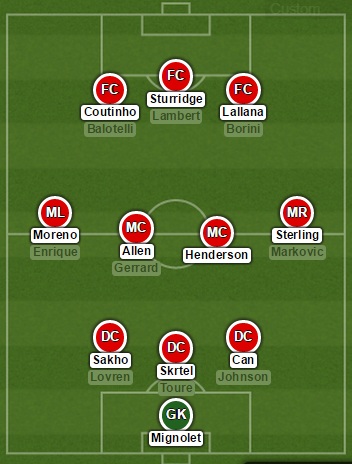 Via – Lineup Builder