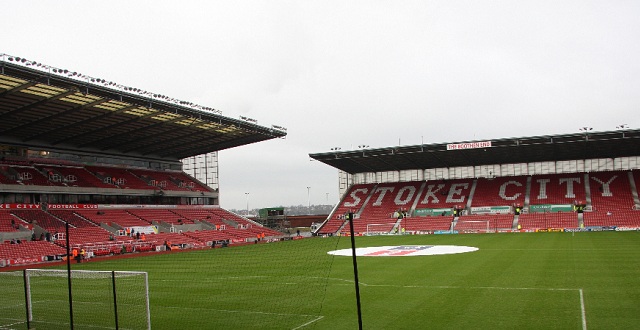 Following a 1-0 setback against West Brom last weekend, Stoke City will look to bounce back this Saturday against Crystal Palace. With the Potters still chasing their best ever finish in both position and points, expect Mark Hughes to name his first choice side for Stoke against Alan Pardew's Crystal Palace.
Goalkeeper: Asmir Begovic 
There hasn't been much of a question at the goalkeeper's position for Stoke in recent years, and this week should prove no difference. While Begovic did have one awkward play against West Brom that almost cost the Potters a goal, there is no reason he shouldn't start not only today, but for the remainder of the season.
Right Back: Phil Bardsley
Bardsley continues to sit precariously close to a 2 game suspension with 9 yellow cards, but until he reaches that 10th card and is forced to miss 2 matches, there's no reason he shouldn't be in the lineup. He's played well coming into the attack over recent matches, providing good crosses into the middle.
Centre Back: Geoff Cameron, Marc Wilson
Stoke City skipper Ryan Shawcross struggled through 90 minutes against West Brom last weekend, and with an extended break coming up following this match, it would be wise of Hughes to give him another week off, to let him regain full health ahead of a match against Chelsea following the international break.
The German Phillip Wollscheid continues to struggle with a groin injury that could keep him out of the lineup this weekend. Those factors could slide the American Geoff Cameron into the lineup. Cameron has struggled at times this year, but has proved to be a valuable defender capable of playing around the entire field. Wilson has been the one constant in the Stoke back line all year and deserves to keep his spot.
Left Back: Dionatan Teixeira
Stoke City's defense has struggled with injury all season, and this week appears to be no different. Erik Pieters suffered an injury against West Brom and was forced to be subbed out, yet another set back for the Stoke City defense.
If Hughes decides to go with Shawcross at centre back, Cameron could fill this position, but if he's unable to go, Teixeira, the young Brazilian born Slovakian, may be the only option left. Teixeira's made just one appearance this season, and giving him a start would be a difficult ask, but it may be the only option available for Mark Hughes.
Defensive Midfielders: Steven Nzonzi, Glenn Whelan
These two have played very well at the defensive midfield for Stoke, and should continue to do so this weekend against Palace. Nzonzi has the potential to strike from distance, which could benefit the Potters, who have struggled to score over recent weeks, including a rough day on the attack last time out against West Brom.
Midfield: Mame Diouf, Charlie Adam, Victor Moses
Stephen Ireland is still recovering from a nasty gash in his leg, and should be held out of the lineup once again this week. Jon Walters looks as though he'll be held out as well, in an attempt for the Ireland international to be healthy ahead of next weekend's clash with Poland. With those limitations, Hughes should once again look to have Diouf and Moses on the outside.
While it forces Diouf to play a bit out of position, it is again a situation where Mark Hughes simply does not have options. Moses, who is on loan from Chelsea, has played well this year, scoring 4 goals across all competitions, and providing 5 assists. Charlie Adam appears to be on his way out of Stoke, but there is a chance he could play himself back into the good graces of Hughes and perhaps earn a contract extension.
Striker: Peter Crouch
The strategy has been the same for Stoke City for a number of years now, long balls in to Peter Crouch, who will then look to create following his first touch. Crouch has played as well as ever this year, scoring 7 goals in the Premier League, and he will look to add to that tally against Palace this weekend. There aren't many other options for Hughes up top, which should give Crouch another opportunity to strike.
Overall, Stoke are the favorites at home against Palace, and though it is a side with a lot of changes due to injury, I would expect the Potters to battle to at least a draw, and perhaps be able to steal the match late.
(4-2-3-1)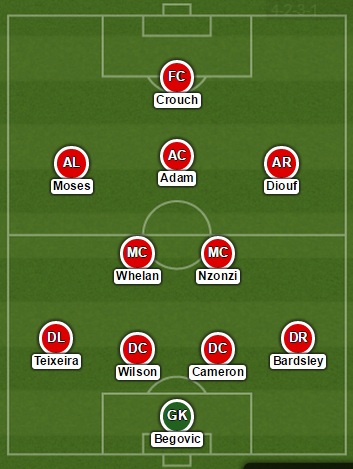 Via – Lineup Builder