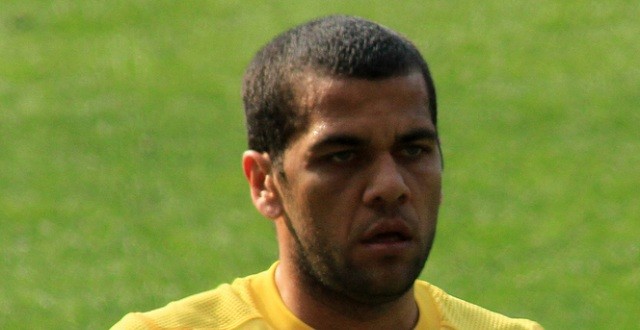 The summer transfer window is still miles away from starting but the media continue to speculate on what players Manchester United manager Louis Van Gaal will bring in order to claim the English Premier League title next season.
After several rumours that linked the Red Devils to Barcelona's highly rated winger, Pedro Rodriguez, it is now turn for both the Spanish and English media to talk up the speculation on the eventual move of Dani Alves to Manchester at the end of the current campaign.
The Brazilian right-back has entered the last months of his contract with Barcelona and, although it is very unlikely that he will pen a new one with the Blaugrana, he has allegedly already pushed away the possibility of moving to Old Trafford for free next summer, and apparently wants to sign a new deal with the Catalan team instead.
Such turn of events regarding his hypothetical move to Manchester will certainly constitute a huge blow to Louis Van Gaal's plans for his right wing next season, since it is believed that Dani Alves would be the perfect fit for the Dutch manager's return to his favourite 3-5-2 style, offering the Brazilian international the extremely important wing back role.
Dani Alves is reportedly willing to listen to other offers if the possibility of signing a new contract with Barça goes down the drain, as he fears that Manchester United might not grant a place at the UEFA Champions League next season.
The erratic Brazilian defender is once again not having a season to remember and his personal relationship with Barcelona's new boss, Luis Enrique, is far from being full of sunshine and rainbows.
Dani Alves seems to have some difficulty in dealing with the disciplinary method the Asturian manager is implementing at the team and he has already had some embarrassing behaviors and situations so far this season.
The 31 year old right back made a fool of himself when he was sitting on the bench, alongside with Neymar and Messi at Anoeta early this season, and appeared to be particularly amused when Jordi Alba scored an own goal that dictated Barça's defeat in that particular clash.
Apart from that, Dani Alves' performances over the last couple of seasons have been far from brilliant and, with Luis Enrique at the helm of the Catalan vessel next term, there will probably be no room left for him over there anymore.
At this stage of his career, and contrary to what the majority of pundits keep claiming, Dani Alves would probably not be of good use to Manchester United.
His inconsistency over the recent campaigns, together with his blatantly obvious bad temper, would probably be more of a headache than a solution for Louis Van Gaal, who should probably turn his attentions to someone such Nathaniel Clyne, who is still eager to win and who might turn out to be a valuable asset for the team in the near future.