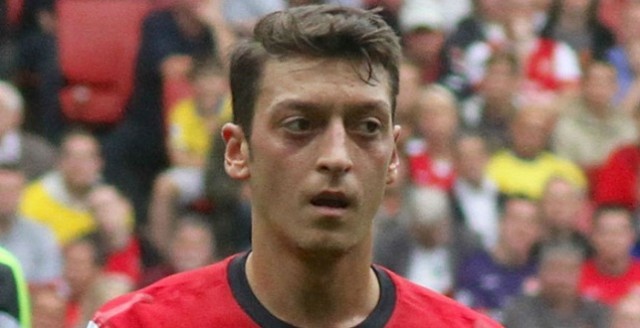 Arsenal will have to pick their collective heads up after a gutsy display against Monaco, only to come just short, when they play Newcastle on Saturday.
In fairness Arsenal's match in Monaco played out the way it did because of the 1st leg result, Monaco set themselves up to not give anything away, something they failed in, yet progressed to the next stage. Arsenal should be proud of their 2nd leg performance but will lament conceding a third goal in the last seconds of the 1st leg.
Now that their Champions League campaign is over, Arsenal's focus shifts to finishing the league in top form, and retaining the FA Cup. Arsenal's record of 13 wins out of 15 games, bodes well for the rest of the season.
A response is necessary though, and should be expected considering that they have always responded at this time of the year. When you look back at Arsenal track record from March onward, this is normally when the hit peak form. Unfortunately for them, they normally aren't competing for silverware anymore. This season is different, as, like last season they have a good chance at winning the FA Cup, and a small chance at challenging Chelsea in the league.
Aaron Ramsey spoke after the game against Monaco, referencing Arsenal's need to respond and finish the season strong.
"Many things can happen in the Premier League still, with many twists and turns. We will be looking to concentrate on ourselves and take full advantage of the games we do have left.
"We are also in a good position in the FA Cup. We have Reading (in the semi-finals), which we will feel confident of going through."
It's good to hear the players understanding the need to respond and the want to finish the season on a high, in spite of such a gutting result. Arsenal do need to learn from these results though, something that they have failed to do in the past. Laurent Koscielny acknowledged this, also speaking after the game.
"We say the same thing every year. Our first game is catastrophic. We have to put it right… play well in two games."
Maybe Arsenal will learn from this experience and one gets the feeling that there is an incredibly talented team waiting to take over the Premier League or at least go toe-to-toe with Chelsea. Arsenal's ability to compete in the market again, after years of having to be financial thrifty, is an encouraging sign. Barney Ronay wrote an excellent article in the Guardian on this topic this morning, it is worth a read.
Without further ado, here is Arsenal's probable starting lineup against Newcastle.
Goalkeeper – Ospina
His inability to boot the ball past the halfway line is of great concern and puts Arsenal in trouble at times. It's really concerning that Wojciech Szczesny has yet to reclaim the number 1 shirt.
Right Back – Bellerin
He was excellent against Monaco and has been excellent this entire calendar year. Mathieu Debuchy is back in full training and when he is fit, there will be a very interesting duel for first choice right back.
Center Backs – Mertesacker & Gabriel
Gabriel recently returned to the first team after recovering from a hamstring strain. In the match that Gabriel incurred this injury, he was playing in place of Koscielny who Arsene Wenger was trying to rest. I imagine now that Gabriel is fit again, Koscielny will be granted that rest.
Left Back – Monreal
He made an intelligent run for Arsenal's second goal, similar to the run he made against Manchester United when he scored. He is playing better than Kieran Gibbs currently and it's unlikely, barring injury, that Gibbs will get an extended run in the first team the rest of this campaign.
Defensive Mid – Coquelin
When he plays well, Arsenal control their own half and tend to have the ball in the oppositions final third more often than not. He is essential to the way Arsenal are currently playing.
Central Mid – Ramsey
He possibly should have started against Monaco from the get go, but fatigue may have played a role in that considering he completed 90-minutes over the weekend and had just returned from injury.
Two goals in two games though, and he is playing very well. The Ramsey of last season is starting to show up. Clearly injuries this season have affected his performances and it seems he has finally rid himself of them.
Attacking Mid – Cazorla
He was excellent against Monaco, continuously looking to get the ball up the pitch. Him and Mesut Özil have a good understanding and have shown that the can play well together, proving previous doubters wrong.
Wide Right – Welbeck
Alexis will be rested, considering he wasn't that affective against Monaco and kept on dribbling himself into trouble. He was constantly fouled throughout the game against Monaco which might have affected him, but fatigue seemed to be the main culprit.
Arsenal have a tough run of games coming up, Liverpool at home after the international break, and Alexis could use a break. Hopefully Chile are careful with him during this break.
Wide Left – Özil
Wenger has shown a hesitancy to play him out wide recently, which is encouraging considering that he has played at an extremely high level through the middle since his return from January. On Saturday he will play here, just because he and Santi Cazorla are undroppable and Ramsey needs to fit in the squad.
This position shouldn't affect his performance or influence on the game though.
Striker – Giroud
He should an excellent fighting spirit, to borrow one of Wenger's favorite phrases, against Monaco and was unlucky to not score a second in the 83rd minute.
He isn't the world class striker that Arsenal could use but his flick-ons, his aerial ability, and his hold up play are key components to Arsenal attack and their central midfielders and wide players thrive off of his skill set. This is what makes him so valuable to the squad, not his scoring ability.
(4-5-1)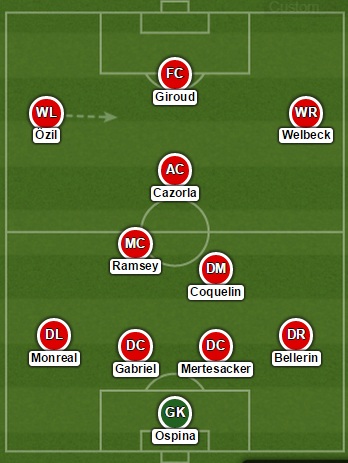 Via – Lineup Builder