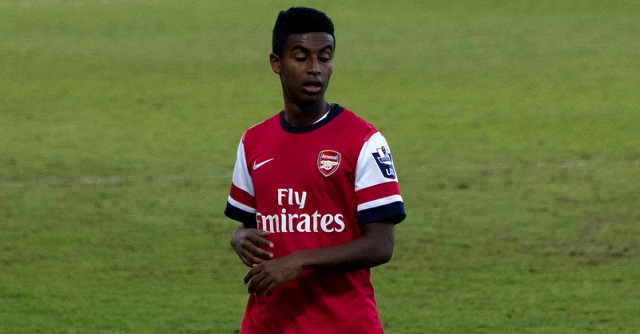 Arsenal youngster Gedion Zelalem, has been called up to Germany's Under-18 team in a power move with the US to gain an upper hand in the battle between the two countries for the youngster's services.
Zelaelm was born in Berlin to Ethiopian parents, but moved to Maryland at a young age. Zelalem technically was eligible for all three nations but considers himself an American, having gained US citizenship and having gone to school there from a young age until his move to London when he was 16.
Zelalem has made it clear that he wants to play for the US national team and source have told ESPN FC as much. "Only reason he hasn't confirmed [for the US] is because of FIFA approval. I think he's set on US, but just waiting for FIFA."
The US have applied for Zelalem to be eligible for them and are expecting the green light from FIFA in April. Their confidence in Zelalem obtaining permission, derives from past similar cases that set the precedent. FIFA normally grants naturalized citizens eligibility to their naturalized country, as long as it doesn't "violate the spirit of FIFA's law."
If Zelalem is granted permission to play for the US, manager Jurgen Klinsmann believes the 18-year old is ready to make an immediate impact with the first team.
"I think he's already at a level that he can definitely play on the senior team. He's a special player."
These are interesting comments from the US manager considering that Zelalem has yet to make an impact on Arsenal's first team. He has only made a handful of appearances for the Gunners, mostly in the League Cup. Last season he came on late against Coventry in the FA Cup and this year his largest contribution came when he played 45 minutes in the Champions League against Galatasary.
Currently it seems that Zelalem's physique is holding him back and he still needs to grow into his body, or so Arsene Wenger told Sports Illustrated over the summer.
"He is potentially an international player, for sure. But the next two or three years he will have to show he has the mental qualities to fill that potential. That's what's at stake for him now. If he grows physically, since he's slim, and continues to develop his mentality, the potential is there for him to be a top professional player."
It's hard to argue that the US national team is near the same level as Arsenal's first team, especially in midfield. In that sense, a call up to the US first team might be good for Zelalem's development where he will be granted more opportunities to play at a senior level. Here he could prove his mental toughness, as Wenger wants him to, and adapt to the physicality of playing in a midfield with and against grown men.
The prospect of Zelalem playing in the 2016 Olympics in Rio de Janeiro, must be appealing to the US as well.
Zelalem has yet to respond to the call up nor has he informed Arsenal that he plans to do so. Considering Zelalem's supposed feelings, it seems likely he will continue to wait FIFA's process.