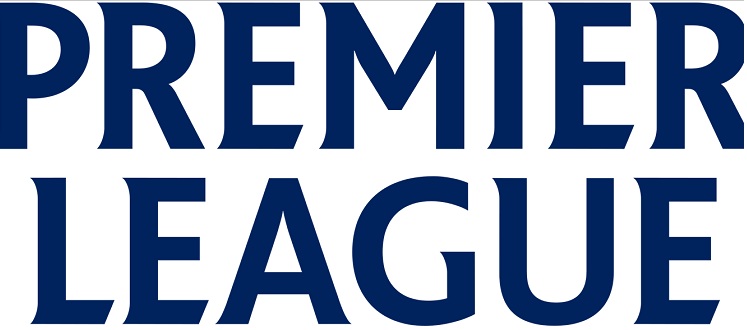 The biggest shock this weekend was not the Tottenham capitulation against Manchester United — that was to be expected. In fact, it was the Manchester City loss versus Burnley, a game that effectively ended their title aspirations, that stunned the footballing world.
We were also treated to a Jose Mourinho rant after his Chelsea side let 3 valuable points slip out of their hands against a very good Southampton; those rants are always a highlight. In other news, Aston Villa managed to hammer Sunderland 4-0, forcing Sunderland to sack Gus Poyet. And Everton managed to win a game, albeit against a poor Newcastle.
Here's my TOTW — players that stood out in my eyes this weekend.
Goalkeeper – Fraser Forster
Granted, Forster may not have kept a clean sheet, but he made 6 saves* to deny Chelsea a much-needed win. He made several outstanding saves; saves that the best goalkeepers make on a regular basis. The £10m that Southampton paid Celtic is made to look like more and more of a bargain with each passing week.
Of course, it does help when you have Jose Fonte and Tony Alderweireld to marshal the defense in front of you, but Forster has been a huge addition and has helped Southampton push for a Champions League place. His rise from playing against amateurs last season — where his team is automatically guaranteed to win every game — to against some of the best players in the world is very impressive.
Defender – Phil Jagielka
Just when Everton needed their captain, he delivered. With Everton sliding closer and closer towards the relegation battle, Jagielka halted their rapid descent. For most of the season, Jagielka has been no where near his best. Against Newcastle, he was the best player on the field.
Helping Everton to their 7th clean sheet of the season, he made 16 clearances and won 100% of the tackles he attempted, as well as winning 100% of his aerial duels. For the entire season, this Everton side has been crying out for a leader to drag them out the position they find themselves in. Finally, Jagielka has taken up the mantle. Now Everton need to push on and gain some momentum to finish the season on form.
Defender – Jason Shackell
Manchester City were poor. Very poor. But it takes a special performance to keep a clean sheet against City's firepower. Shackell lead by example, winning 100% of his tackles and completing 12 interceptions.
As captain, he made sure that his side pressed City, not allowing them any space or time for Silva and his magic. Shackell detained some of the best players in the world quiet, keeping a clean sheet against the champions. Because of his work, Burnley now find themselves 1 point off safety. If Shackell keeps shackling opposition attacks, they might just stay up.
Defender – Leandro Bacuna
Last season, I thought that Bacuna was a breath of fresh air, providing Aston Villa with a danger man due to his set-piece threat and dribbling prowess, and was looking forward to him pushing on this season. That hasn't quite happened yet, but on Saturday he created 3 chances and provided 2 assists.
Playing right-back against a Sunderland side who looked like they would rather be somewhere else, he caused havoc and ran the right-hand side. Certainly, he didn't have too much defending to do in the game and was able to focus solely on ravaging a weak side. It will be interesting to see how well he competes against a team capable of defending.
Midfielder – Michael Carrick
Once van Gaal placed Carrick into the first XI, United were always favorites to win the game. Yes, Tottenham do seem do be suffering from an inferiority complex — if teams like Arsenal suffered from it, then of course a midtable side can feel the effects — but Carrick helped to tear the weak Tottenham defense apart.
Carrick's perfect through ball glided across the field to Fellaini, who promptly scored. There's no question that United look infinitely better with the Englishman in the side. If United are able to purchase a quality box-to-box midfielder to partner him, then they will have a strong foundation on which to build a title winning side. Or maybe they're happy with finishing just inside the top 10.
Midfielder – Joe Allen
He may not be the player that Brendan Rodgers was championing to lead Liverpool to the next level. He also isn't a flashy player who grabs the headlines with outrageous assists or beautiful finishes. But he is a very effective midfielder; the type of player that teammates adore and fans berate. Against Swansea, he had a 90% passing accuracy and had 3 interceptions. He does more than that though.
He works tirelessly, thinking about his team's welfare, first and foremost. Allen's positioning and covering has allowed for Jordan Henderson to make runs higher up the field without worrying about gaps in space. He doesn't try anything too fancy as he knows his limitations. Allen's reintroduction has coincided with Liverpool's upturn in form. Maybe he can be the Welsh Xavi. That won't be too hard, as he doesn't have many competitors.
Midfielder – Wilfried Zaha
Currently, Zaha is a man on a mission. He is out to prove that both David Moyes and van Gaal were wrong about him. He is well on his way and there is no better manager to guide him right now than Alan Pardew. This weekend Zaha picked up his 2nd goal of the season along with his first assist.
The numbers aren't terrific, but he is beginning to pick up some form, and when combined with his growing confidence, a breakthrough must be on the horizon. The desire that Zaha showed to get his goal is a trait that a certain team could use right now. Dare I say it … I do dare, Manchester United.
Midfielder – George Boyd
Maybe Burnley might just stay up. If they do, a large thanks must be given to Boyd. Set up by a perfect Vincent Kompany header, Boyd stepped up and volleyed a beautiful goal into the back of Manchester City's net.
This season he has created 28 chances, 2 assists and has scored 5 goals. Not too shabby for £3m. In fact, Hull could use a hard-working player like Boyd as they edge nearer to the relegation zone. He runs for days, and fans love him because of his never-say-die attitude. His form begs the question: When is Liverpool going to buy him?
Midfielder – Sadio Mane
How many people had heard of Sadio Mane before this season? Not too many I think. His adaptation to the Premier League has been fascinating to watch. His skill and pace cause problems for any side, and appears to raise his game when he plays Chelsea. In the previous game he scored, and in this game he caused havoc by targeting the Chelsea defense (Terry) with direct dribbling.
Given a free-roaming role, he even managed to get the better of Nemanja Matic and win Southampton a penalty that may prove crucial in the title race. A perfect example of Southampton's clever transfer policy. Spurs should be paying attention, because if they had been able to spread their scouting network, they would've been able to find a gem like Mane. Then again, Erik Lamela has been very effective for Spurs this season, hasn't he?
Forward – Olivier Giroud
When Giroud is hot, he is untouchable. Lucky for Arsenal, he seems to be hitting form as the season nears its conclusion. He was sublime against West Ham, as he dealt a heavy blow with a strike just before half-time. It seems that everytime Arsenal score a beautiful goal, Giroud plays a major part in its creation.
In this particular instance, he exchanged passes with Ozil and Ramsey, before hammering home a perfect finish. He finished off this game with clever movement and a weighted pass to allow Ramsey to finish the opposition. I dream that on Tuesday Giroud will score 4 goals to knock Monaco out of the Champions League. Knowing Arsenal's luck, he'll get a red card and Arsenal will lose 3-0.
Forward – Gabriel Agbonlahor
Many times during a season, I am often found wondering how Agbonlahor became a professional footballer. His touch is heavy, his finishing poor and his passing wayward. So an Agbonlahor brace is something so rare, that it must be cherished. His goals put him up to 6 goals for the season, not particularly great for a Premier League striker.
But he provides more than simply goals. He was the outlet against Sunderland, often leading counter-attacks by himself. He capped off a fine performance with a goal that saw him dribble past several Sunderland "defenders" and curl in a finish. A goal that the great Thierry Henry would have been proud of.
Manager – Sean Dyche
Sure, Tim Sherwood blasted Sunderland away with a 4-0 thrashing, but c'mon it was Sunderland. A team that looks set to dive down the table. So I've decided to go with Dyche. He has built a side of hard-working players who are willing to do whatever necessary to stay up. His astute signings have helped the side, and unlike his rivals, has not gone around wasting money. QPR could learn a thing or two.
Back to Dyche, he has lead his side to within a point of safety. After recovering from the terrible start Burnely suffered, it's not a crazy idea to suggest that Burnley will not be relegated. Once again, the team above them currently is Sunderland. Sunderland. If they cannot overtake a disinterested, manager-less side, Burnley don't deserve to be in the Premier League.
Substitutes: Heaton; Koscielny; Dawson; Schneiderlin; Bolasie; N'Zogbia; Benteke
(3-5-2)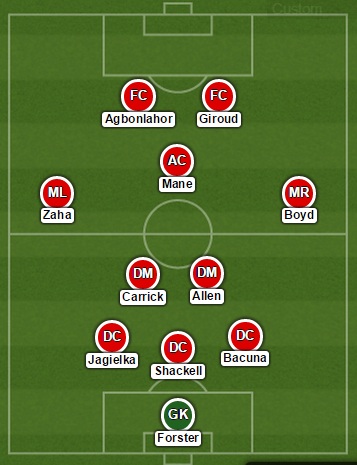 Via – Lineup Builder
* stats provided by squawka