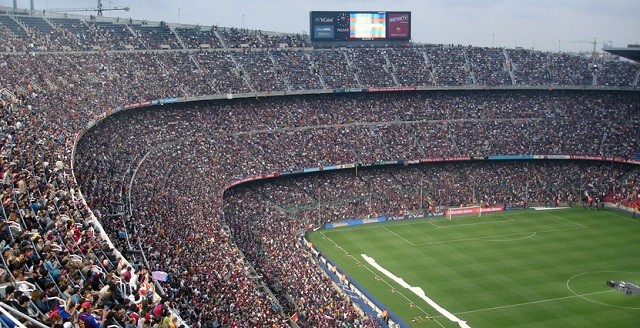 From all over the world, an estimated 500 million viewers will tune in to watch a sporting phenomenon.
Spain's spectacle, "El superclásico" will take place on 22nd of March at Camp Nou. A vital game for both Real Madrid C.F and F.C Barcelona, as Madrid seeks to dethrone the Blaugrana on their way to La Liga title with a handful of games remaining. With a rich history, traces of dirty politics and drama, this confrontation is set up to be one of the best as Madrid's BBC clash once again against Barcelona's MSN.
It has been both and extraordinary and unusual  period for both Spanish teams since the start of the 2014 season. Carlo Ancelotti's Real Madrid looked almost unstoppable, winning an unprecedented 22 games in all competitions, surpassing Guardiola's treble winning team.
The flow of tide has changed since then, as Real Madrid look like a former shadow of themselves as they narrowly escape defeat at the hands of Shalke to reach the Quarter-Finals of the Champions League.
In contrast Barcelona started the season very shaky, as they struggled to perform and adapt to formation changes and tactics. Luis Enrique's coaching methods were deemed  ineffective and redundant.
News outlets started reporting that Messi was unhappy and demanded  Enrique to be sacked. Rumors of Lionel Messi transferring to F.C Chelsea spread like wildfire when he liked the English club's Instagram page. It got to the point were Messi stepped in to deny  any accusations and pinpoint that he fully supports Enrique.
Madrid has been very unlucky this season with injuries to key players which has greatly reduced the squads performance. With players like Luka Modrić and Sergio Ramos, (who've just made a return)  it is very unlikely they will not be at their best when they face the Catalans.
With Bale's recent struggles, the Welshmen has been put under scrutiny after failing to impress abroad and at the Santiago Bernabéu. Not only Bale but Ancelotti as well, as the Italian coach refuses to rotate players even if their performances are not up to par, citing that all the players are in great physical shape. 
Barcelona on the other hand have improved in all aspects of their game starting 2015. MSN has started to click , Messi has had an impressive form, leading him to surpass Cristiano Ronaldo as current leading scorer , and Luis Suárez  scoring more consistently. Barcelona's defense has been reliable and rotation of key players has done wonders for them. 
Overall, regardless of form, both teams will fight with their all as this crucial match is a determining factor in who will be La Liga's winner. A drastic formation change is never out of the question , but with the way both teams have been playing it is very unlikely for any of them to change more than halfway into the season.