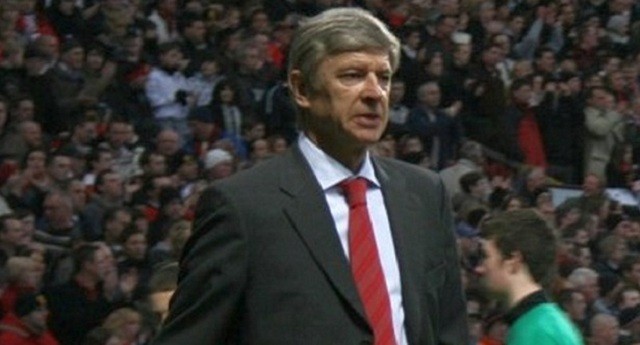 Arsenal faces their biggest task of the season when they face Monaco in their 2nd leg match in the Round of 16 in the Champions League on Tuesday. For Arsenal to advance they must win by a 3 goal margin, otherwise they face another disappointing elimination in the Round of 16 for a fifth consecutive season.
The task seems daunting but is not impossible. Arsenal are coming off a 4 game win streak, one of those wins came against Manchester United at Old Trafford,, a ground they hadn't won at since 2006, and the last one came in comfortable fashion against West Ham.
Arsenal's attacking options are always daunting and Wenger has plenty of players at his disposal to use different tactics. Against West Ham, Arsenal showed that they have plenty of players from different positions that can score, and against Man U they showed they have the patience and ability to counter quick and create chances fast.
Monaco will look to sit back again and counter like they did in their previous match at the Emirates. Arsenal will be prepared this time and are unlikely to field a team who are so reckless going forward. The return of Aaron Ramsey will help this out for starters, as he provides more balance and a better transition between attack and defense due to his energy. It's unclear whom he replaces though.
Another player who will play a large role is Nacho Monreal. Monreal has shown restraint when going forward and an understanding of his defensive duties. When he does go forward he is effective and dangerous but he only does so when the risk is minimal. Arsenal missed this in the 1st leg.
Arsenal will miss Alex Oxlade-Chamberlain, scorer of Arsenal lone goal in this matchup, due to a hamstring injury he suffered against Man U. Arsene Wenger will choose between Theo Walcott and Danny Welbeck to replace him.
Other choices have to be made in the middle of the pitch where Wenger will have to choose between Ramsey, Santi Cazorla and Mesut Özil. All three players are preforming well. Ramsey had a particularly good game over the weekend, giving Wenger a tough decision to make. Francis Coquelin is not droppable at the moment and currently Özil seems to be in that category. It's hard to imagine Cazorla not playing but Wenger won't want to sacrifice a wide player who can score either.
Luckily I'm not the manger, for a few reasons, and I don't have to make those choices, I get to make educated guesses.
Here is Arsenal's probable starting lineup.
Goalkeeper – Ospina
I still don't feel reassured by him in goal and I doubt that is going to change. In the team time though, Arseanl are getting results, at that's what's important.
Right Back – Bellerin
Hector Bellerin was rested against West Ham and will be needed against Monaco. His ability to transition from defense to attack will be needed and he will always provide a threat on the right side of the field.
Additionally his quickness is an asset in defense on the right side of the field, considering Per Mertesacker's limited sprinting ability.
He didn't have a good performance against Monaco last time, but he has been playing with confidence recently and I expect that to carry over.
Center Backs – Mertesacker & Koscielny
Both played have played very well the past two weeks and both should be feeling confident in this match. Laurent Koscielny has seemed sharper recently and Mertesacker has played with more energy and awareness.
Left Back – Monreal
One of Arsenal's best performers this season, Monreal has certainly been a very pleasant surprise this year. Somewhat of a dubious character amongst Gooners in the past, Monreal will be a key cog in Arsenal's well-oiled machine against Monaco.
Defensive Mid – Coquelin
Was excellent against Man U and again against West Ham. Coquelin will be asked to break down Monaco's counter attacks and will look to win the ball high up the pitch, allowing Arsenal to mount their own counter.
Center Mid – Cazorla
This is a really difficult choice to make as I would prefer Ramsey here but I can't justify Cazorla sitting on the bench. I also can't imagine him out wide as I think that Arsenal have a couple other players who can play their and get into better scoring positions.
Cazorla is one of Wenger's favorite players and Ramsey just returned from injury, so I'm guessing that Wenger chooses Cazorla here.
Attacking Mid – Özil
Followed his good performance against Man U with a masterful display against West Ham. He benefitted from the return of Ramsey who provides him with energetic bursts from the back. Both Özil and Ramsey really feed off of each other.
Arsenal needs goals and he creates the most goal-scoring opportunities in the team. You cannot drop him.
Wide Right – Walcott
This may be a selection that could come under some scrutiny but Arsenal needs goals and Walcott gets into goal scoring positions. He is the only player on the team who makes intelligent runs behind the defense. Arsenal was severely lacking in those types of runs against Monaco and they looked flat because of it. When Walcott came on in that game he got himself into two good positions almost immediately.
He didn't have the best of performances against West Ham but he looked more willing to defend and livelier with the ball at his feet. He got himself into two excellent goal-scoring positions and was unlucky to not get his shots off. Not every player is perfect and more often than not Walcott will score when in those positions.
He is more dangerous than Welbeck in that respect, especially when you consider Walcott has a better goal to games ratio compared to Welbeck. Prior to his yearlong absence, Walcott was Arsenal's most prolific player. This quality in him has not changed and Arsenal needs goals.
Walcott is the wild card player in this match.
Wide Left – Alexis
He looked tired against West Ham and was having one of those games where things just weren't going his way. That's fine, sometimes that will happen.
The prospect of elimination will motivate Alexis who is clearly a completive person and does not enjoy losing. This quality is starting to rub off on his teammates.
Striker – Giroud
Olivier Giroud was excellent against West Ham and will look to redeem himself against Monaco. He will get chances and I would be willing to put money on him scoring in this match.
(4-2-3-1)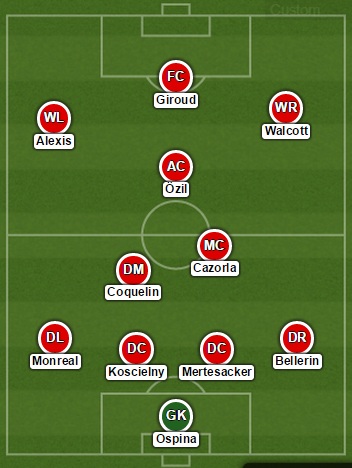 Via – Line Builder