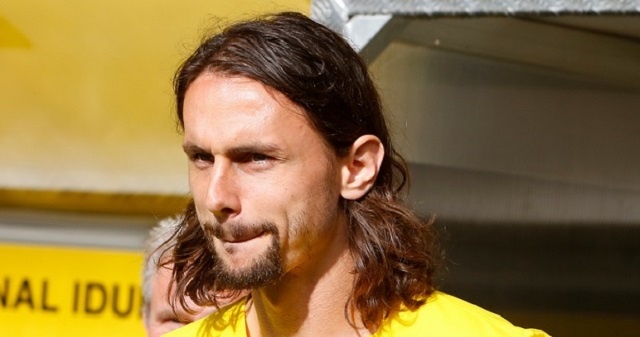 Not satisfied with the January capture of Gabriel, Arsene Wenger appears to be chasing after another central defender. In an unexpected move, Wenger is targeting a proven, top-class player in Neven Subotić.
Jeremy Wilson of the Telegraph reports that Arsenal "have been scouting Borussia Dortmund's Neven Subotic after Arsene Wenger identified centre-back…as a potential priority this summer."
At first glance, a move for Subotić seems like a no brainer. If a center back with Subotić's reputation is suddenly on the market, there will no doubt be a long queue to acquire his services. This is a player who has won 2 Bundesliga titles, reached a Champions League final, and is approaching the peak of his career. But the deeper you look, the less of a bargain it really is. 
If Subotić is such a great defender, why would Borussia Dortmund be listening to offers for the Serbian? The main reason is because he doesn't have the required composure and technique to play for Dortmund. Unlike the classy Mats Hummels, Subotić has a tendency to hoof the ball up the field, instead of looking for a pass to instigate an attack.
As noted by Stefan Bienkowski in Bleacher Report, Subotić doesn't have the same technical qualities as Sokratis Papastathopoulos and Matthias Ginter, two players challenging Subotić for a starting berth. Due to this technical deficiency, Subotić often slows play down, a problem exacerbated by the deployment of Sebastian Kehl and Sven Bender in front of him.
With only a year left on his contract, Dortmund may feel that the right time to cash in on Subotić is this summer. Because of his expiring contract, the Serbian is valued at €16 million*. In an inflated market, such a price seems remarkably low. But in Dortmund's eyes, selling him at a cut-price deal is infinitely better than letting him go for free. They would, of course, prefer not to let him join another Bundesliga side — something they failed spectacularly to do with Gotze and Lewandowski. 
As a top defender, Subotić would have his pick over which team to join. And yet, his aggressive defending style would really only fit the Barclays Premier League. There is no doubt in my mind that whichever side Subotić joined, he would provide an instant impact by shoring up any defense. For example, sides like Chelsea and Manchester City would benefit greatly from an addition like Subotić. Not Arsenal though.
As an old-school defender, Subotić employs an aggressive style of defending, choosing to physically dominate the attacker. Arsenal already has two defenders with such qualities in Koscielny and Gabriel; as seen by the failed Vermaelen-Koscielny partnership, two aggressive defenders looking to win the ball high doesn't work. Despite the quality of both center-backs, they were not able to play together, and needed the intervention of a certain Per Mertesacker to solve this dilemma. This conundrum would force an already exhausted Mertesacker to start every single game, making the purchase pointless.
In addition, Subotić doesn't have the leadership skills to play next to Koscielny. When paired next to a leader that can read the play and position themselves according to his movement, Koscielny becomes a world-class defender. Mertesacker is the player that Koscielny needs, with the duo completing each other perfectly. Despite Subotić's many strengths, leadership is not one of them. He is another Koscielny-like player; Subotić provides the aggression and Hummels is the leader who allows for Subotić to truly express himself.
In the January transfer window, Wenger signed Gabriel, another player in the mould of Koscielny. That signing suggests that if Wenger to purchase another defender in the summer, he is going to target a player similar to Mertesacker rather than another Koscielny.
Of course, Wenger may already have such a player in Calum Chambers. If Wenger goes to buy another proven defender, how is Chambers going to receive the gametime needed for a young player to develop?
Next season, Chambers will not only have to compete with Hector Bellerin and Mathieu Debuchy but also Carl Jenkinson (a player currently on loan at West Ham). Therefore, his chances at right-back are going to be extremely limited. When you add a center-back into the mix, Chambers is unlikely to play many games next season. Unless of course, Wenger wants Chambers to develop into a defensive-midfielder. Either way, a loan move is probably on the cards for the youngster.
Getting back to Subotić, another reason that Arsenal should look past the Serb is because of injuries so frequent, that he may even stand out at Arsenal as an injury-prone player. A team that has Diaby on its books. Since 2011-12, Subotić has missed a total of 74 games due to injuries; injuries suffered before he had entered the prime of his career. Beginning at 26, a player should be enjoying their peak years, not sitting on the sidelines, watching their team play. Missing such a large amount of games as a young player destabilizes their future career.
Look no further than Michael Owen, where injuries, occurring from burnout, ultimately ruined his promising career. When players around him were enjoying their peak powers, Owen was missing games, usually to recurring injuries. While Subotić's career will most likely not reach such a drastic level, there is a possibility that Subotić's body will force him to miss more games than he would like. For a side like Arsenal, known for their injury prone players, it's a bet they would rather not make. 
Then again, Arsenal seem to have an innate ability to take perfectly healthy players and turn them into broken, injury-prone athletes. It doesn't really matter who they buy, they'll be injured anyway.
*market value and injury record provided by Transfermarkt