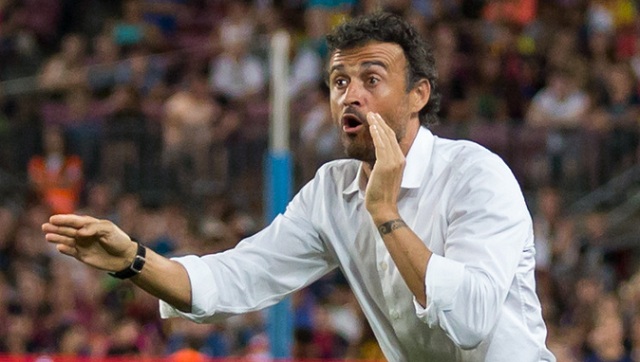 The upcoming week will be of major importance for Barcelona since the Catalan team will first measure forces with the English champions, Manchester City, for the second-leg of the Last 16 stage of the UEFA Champions League and over the weekend theywill host the current World and European champions, Real Madrid, at the majestic Camp Nou on the match that might decide who will be crowned the next Spanish champions.
After a somehow mediocre campaign last season, during which the Blaugranas failed to win any major domestic or international trophy, the team's board decided to part ways with Gerardo "Tata" Martino and brought in a man that knows his way around the house: the Asturian born manager Luis Enrique.
The former footballer of Barcelona and Real Madrid was part of the Catalan team's managerial staff from 2008 to 2011 and, at the helm of Barcelona B, he started to show all of his tactical expertise and ability to work with young and talented players.
After a less impressive experience at Serie A with AS Roma, Luis Enrique returned to his homeland to embrace a demanding and almost Herculean project at Celta de Vigo and he did good. The Asturian manager catapulted a constantly relegation threatened Celta to a whole new dimension and, at the end of the last season, pundits were unanimous in labeling Los Celestes as one of the most impressive teams of La Liga last term.
Against all the odds, Luis Enrique was the chosen one to command a Barcelona team hungry for change last Summer and so far he has been performing such task brilliantly. This strong willed 44-year old man has been changing Barça's DNA and sweeping most of the lethargy that almost asphyxiated Barcelona over, let's say, the last couple of seasons under the rug.
Luis Enrique is a truly tactical connaisseur and, although quite different from Pep Guardiola, he has so far managed to bring back the good old Barça of the ball possession and short passing game that constantly pushes the opponents against the ropes and doesn't even allow them leave their own midfield for large periods of the match.
His hybrid 4-3-3 system, according to which the front trio keeps changing positions on every single attacking movement, has been producing some excellent results both on domestic and international competitions. The team's defeat at Anoeta and the Camp Nou's setback against Málaga were true eye openers for the players, whose gigantic egos are sometimes a heavy burden for those in charge, but thanks to Luis Enrique's exquisite leadership skills, the team bounced back and are now on an excellent position to claim the Liga BBVA title.
Last Saturday, Barcelona picked up a solid and "historical win", according to Luis Enrique's words, at Ipurua against Eibar, since it the first time both sides measure forces at that particular stadium. Although it wasn't an easy match by any means, Barcelona displayed all their power against a mighty opponent that has already caused some shocks this season. 70% of effective ball possession and a dozen of goal chances were Barça's impressive numbers at the end of a match they have totally deserved to win.
The time is coming for Luis Enrique to put an end, once and for all, to the doubts the media have created surrounding his skills for leading a team such as Barcelona and, if they win both matches next week, no one will certainly manage to prevent the team from lifting at least two major trophies at the end of this season.