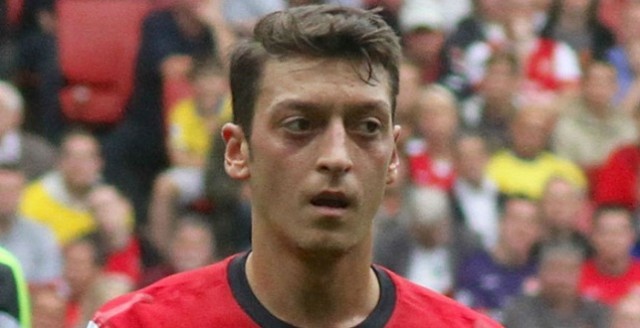 Arsenal is going into their Champions League 2nd Leg match against Monaco brimming with confidence. Before dispatching of West Ham over the weekend, the Gunners knocked out Manchester United in the FA Cup at Old Trafford with a solid and organized display. Previous to that they grinded out two 2-1 wins against Crystal Palace and QPR in tough away matches. After getting these wins and building a small amount of momentum, why shouldn't they be confident?
Speaking to the official Arsenal site, Mesut Özil, who has had an excellent three months, stated in a very plain and realistic manner, why Arsenal can win.
"We have to believe in ourselves. When you believe in yourselves, a positive energy grows and you can achieve your aims. In football, things that may look unlikely can happen. I know that if we believe in ourselves and utilize our potential, we can still go through."
It's interesting that Özil discusses that Arsenal need a positive energy. Of course he's right, as positive energy will create confidence throughout the team but why is that something that is being brought it up? It makes you wonder if Arsenal is now starting to feel the positive energy that Özil is speaking off and maybe they were lacking in that earlier in the year.
Its not unreasonable to think that's the case considering Arsenal suffered in the beginning of the year. A mixture of injuries, new signings, and delayed returns from the World Cup, led to Arsenal frequently fielding different first 11's week in and week out. It's impossible to create any kind of chemistry that way and an adjustment period is needed. It seems that Arsenal have finally adjusted to each other the past two months.
It's safe to say that performances such as the one we saw against Monaco in the 1st leg could be an anomaly for Arsenal going forward. Earlier in the season such performances were more frequent, however Monaco was Arsenal's first poor performance of the year, minus their match against Tottenham.
Four games since that dreadful performance and Arsenal seem like a new team, something Arsene Wenger explicitly said after Arsenal's match against West Ham.
"We dropped off in this league because we won one of six at the start of the season. Today we are a different team. We suffered a lot from the post-World Cup fixtures, players came back and they weren't ready to play."
Team chemistry has improved, as has player performance in most areas of the pitch. Those two are absolutely related. Much of this has to do with the fact that Wenger has been able to field a first 11 that he is comfortable with and doesn't have to change often.
Even Jose Mourinho has taken notice of Arsenal's "new team", commenting that they are title contenders and starting his mind games by questioning which Arsenal will show up. I think he knows.
Maybe Arsenal has developed the positive energy that Özil has described. Özil has been on winning teams for most of his career and it's no coincidence that Arsenal won their first piece of silverware in 9 years, in his first season with Arsenal. Özil knows what it takes to win.
To advance against Monaco Arsenal need to win by the 3 goals. This is an achievement that has only been replicated by a few teams but never by a team playing away, something Arsenal will have to overcome.
This is not an impossible task, especially considering Arsenal's attacking options. Özil's confidence bodes well and if Arsenal do have a positive energy around their performances, then anything is possible.