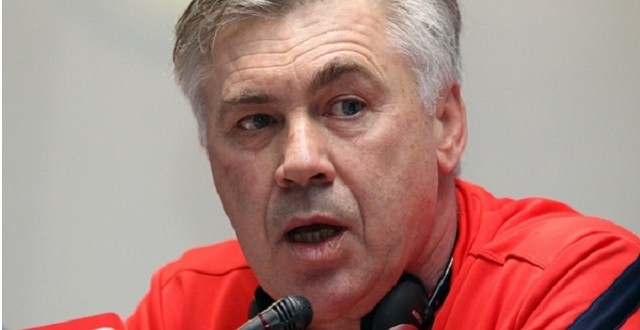 Real Madrid have gone three consecutive matches without winning. The crisis that started in January has now reached the worst point. This comes almost a week before El Clásico and with Barcelona already in first place. Before this, they will have to receive Levante and get their confidence back. Levante are fighting to get away from the relegation zone and they could profit from Real's crisis.
Preferred Formation: 4-3-3
Modrić is back already and he will play from the start on Sunday. This will bring more stability and creativity to the weakened three-men midfield. In addition, Ramos is set to return and will give the defense more intensity. This would be the perfect match for Carlo Ancelotti to use the 4-4-2, since it will be more effective against Barça.
GK: Iker Casillas
The captain had one of his darkest moments on Tuesday, despite saving a potential elimination at the last-minute. Because of this, it's possible Keylor Navas could be the starter instead.
RB: Dani Carvajal
Arbeloa played the Champions League and was part of that fragile defense. Dani will come back to exploit his offensive talent. The mindset must be changed if they hope to turn things around.
CB: Pepe
Despite his will and persistence, he hasn't been able to avoid the debacle. With Ramos back, maybe he will be able to organize the defense. He currently is performing better than Varane.
CB: Sergio Ramos
Ancelotti hasn't confirmed if he will play from the start, yet it's certain he will play. There were rumors that he was ready to play Schalke. Consequently, he must get some playing time if he wants to play Barcelona.
LB: Marcelo
Coentrão's only bright moment came with an assist to Cristiano Ronaldo. The Brazilian will come back and help Isco feed the BBC. He must keep that seamless back and forth with Carvajal and keep the defense populated.
RCM: Luka Modrić
The Croatian played 30 minutes and gave good vibrations. The technical staff's plan is to give him 60 minutes on Sunday and then the full match at the Camp Nou. His return will give Kroos some rest as he's one yellow card away of suspension.
CM: Lucas Silva
Coming in for Kroos, the Brazilian will finally play in his natural role as a central midfielder. It will be a good moment for him to show how good he is. This should relief Isco and Luka a bit when it comes to defending.
LCM: Isco
Declining in form like many of his teammates, he shouldn't get too comfortable. With one more midfielder available, his chances of being benched increase. His last performance at El Clásico should motivate him to replicate it.
RW: Gareth Bale
Heavily criticized recently, he's in need of a match like Ronaldo's on Tuesday. Shutting up his detractors is necessary as things could get worse. The team needs to see the best BBC once again.
ST: Karim Benzema
His goal saved Madrid's life from the shame of a round of 16 elimination. However, he has to do much more than that. Titles are still there for the taking and persistent poor form won't bring them home.
LW: Cristiano Ronaldo
Celebrated his two goals with a lot of anger. That warrior mentality is just what the team needs from now until the end of the season. Messi has taken off and he must fight back now.
(4-3-3)