Coming off their first win in what seems like ages, the Saints head into a critical league matchup with Chelsea looking to move up the table and back into Champions League contention.
Preferred Formation: 4-2-1-3/4-2-2-2
Koeman has experimented with both lineups this season. The Saints last match against Chelsea was the first time this campaign that Koeman put three up top and so, using that formation, we'll look at the Saint's strongest possible lineup March 15.
GK: Fraser Forster
The mainstay of the Saints defense, Forster has combined his goalkeeping skills with the four in front of him to earn a place among England's best keepers. His presence in goal should deter more than a few Chelsea shots.
RB: Nathaniel Clyne
Amid numerous attempts to keep his contract on the south coast, Clyne's consistent presence on the back right is something Saints' fans have come to know and love, and for a match against the best in England, you can be sure he'll be among the back four.
RCB: Jose Fonte
No game this important will occur without the club's captain, and Jose Fonte is sure to be a presence in the middle of the Saint's back four. His goading of the Saint's forwards to shoot a bit more is also something the club should take note of.
LCB: Toby Alderweireld
Alderweireld was on the bench for the last match but did not appear, but he should either start or make an appearance for a match of this magnitude. One of plenty Southampton players amid a tense bidding war for his services, his strong presence next to Fonte could be the difference between victory and defeat for Southampton.
LB: Ryan Bertrand
One of the newest permanent Saints, Bertand is sure to be a staple of the back four on the south coast for the foreseeable future, and there is no better way to thank the club than to turn out a brilliant performance on the back left side.
RM: Morgan Schneiderlin
In order to beat the best you have to be the best, and the Saints are strongest when they have an aggressive player like Schneiderlin out on the pitch. His presence in the midfield is sure to be a difference-maker he's out on the pitch.
LM: Victor Wanyama
The amount of matches that Victor Wanyama and Morgan Schneiderlin have appeared in together is very small. Whether it's an injury to one player or the suspension of the other, these two form a formidable defensive midfield that ranks up among the best in the EPL. Wanyama must use his size and strength to his advantage to give the Saints a chance in this one.
CAM: Steven Davis
Most people would suggest putting James Ward-Prowse or Filip Djuricic in this position, but I put Davis here for a few reasons. First of all he is simply more experienced, and secondly, the CAM needs to be consistent for a lengthy period of time, which is something Davis has proven he excels at. Ward-Prowse or Djuricic would also be excellent substitutions, but I would put Davis in the starting slot.
RW: Eljero Elia
Elia, who was just named to Holland's preliminary team during the latest break, has always played consistently for the Saints, and his power and strength up top is always a difference maker.
ST: Graziano Pelle
There is no way to avoid it: Pelle is not playing very good football. However, given the circumstances I would still put him up top, but don't be surprised if Koeman shifts around the formations, or even takes Pelle out, if the Italian is not performing up to par.
LW: Sadio Mane
I have to be honest, I put Mane here not only because I believe he is Southampton's best chance at a goal, but also because I am very, very curious about a front three involving Elia, Pelle and Mane. Hopefully he will continue his form, but at the very least he provides a spark up front for a Saints club in dire need of one.
(4-2-1-3)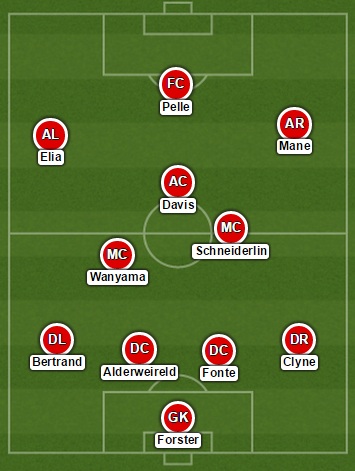 Via – Lineup Builder