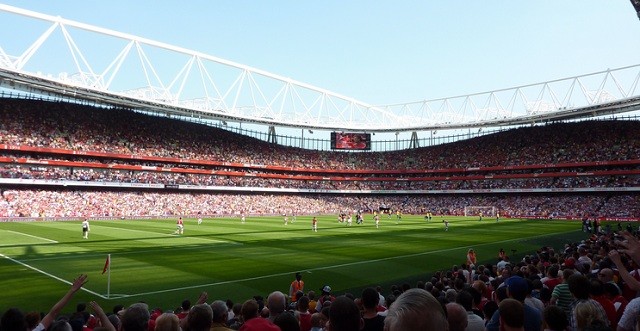 Arsenal face off against West Ham Saturday, in a match that will be more difficult than it seems on paper.
Former Gunner, Alex Song, claimed his side are looking forward to their matchup against Arsenal and will look to replicate Monaco's tactics on Saturday. Of course, Monaco successfully outplayed Arsenal in their first leg of the Champions League 16th Round, by counter attacking with pace and exposing Arsenal's fullbacks.
It remains to be seen if West Ham have the players capable of replicating Monaco, but they shouldn't be counted out considering they are placed well into the top half of the table.
Arsenal will have to cope without Alex-Oxlade Chamberlain who will be out for four weeks after straining his hamstring against Manchester United on Monday. It remains to be seen who will step in for the young Englishman, with Theo Walcott, Tomas Rosicky, Aaron Ramsey, and Danny Welbeck all providing options.
In Arsene Wenger's pre-match conference he admitted that the squad is currently fighting off fatigue but he won't allow the Monaco game to affect his team selection. It's likely though that Wenger does have one eye on Tuesday and will make two or three changes that shouldn't weaken the team too much.
Here is Arsenal's probable starting lineup.
Goalkeeper – Ospina
Wojciech Szczesny didn't do anything stellar against Man U on Monday and it's unlikely that he takes over from David Ospina. It still feels like it's a matter of time before Szczesny reclaims his spot, although when is the question.
If Wenger is still trying to make a point to Szczesny, I think that the Pole has gotten it. When Szczesny is back in the lineup, I can't imagine him ever losing it again after this layoff.
Right Back – Bellerin
The young Spaniard had an excellent game on Monday and coped well with being booked early on in the match. Wenger rightfully removed him in the second half to prevent a second booking.
Hector Bellerin will be motivated against West Ham, having just signed a new 4-year contract.
Center Backs – Mertesacker & Koscielny
Both were very solid on Monday, although one of them should have been tighter to Wayne Rooney when he scored Man U's solo goal.
Being dropped after the Monaco game has rejuvenated Per Mertesacker and since has put in a string of excellent performances since then. It's quite likely all he needed was a good rest after playing almost every match this season.
Left Back – Monreal
Arsenal can't seem to go wrong at left back this season with both Kieran Gibbs and Nacho Monreal having excellent seasons. Just when it seemed that Gibbs had finally grasped back his position as first choice left back with a string of excellent performances, Monreal is inserted back into the side on Monday and has a stormer.
I think that Monreal plays in this match because I don't see Wenger fussing with his back four too much before Tuesday, and in spite of Gibbs' excellent displays in the past couple matches, Monreal still seems to be Wenger's preferred choice.
Defensive Mid – Coquelin
Francis Coquelin was by far the man of the match on Monday by keeping Marouane Fellaini in check all match. Even a cheeky elbow from the big haired Belgin to Coquelin's broken nose in the opening stages of the match couldn't stop Arsenal workhorse.
With five days of rest in between Saturday's match and Monday's match, he should be fresh for this match and still have more than enough in him for Tuesday's match.
The return of Mathieu Flamini gives Wenger a backup on the bench and an option to go to if Coquelin is in need of a rest.
Central Mid – Ramsey
Ramsey, not Walcott, came on for the injured Chamberlain on Monday, pushing Mesut Özil to the right. Ramsey could use a full match having just returned from injury and Saturday seems like a good time do give him that.
Santi Cazorla has played hard without letting up for months now and he could use a break before Tuesday's important match.
Attacking Mid – Rosicky
This match seems like a Rosicky match, although it's not clear if he plays centrally or out wide. I'm leaning towards Özil being rested alongside Cazorla, although Wenger may not feel the same way as to not disrupt the German's rhythm.
Both ways, Arsenal have a couple of excellent options in this position and Wenger can't go wrong here.
Wide Right – Welbeck
Having scored for the first time in this calendar year, and against his childhood team no less, Welbeck must be feeling good. Dropping him for this match would seem harsh and with the Ox out injured, it's likely that Welbeck gets the start on the right.
Walcott could come in, but I get the feeling Wenger is waiting to use him against Monaco where his nose for the goal will be essential.
It's possible that Wenger is playing a mind game with Walcott, building up his frustration so that against Monaco he lets it all out and shows the manager that he should be starting. Who knows? Football is full of mind games that sometimes work and sometimes don't, just ask Jose Mourinho.
Wide Left – Alexis
He was a menace on Monday and should have got on the score sheet if not for an absolutely world class save from David de Gea.
When Wenger rotates, he isn't known to rotate an entire squad and I can't imagine Alexis being rested.
Having already dropped Cazorla and Özil, not including Alexis might take Arsenal's attacking edge away. If he were to drop him, Walcott would come in on play on the right, pushing Welbeck to the left.
Striker – Giroud
Having been in excellent form in the league and then surprisingly dropped on Monday, Olivier Giroud should be extra motivated to perform in this match.
(4-2-3-1)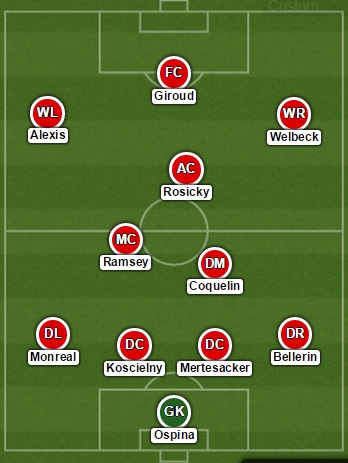 Via – Lineup Builder