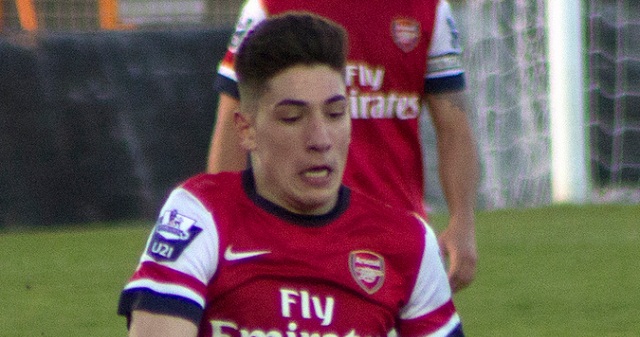 The Daily Mailare reporting the Hector Bellerin is extending his current contract that expires in 2017. Arseblog are reporting, via L'Equipe, that Bellerin's new deal will expire in the summer of 2019.
Not initially considered a first team option when the season began, Bellerin has truly grown into his role. His attacking style and willingness to defend have been especially pleasing to watching. This shouldn't come to a surprise to any of us as the wise and all-knowing Mikel Arteta prophesized the young Spaniard's bright future, back in September.
"I think he's a top player, hee's going to be the right back of Arsenal for many years, in my opinion – providing he continues to progress in the way he has been doing.
"Mentally, he handles what is requested to play at the highest level. He's got pace, technique and he's a very positive guy."
Bellerin's first team opportunities have come in large part thanks to the truly unlucky Mathieu Debuchy, who has had two serious injuries keep him out for long spells this season.
Additionally, Arsenal have needed to use Calum Chambers at center back for a good chunk of the year, allowing Bellerin to replace Debuchy while he was injured. During this time, although he has suffered some initial difficulties, Bellerin cemented his place above Chambers in the pecking order and currently seems to be one of Arsene Wenger's favorite players.
Arsenal currently stand to profit from the emergence of Bellerin. Arsenal will be more inclined to sell Carl Jenkinson, who is currently on loan to West Ham, for a reported £10 million. With a mix of experience and young exciting talent at the right back position, Jenkinson would have trouble breaking back into Arsenal's first team.
But most importantly, Bellerin provides Arsenal with additional depth in defense that they were not counting on in the beginning of the season. As it stands Arsenal have five defenders who can play as fullbacks and five defenders who can play center back. Bellerin's emergence has allowed players to be versatile.
For those worried that this deal may have negative implications on Chambers' future, there is no need to be concerned. Chambers' future lies in the middle of the field, either at center back or defensive midfield. Chambers' ability to play at right back is merely an additional asset for Arsenal and an indication of what an immense talent Chambers is.
Gunner fans can look forward to Bellerin holding down the right back position for years to come.