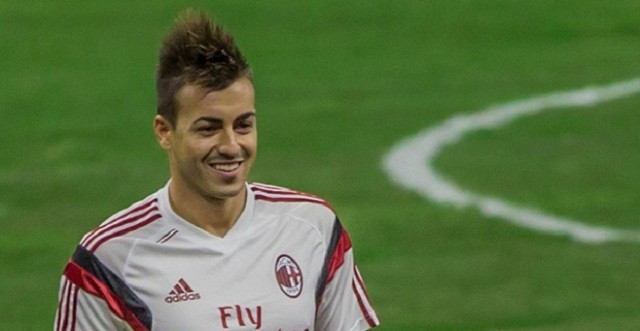 Arsenal have been linked with Italian wunderkind, Stephan El Shaarawy and according to ESPN FC the interest is welcome from the young Italian. The young forward did nothing to refute recent reports of mutual interest but admitted that he needs to focus on returning from injury after breaking his metatarsal in February.
"Certainly Arsenal's interest gratifies me a lot. But right now, my objective is to return for Milan and do well with Milan."
El Shaarawy is undoubtedly a skilled player filled with potential whose best form is still ahead of him. He can operate through the center in an advanced role or on both wings. However, he has a troubling injury history, he has only played in 21 matches over the past 2 seasons.
This may scare Arsenal off considering that for the past 10 seasons or so, including this year, Arsenal has had to deal with an extensive injury list that greatly hindered their success. El Shaarawy sounds a bit like a young English midfielder who worked his way through Arsenal's ranks and is full of potential but has had his progress hindered by injuries. Arsenal only want to deal with one Jack Wilshere, not two, and it's likely that Arsenal will consider players' injury history during summer recruitment.
Besides El Shaarawy's injury history, it's difficult to see where he fits in. He would undoubtedly bring talent and more depth but he would have to compete with Danny Welbeck, Alexis Sanchez, Alex Oxlade-Chamberlain, Theo Walcott, Mesut Özil, Santi Cazorla, and Serge Gnabry. It's likely that one of those players would have to make way, right now it seems that Walcott is that player considering his lack of appearances and current contract situation. Right now though, that doesn't seem likely.
Still though, Arsene Wenger might find it difficult to fit all these players into the team and keep everyone happy, fit and sharp. It's one thing that a player unhappy because he isn't playing, it's another thing though when a player isn't playing and when he does plays poorly because he isn't match sharp due to a lack of games.
That's not to say that this would be a poor purchase, quite the opposite, this would be an excellent purchase considering El Shaarawy's talent. Much of that would depend on him being healthy of course. Rather, this is simply an unlikely transfer because it does not fit a need. This transfer would be a coup because it shows ambition, but Arsenal are in need of a robust defensive minded midfielder to complement and compete with Francis Coquelin.
At the moment this seems like a rumor that was leaked by an agent to get his injured client back in the news, keeping El Shaarawy relevant in the football world, despite his prolonged absences.