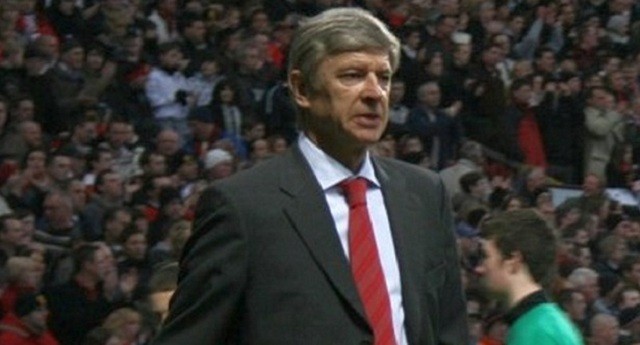 In the wake of Arsenal's 2-1 defeat of Manchester United in the FA Cup Quarter Finals the mentality of the Arsenal team is stealing the headlines. In his post-match comments Arsenal manager, Arsene Wenger highlighted his team's courageous performance stating,
"Mentally we were prepared and started on the front foot without any apprehension."
For the second time this season Arsenal traveled to Manchester (Manchester City in January) and came away with a well-deserved win.  In Monday night's contest, goals from Nacho Monreal and Danny Welbeck were enough to see off an abject Manchester United side.  In truth, it was a fantastic team performance where throughout the team each man played his part.
Per Merestacker and Laurent Koscienly organized the back line and with the help of a superb Francis Coquelin, alleviated pressure throughout the night. Outside of Wayne Rooney's goal and an Angel Di Maria strike, United hardly threatened. The individual defending of Arsenal's outside backs also contributed to lack of potency in United's attack.
Going forward Arsenal were dangerous on the break and unbalanced the Manchester United defense on numerous occasions. Mesuet Ozil, Santi Cazorla, Alexis Sanchez and Danny Welbeck were constant threats and gave United plenty to think about.
Overall, not only did Arsenal create a greater number of dangerous opportunities, but they displayed an organized, tireless defensive performance. Both Sanchez and Cazorla could have extended Arsenal's lead while United were forced to play direct through Marouane Fellaini, which proved to be unsuccessful.
It is a result that should go some way towards healing the wounds of Arsenal's defeat away to Tottenham last month.  It seems as though Arsenal demonstrated a maturity against Manchester United which was not present at White Hart Lane. On Monday night, after conceding the equalizer, there was no panic from Arsenal. They held on to their game plan and in the end were rewarded.
The fact that the squad have replicated their brilliant performance from their first trip to Manchester, proves it was no fluke and that they have what it takes to win the important matches. Wenger also hinted that this should help give the team further belief that they can win when the pressure is on, saying;
"[Winning here shows that] we are improving and progressing. To win a big game helps to increase the belief of the team."
To say this FA Cup Quarter Final matchup was a big match was an understatement. For both teams this competition represented their only chance of winning actual silverware this season. As a result the match had a true Cup Final atmosphere and the desire to win was displayed by both sides with Arsenal bravely rising to the challenge.
What this win ultimately represents is that Arsenal are truly back! The last couple of seasons have seen them struggle to win against the Premier League's top sides. The style in which Arsenal have defeated both Manchester clubs suggest that the Gunners are learning from their experiences. The execution of a game plan, the work rate and team unity which characterized the Arsenal performance demonstrates a level of growth and maturity not seen for quite a while.
With an FA Cup Semi Final as well as matches against Liverpool, Chelsea and Manchester United there are still a number of tests for this Arsenal team to endure before all is said and done. Whether or not Arsenal can get results in all of those matches is certainly still a question, but the confidence gained from their Manchester travels should serve them well. If nothing more, the performances themselves should continue to improve and the "fear" of Stamford Bridge, Anfield and Old Trafford should dissipate.
*quotes from Arsenal.com