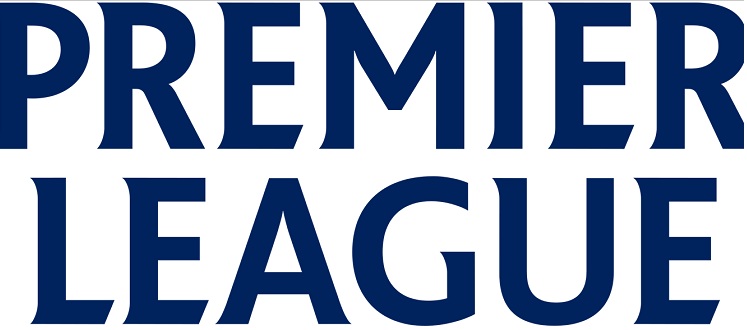 The midweek fixtures failed to shock many people with fairly predictable outcomes, except for the Aston Villa game against West Bromwich Albion that Villa won 2-1. That win gave Villa a 3 point gap between relegation and safety.
Tottenham Hotspur and QPR both played twice — with Spurs winning the game versus QPR — leaving Spurs 3 points off of Champions League and QPR in the relegation zone.
Once again, it was a fairly predictable week, with wins for Arsenal, Manchester City, Southampton, Liverpool, Chelsea and Manchester United. A win over Everton these days is hardly something worthy of praise, so Stoke's routine win at the Britannia was expected. Things are not looking good for Everton, a side only 6 points clear of relegation.
This gameweek, a group of players stood out among their peers. Here's my TOTW.
Goalkeeper – David de Gea (Manchester United)
What a goalkeeper he is turning into. The clean sheet kept against Newcastle made it 9* for the season, very respectable when you consider that he has the likes of Smalling and Jones ahead of him.
At times it can appear that you don't need a defense when you have de Gea in goal. Well that seems to be United's tactic anyway. One magnificent stop to foil Rivière's attempts to score his first league goal of the season; a save he had no right to make. He is now a world-class keeper.
Defender – Per Mertesacker (Arsenal)
A lot of people seem to forget that Mertesacker is a quality defender. It appears that he is berated every week, with his deficiencies always being singled out. Let's not forget that he does in fact have over 100 caps for Germany, no easy feat.
Gabriel was preferred to the BFG, but an injury to the Brazilian gave Per a chance to retake his place in the side. And retake he did; with 15 clearances and 1 block, as well as winning 83% of his aerial duels, he helped Arsenal keep the England goal machine that is Charlie Austin at bay.
Defender – Emre Can (Liverpool)
Liverpool's sudden defensive resilience is down to 2 things: the first being that Lovren received a much-needed break to recover from his poor form and Can being moved to the defensive line. He has the speed and strength to play against all center forwards, and the technique to bring the ball forward and start Liverpool attacks.
Ever since he was brought on at half time in Liverpool's fixture against Burnley, Liverpool have kept 7 clean sheets in 11 games. Compare that with 4 in 17 games BC (before Can). He could now become to Bayern Munich what Pogba is to Manchester United.
Defender – Phil Bardsley (Stoke City)
Even though Everton may be suffering from second-season syndrome with Roberto Martinez, Stoke still had their work cut out defending against them. Bardsley may not have spent a tremendous amount of time defending, but helped out when needed.
He did however, make a substantial contribution up the other end with an assist for the opening goal. Bardsley showed Coleman how the Irishman used to play last season; perhaps Coleman can take lessons from Bardsley to regain his form.
Midfielder – Ryan Mason (Spurs)
It was a good week for Mason, as he helped Spurs to 2 wins over Swansea and QPR. He achieved a landmark in the Swansea game: his first Premier League goal. After that goal, his shot conversion rate improved to 3.6%, but scoring his first goal could give him the confidence to score more.
His form carried into the QPR game, where he picked up his 3rd assist of the season. He could be the midfield dynamo to lead Spurs to the Champions League. Hopefully such a scenario doesn't occur.
Midfielder – Jordan Henderson (Liverpool)
I know what Brendan Rodgers is thinking. I also know that he doesn't want to say it. So I'll say it for him: Liverpool is better with Gerrard on the bench. When Stevie G is on the bench, Henderson has full license to roam, with the knowledge that he doesn't need to cover for anyone.
He had a fantastic game against Burnley, scoring a goal Gerrard would be proud of, and providing the assist to Daniel Sturridge for Liverpool's 2nd goal. With Henderson in such great form, Liverpool must act quickly to renew his contract which is expiring in 2016. If they choose not to, I'm sure Henderson will have a lot of options to choose from.
Midfielder – Jesus Navas (Manchester City)
It's hard to believe that Navas has had some part to play in 26 out of 28 BPL matches for City. In some games, he is virtually anonymous. Yet, with another assist vs Leicester, he has 7 assists for the season. He is an old school winger, a player that can provide width and act as an outlet in a side that gets heavily congested down the middle.
He does have the ability to beat a man and cross the ball, as evidenced by his 10 crosses in that game. Wilfred Bony must be licking his lips in anticipation, as Navas has already created 56 chances this season. The question for Navas remains the same: Can he play just as well against the big teams?
Midfielder – Eden Hazard (Chelsea)
Another goal for Hazard, taking his tally to 10 for the season. He is in a class of his own at the moment. He ghosts past players like they're not actually there, in a manner similar to Messi. Opposition players have to foul him, otherwise he'll just dribble past their entire team and score.
He's definitely a contender for Player of the Season. And by adding the defensive side to his game that Mourinho desires, he has grown into the complete midfielder. He can score, pass, dribble, defend, and most importantly for Roman Abramovich, entertain.
Midfielder – Alexis Sanchez (Arsenal)
Before Arsenal's midweek clash against QPR, Alexis was on a bit of goal drought. Whereas most attacking players go on droughts that last 10 games, Alexis's was a mere 4 games. You also have to remember the amount of minutes he's played this season, and the effect that has on his form.
His goal midweek took his debut season total to 13 goals, thus dispelling claims that foreign players need time to settle in. He is beginning to hit his early season form at the perfect moment, as Arsenal look to mount a late season charge.
Forward – Harry Kane (Spurs)
Harry Kane scored another 2 goals — his tally is now at 16 — and by doing so, accomplished 2 things. The first being that Adebayor and Soldado are being made to look like amateurs. With Eriksen and co feeding them, how could they not score more?
The second thing that Kane accomplished was a move to Real Madrid, Tottenham's "strategic partner." Don't be surprised when Florentino Perez shows up with £100 million to buy Kane.
Forward – Christian Benteke (Aston Villa)
It looks like Benteke could be the man to drag Aston Villa out of the relegation battle they find themselves in. With a goal and an assist, he helped Villa secure a much needed victory as they attempt to climb up the table.
If Benteke hits a run of form that sees him reach his goals per game ratio of 0.56 in the 2012-13 season, or even his ratio in the 2013-14 season of 0.38, then Villa will survive. This season his goals-per-game ratio is poor: 3 goals in 19 appearances or 0.15 goals/game. His ratio is poor because he doesn't want to be there anymore. Instead of sulking, he has realized that the best way to attract buyers is to score.
Manager – Tim Sherwood (Aston Villa)
I could've gone with Mark Hughes, after he saw out a sucessful victory over Everton. But I've chosen to go with Tim Sherwood, as he made Aston VIlla win. Not only that, but he made them score 2 goals in one game. In one game. He is therefore the greatest manager ever.
Substitutes: Forster; Cameron; Cahill; Mane; Townsend; Moses; Giroud
(3-5-2)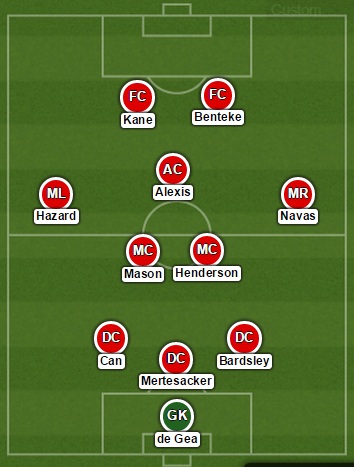 Via – Lineup Builder
* all stats provided by Squawka