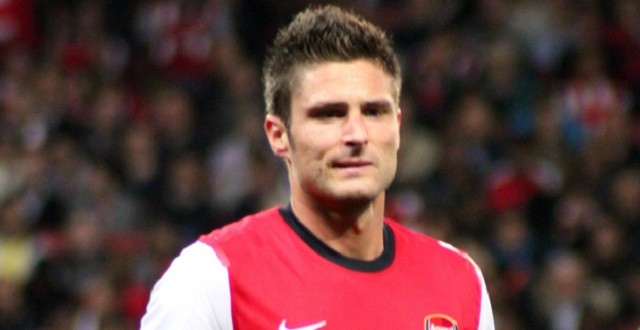 Olivier Giroud was recently acclaimed the Premier League's 'Hottest Player of the Year,' and may be in more ways than just one. Certainly a popular topic in the media recently, and deservedly so after his collapse against Monaco, Giroud is the striker everyone talking about.
They are asking questions like, "Is he good enough to play forward for Arsenal?" This seems like a fair question to speculate on, considering the likes of talent that have come before him. If you look back to just three years ago, you will remember Robin van Persie. Of course van Persie was a star and it is unusual for a Gunner to have to live up to such a player, right? Wrong.
Just before that, there was the unbelievable tandum of Dennis Bergkamp and Thierry Henry, both bigger stars and heroes to Gunners than even van Persie was. They were part of the 'Invincibles' squad that didn't concede a single loss the entire 03-04 campaign, something that hasn't been accomplished in over 100 years prior. The pair were responsible for catapulting Arsene Wenger's Arsenal into immortality, and there have been many others that have played the position better.
Wenger came to Arsenal in 1996, and just happened to be handed the key to Arsenal's sports car, in forward Ian Wright. Wright may not have been on the level of Henry or Bergkamp in terms of fame, but would compare to and even eclipse a van Persie in terms of production and consistency. He bridged the gap quite nicely to newly acquired Bergkamp, and soon after Wenger's prodigy Henry, as it would turn out.
With all that being said, it's not hard to see why Giroud receives some criticism, but it is really just? The position of Arsenal forward is held to a very high standard, but Giroud seems to be filling it-quietly. Giroud's stats when compared to his predecessors is intriguing, as it shows he indeed is a quality striker on his way to filling the Arsenal standard.
Ian Wright had 185 goals in 289 appearances for Arsenal throughout the early and mid 90's, a feat that proved Wright was worth his record transfer fee. Wright had .64 goal strike rate, which is unbelievable stat. The Arsenal of the early 90's were not one of their more prominent squads, so it could be argued that Wright had so many goals due to lack of production elsewhere.
Dennis Bergkamp had a resounding 425 appearances as a Gunner, scoring 122 times netting him a goal scoring rate of .29, by far the lowest of the bunch. The 'Non-Flying Dutchman' would be the exception though, as he played in a unique forward role which lied a little deeper in the midfield, thus making him more of an assistant. It should be noted that Bergkamp thrived in the role behind superstar Thierry Henry, as the Frenchman referred to him as 'a dream for a striker.'
Henry was a remarkable striker, and with Bergkamp's assistance, has an tremendous .60 scoring rate, rippling the net 227 times in 376 appearances. Henry was a master of his craft, so if Giroud could replicate anything close to that it would be fantastic.
Robin van Persie was a Dutchman who did fly, in a literal way, and figuratively flew himself to a scoring rate of .51 over his 8 years with Arsenal. Scoring 121 goals in 235, van Persie was good for a goal every other time he stepped on the pitch, which earned him his notoriety with Gunners.
In 120 total appearances for Arsenal, the 28-year-old Giroud has netted 52 times, with a .43 strike rate. With all his criticism, his stats show that he is scoring on a line similar to Robin van Persie, and in due time could see his rate increase over the Dutchman. With much fewer appearances than all the others and fairly good start to his Arsenal campaign, there is certainly a chance to make the name of Giroud be regarded as another all time Arsenal forward great.
Giroud, at first glance, fits the prototypical forward role. He is tall, strong, instinctive, and finishes well, albeit mostly at close range. This notion of Giroud mostly scoring tap ins, isn't far off base, which consequentially could leave some of his talents in question.
If you watch Giroud's game, you will obviously notice his instinctive and precise near-post run, which he has shown to love. Time after time the Frenchman screams through the center of defenses and finds himself on the end of a pass at the near post, often finishing with a brush on the outside of his left boot or a glancing header.
Giroud hasn't shown many glimpses of stunners, as like likes of van Persie and Henry became known for, which may be some of the reason fans aren't as infatuated with him yet. Don't be deceived, he does have a powerful left boot, as he displayed from long range against Manchester City in the Community Shield in 2014. Giroud surely would be more than happy to show you again just how good his shot from range really is, he just isn't in the position to with the star studded cast of midfielders behind him, all looking for their own chances.
Giroud's critics most just point would definitely have to be that he has failed to net against big clubs in obviously big games. Against the top four clubs in his Premier League career, Giroud has only netted four times in 20 games. In his 15 Champions League games, he has just 5 goals. Compared with his average of a goal every other game against other teams, the drop-off is definitely worrisome. His confidence has shown to be strong an resilient and his memory short though, which are important attributes great forwards must possess in order to grow.
The other great quality about Giroud unrelated to scoring, besides his fantastic runs and positioning, is his technical ability and skill while on the ball. Giroud has great hold up play, which comes fairly naturally with his size, but he then also has talent to play a great pass, whether cheeky or decisive. He has the uncanny ability to combine with his midfielders for a forward, which is hugely beneficial in a pass-heavy Arsenal If system.
If Giroud can improve on his scoring and composure in big moments, than he will definitely win over Gunners hearts for good. He has shown a miss or two in his career, but who doesn't make a few mistakes from time to time. With Giroud's goal scoring record in the majority of games, it would seem as if his misses like in the match against Monaco are a lot more uncommon than people would think.
The French striker is in the prime of his Arsenal career, and after an impressive and hopeful return from a broken leg, will look to bolster his name in Gunner stardom. After recently extending his contract and loyalty with the club until 2018, Giroud will have ample time to prove to the world that he in fact is good enough to play forward for Arsenal Football Club.
https://www.youtube.com/watch?v=R04Ecp6YiBY