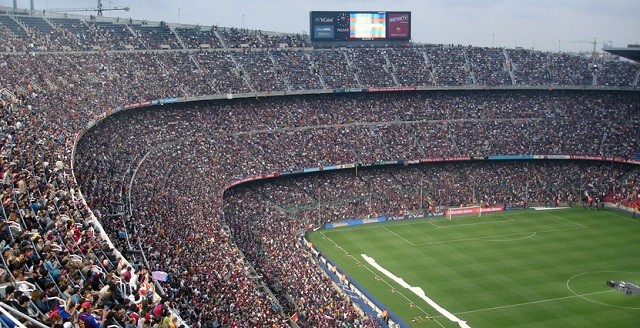 In April 2014, F.C Barcelona was handed a 14-month transfer ban, after they were found breaching under-aged signings, punishing the Catalans from acquiring any key players for the remainder of the year. Barcelona appealed the ruling to the Court of Arbitration for Sport (CAS) to allow several signings before the summer transfer window closed, which they allowed. Since then, Barcelona bought several key players such as Suárez, Rakitić, and Bravo to further strengthen their squad.
The current transfer ban, which ends January 2016, has brought extensive speculation and discussion on current squad members. Veteran players like Alves and Xabi are expected to leave in the future, while other youth talent are considering leaving for more minutes. Interestingly enough, according to recent reports by Sky Sports "Barcelona are able to sign players this year as long as they are not registered before January 2016, FIFA have confirmed"
If this statement holds any truth this can be a very exciting and important moment for Barcelona. Essentially allowing incoming players to be part of the club but with certain restrictions. The ideal situation for Barcelona would be to loan new talent abroad, help them develop further, wait the duration of the ban, and have a guaranteed signing. With that being said we move to our Top Five Barcelona Transfer Rumors currently floating around the football world.
Luciano Vietto
Height – 5'8, Position – Striker, Club – Villarreal, Age – 21
Vietto is a prolific striker who has been critical for Villareal's top form. Equipped with quick feet and a good reading of the game, the striker has scored 18 goals across all competitions. Big clubs such as Liverpool and Arsenal are said to have their eye on this young star.
Danilo Luiz da Silva
Height – 6'0, Position – Right Back, Club – Porto, Age – 23
Danilo has been an essential right back for F.C Porto this season. He has been closely compared to Dani Carvajal and Dani Alves but with an exceptional shot.
Real Madrid is also seeking this youngster as a replacement for Arbeloa while Barcelona seeks to replace him for Alves. He is currently valued at 20 million euro transfer fee.
Stefan Savić
Height – 6'2, Position – 24, Club – Fiorentina, Age – 24
Savić is a talented center-back defender who previously played Manchester City. Since moving to Fiorentina, minutes and the experience have matured this young defender. With a strong physical presence, and aerial ability,  Savić can be snatched for fee of 14 million euros.
Marco Verratti
Height – 5'5, Position – Midfielder, Club – PSG, Age – 22
Verratti has been nothing short of spectacular for Paris Saint Germain. Playing as central midfielder, he has incredible ball retention and vision.
A viable Xavi replacement; Verratti would have no problem adjusting to Barcelona's possessive game. Winner of individual and team awards, the young star has a hefty price tag of 30 million euros. Only time will tell if Barcelona is willing to open their pockets for this remarkable player.
Lars Bender
Height – 6'0, Position – Midfielder, Club – Bayer Leverkusen, Age – 25
Bender is a box to box midfielder who has been integral in Bayer's plans over the years. The midfielder is a tough tackler as well as a good distributor of the ball and he would certainly be a good fit for Barcelona.
Bender has been quoted a price of around 15million and the German international will be value for money if indeed Barca do choose to sign him.