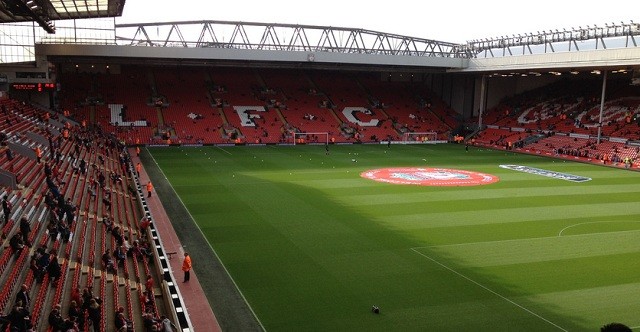 Brendan Rodgers and Liverpool continued their campaign for a Champions League spot with a 2-0 victory over Burnley. The team is currently oozing quality in all facets of the game and should be confident in their ability to progress this weekend when they face Blackburn in the quarter-finals of the FA Cup. Rodgers should be able to field a full strength starting 11 since there will be a long break between the match this weekend and their next fixture.
Goalkeeper
Simon Mignolet was able to get his 11th clean sheet against Burnley and he should expect to get another one this weekend. The Belgian has become such a solid player after failing for most of the first half of the season and he could be on the path to being the long-term 'keeper for the Reds.
Center Backs
Emre Can has been playing well the past few games and he looks like a terrific investment for the future. Martin Skrtel continues to be the leader of the defense and he should lead it to another clean sheet.
Dejan Lovren will probably start since Mamadou Sakho may not recover from his hip injury in time for the match. While many have criticized Lovren during his time at Anfield, his presence provides some much needed depth at the center back position and he also looks like he is finally becoming comfortable in his new environment.
While they haven't faced many two-striker formations this season, the Liverpool defense was able to deal with Manchester City's Sergio Aguero and Edin Dzeko, who were lined up in a 4-4-2 just two games ago. While they should be confident, they should not forget that their opponents scored 4 goals against Stoke City in the last round of the FA Cup with the speedy Joshua King bagging a hat trick.
Right Wing Back
Lazar Markovic may return to the lineup after sitting out the last match. He is the player whose place in the starting lineup is the most inconsistent so he should be motivated to show Rodgers that he is good enough to be a regular first team player. He will need to be on his toes this weekend with a dangerous Ben Marshall playing out on the left side of the Blackburn formation, he has 6 goals and 4 assists in the Championship.
Center Midfield
Jordan Henderson scored yet another screamer from outside the box and he looks like he is in tremendous form just in time for the most important stretch of the season. He also provided the assist to the second goal with a perfect pass.
Henderson and Joe Allen should be able to dominate the center of the pitch this weekend with their energy and passing ability. Rodgers may also opt to start Steven Gerrard who is finally healthy after suffering a groin injury.
Left Wing Back
Alberto Moreno provided another solid, yet unspectacular performance on the left flank against Burnley. His speed and defensive acumen should allow him to deal with whoever starts on the right side of the Blackburn formation.
Forwards
Raheem Sterling was not at his best out on the wing against Burnley and will probably go back to being placed in one of the attacking midfield roles against the Championship side. Daniel Sturridge was able to score against Burnley with a well timed run that allowed him to head the ball into the net. Philippe Coutinho continued his fantastic form with another good display in the last match and should play similarly this weekend.
The front-line should be able to break through a feisty but relatively weak Blackburn defense. Sterling, Sturridge and Coutinho are all on form and their speed and passing should create multiple opportunities to score.
(3-4-3)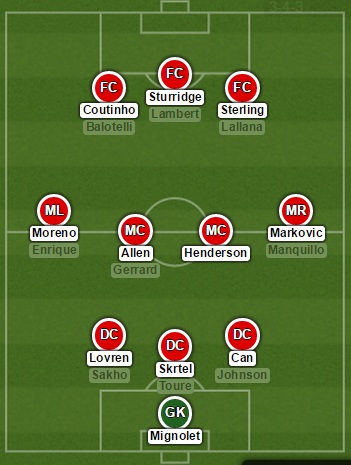 Via – Lineup Builder