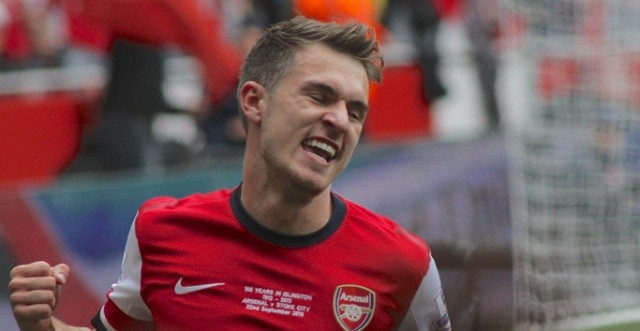 Arsenal travels to Old Trafford on Monday for their FA Cup Quarter Final match against Manchester United. A victory for either team could define their seasons and the importance if this match has not been lost on either manager.
With only 1 point separating the two sides in the league, United manager, Louis van Gaal has touted this match as a "final". His counterpart, Arsene Wenger, admitted he relishes this matchup as it has a "special intensity". Wenger went on to state that the first goal would dictate the way this match is played out, as both teams look for possession.
When the two teams met earlier in the year at, United came out as victors with a 2-1 win. Arsenal thoroughly outplayed United in that match but some naïve defending caught up to them as it has so often this season, and they were punished.
Both teams on paper seem to be on a good run. United have only lost 2 out of 22 and Arsenal have won the 8 of 10. Those numbers don't tell the full story though as United have been grinding out results with unconvincing performances, while Arsenal seem to go on two or three game runs where they play brilliantly but then regress and make amateurish mistakes and are punished in the following game.
This will be an incredibly difficult matchup for both teams and should be an excellent match to watch for the neutral fan.
Here is Arsenal's probable starting lineup:
Goalkeeper – Szczesny
Wojciech Szczesny didn't make the bench on Wednesday because of a virus he contracted. He will under go fitness tests before the match and if he can't go, David Ospina will step back in.
Right Back – Bellerin
Had an excellent performance against QPR on Wednesday, where he dictated the right side of the field in the both the attacking and defending phase of the game. He will face a more difficult matchup on Monday, but his confidence must be sky high and this is encouraging.
One area that Hector Bellerin could work on is his effort to close down wingers faster as to prevent crosses coming into Arsenal's box.
Center Backs – Mertesacker & Koscielny
Per Mertesacker came back into the side against QPR and was excellent, it seems like all he needed was a good rest. His partner on the day, Gabriel, hurt his hamstring unfortunately and will be out for the three weeks. In his place, Laurent Koscielny came on and put in an average performance.
Koscielny was somewhat responsible for QPR's goal, he didn't close down Charlie Austin, and it's likely that Wenger wanted him fully rested for this match. He will have a 5-day rest since Wednesday, so he should be fitter and fresher on Monday.
Left Back – Gibbs
Like Bellerin, Kieran Gibbs was excellent on Wednesday and he seems to be regaining the form that he showed at the beginning of the season.
His pace and tackling will be a major asset for Arsenal as they will look to minimize United's ability to operate on the flanks and prevent them from sending in crosses to towering Marouane Fellaini.
Defensive Mid – Coquelin
The mask that Francis Coquelin has to wear to protect his broken nose seems to have reenergized the Frenchman as he put in a masterful defensive performance against QPR.
In the past 8 years, Arsenal have been somewhat bullied in this matchup. To prevent this, Arsenal will need more of what Coquelin produced against QPR and Manchester City.
Central Mid – Ramsey
The return of Aaron Ramsey is a welcome one, as it will give Arsenal's midfield more balance. This will push Santi Cazorla up to his preferred number 10 role, and Mesut Özil out wide left.
Ramsey will look to dictate the midfield for Arsenal and ensure that they transition smoothly from defense to attack and vice versa.
Attacking Mid – Cazorla
As mentioned above, Cazorla will be moved up to the number 10. This should lead to a more balanced Arsenal midfield and Cazorla, alongside Özil, will look to dictate the pace of the match in the final third.
Wide Right – Alexis
Alexis Sanchez broke his goal scoring drought against QPR with a nifty cut inside the box and a quick shot to the inside of the post, catching Robert Green off guard.
His celebration showed a player who had clearly been affected by his lack of goals, and his elation was enjoyable to see. He seemed to be playing under pressure and with that goal; his performance on Monday could be freer flowing and natural.
Wide Left – Özil
Özil was outstanding against QPR and was Arsenal's most creative player.
Him being pushed out wide to the left should not affect him as he has performed here well since returning from injury. He naturally roams to the wings anyways and will drift wide and central all game.
More often than not he has faded in big matches, he will fired up to change this.
Striker – Giroud
Bagged another goal against QPR, continuing his prolific league form and bringing his domestic goal tally to 10 for the season. Impressive, considering he missed the first 4 months of the season.
He scored a sublime goal the last time these two teams met, unfortunately it was just a consolation goal.
A lot of eyes will be on him, as he is another player who more often than not his failed to make an impact in big matches. He is full of confidence though and he believes that he will make an impact.
He needs to enforce himself upon this match and let United's back three feel his presence.
(4-5-1)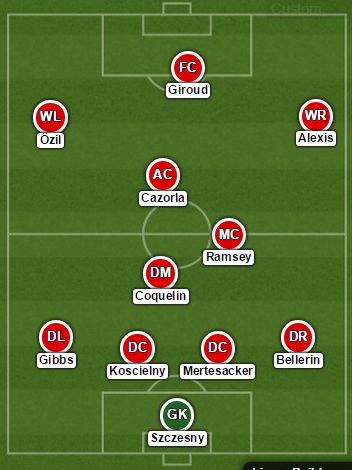 Via – Lineup Builder