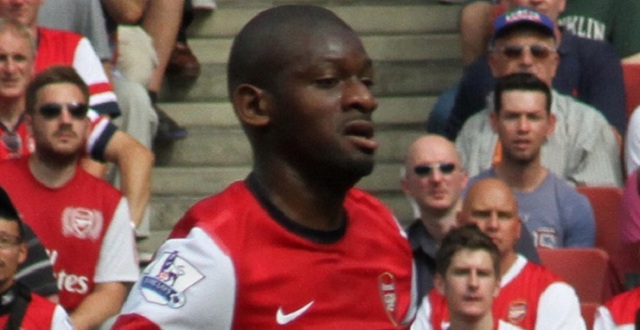 The Mirror are reporting that Arsenal are ready to move on from injury plagued Frenchman, Abou Diaby. The midfielder's contract is up at the end of the season and due to his inability to stay healthy, the Gunner's will let him go.
Speaking on the topic Arsene Wenger tried to stay positive, rightly so as its not as if Diaby can't stay healthy on purpose.
"The only thing I can say about Diaby is that he progresses well in training. He goes step by step but is not yet in a position to play. I will have to talk to him soon about his contract. I pan to do that this month."
Diaby signed for Arsenal in 2006 from Auxerre. At the time Diaby was the captain of the French Under-21 team and showed real potential.
A crunching tackle by Dan Smith in a match against Sunderland, fractured Diaby's ankle in his first season with the club. The injury was so severe; Diaby was concerned that he would have to retire. It's widely believed that Diaby's injury woes stem from that initial injury.
Diaby has been a fan favorite throughout his Arsenal career. Unfortunately much of that has to do with his unlucky health rather than his performances on the pitch.
Gooner's couldn't help but empathize with Diaby as they witnessed the effort he put in to getting healthy. Unfortunately it just wasn't meant to be and Diaby will surely receive a fond farewell from Gunner faithful.
It remains to be seen if Diaby will attempt to continue his career elsewhere, or retire.
In other news, the Mirror is also reporting that Arsenal will choose to renew either Mathieu Flamini or Mikel Arteta's contract, but not both. Wenger wants to bring in another defensive midfielder but to do so; one of the two would have to leave.
It's most likely that Flamini would be the one to leave. Arteta is the club captain and provides invaluable leadership on and off the field. He is widely considered a consummate professional and an excellent example for youngsters to follow.
Although he has had trouble staying healthy this season, he does not have an injury history, and there is no reason to believe he couldn't put in 30 decent performances, including from off the bench, next season.
Flamini, on the other hand, has shown signs of decline. He is an excellent voice on the pitch and is not afraid to get stuck in. However, his performances this year hasn't quite justified being retained over Arteta.
Lastly, the Mirror is reporting that Arsenal are going to bid for French youngster, center back Samuel Umtiti. The French youth international has been linked with a host of clubs recently and Arsenal has been added to the last.
Umtiti would provide cover to Per Mertesacker, Laurent Koscielny and Gabriel. Mertesacker and Koscielny are about to hit their 30's and Wenger has an eye on the future with this transfer.
Umtiti has been praised for his performances this year with Lyon and it remains to be seen if the French outfit would be willing to part with such a promising youngster.
In the meantime though, Arsenal have Calum Chambers who is widely considered to be a future center back. What signing Umtiti means to Chamber's positional future, is yet to be seen. It's possible Chambers' future lies in defensive midfield.
We can safely rule out a future at right back, as his performances haven't been stellar. Besides, Arsenal seems to have found their future right back in Hector Bellerin, who has performed excellently in the absence of injured Mathieu Debuchy.
Signing Umtiti would mean that Arsenal might offload either Mertesacker or Koscielny. This is an unlikely scenario though considering what both players bring to the club on the field and in the dressing room.