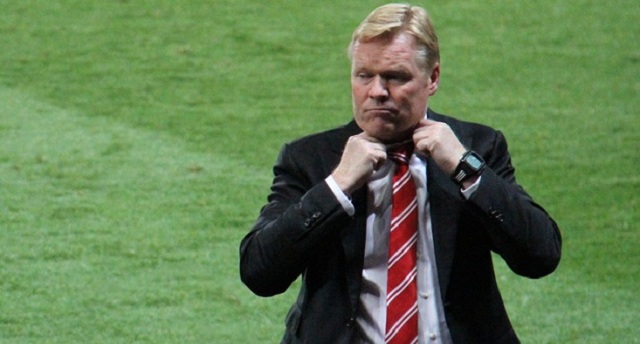 The month of February was not kind to Southampton FC. After starting off 2015 with a five-match unbeaten streak (after ending 2014 on a three-match unbeaten streak), a 3-2 loss to Crystal Palace in the FA Cup seemed to be the least of the worries of Saint's fans.
Since then, the club has won one of their past five matches (all in the Barclays Premier League), scoring a total of one goal for the ENTIRE month. This included a 1-0 loss to Swansea City, a 1-0 win over Queens Park Rangers, a 0-0 draw against West Ham, a 2-0 defeat to Liverpool and a 1-0 loss to West Brom to close out the month.
The Saint's tumble down the table has been swift and decisive, as match after match saw them fall even further. After reaching as high as second in the table, the club began the month of February in third place in the Premier League. The next week they slipped to fourth, and by the last week of February they were in fifth place and were two points back of fourth place.
Prospects did not look good, and fans went from hoping for a Champions League berth to just hoping the club could cling on to a top-ten finish in the EPL. Fortunately, the club was able to make it to the second week of March at sixth place in the EPL. While it may sound like this season may be a lost cause for Saints fans, Europe is definitely still in play.
Let's take a look at the rest of Southampton's fixtures for the remainder of the season. March involves a mere three matches. One already occurred (a 1-0 victory over Crystal Palace), and the rest of the month involves a match at Stamford Bridge against Chelsea and a home fixture against Burnley.
April involves matches against Everton, Hull City, Stoke and Tottenham, and May brings on Sunderland, Leicester, Aston Villa and Manchester City. The average position in the table of their remaining opponents is 11.9, meaning that for the most part they are playing middle-of-the-table clubs. These should be easy wins, and the easiness of their schedule combined with the difficult schedule of Manchester United and Arsenal mean that Southampton isn't as far out of the European picture as people think.
In order to reach Europe, the Saints are going to have to fix a few things. Their offense has been lacking, to put it lightly, for quite a while, putting pressure on the defense to achieve impossible standards. The defense has been their lynchpin all season long, but to expect a clean sheet every single match is a lot to expect for Fraser Forster and his back four (even though Forster leads the EPL with 13 clean sheets), and conceding a single goal is usually the difference in Southampton's recent defeats.
While Southampton's midfield has been consistent all season long, that consistency has not translated up front. While Pelle has cooled off from his impressive start to the season, he is not half the presence he was as recently as a few months ago.
There are plenty of different players and results that must come together for Southampton to make a run at Europe, but the most important thing remains: the Saints may be down, but they are certainly not out.