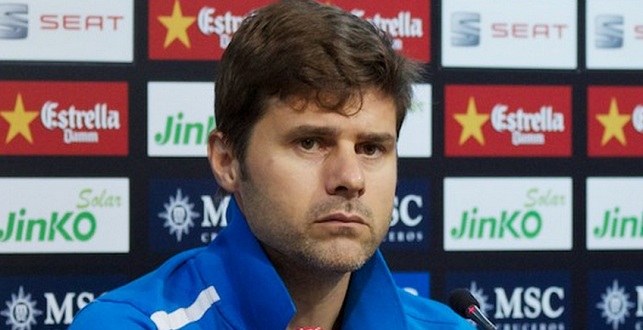 With the clock running down and all hope of a Spurs comeback seemingly lost, one was left to wonder what must have been going through Mauricio Pochettino's mind. In truth Chelsea never faced any real danger of relinquishing their lead once they went ahead through a John Terry first-half strike.
As such, the Spurs manager had the entire second half to ponder his decision to put all his eggs in one basket by sacrificing the Europa League for a game that was drifting away from his team with each passing second.
Much has been made, in recent times, of managers favoring certain competitions and games at the expense of others. The Capital One Cup and Europa League are two examples that quickly come to mind.
Both competitions, are for the most part, perceived by top Premier League teams as unnecessary distractions to more lofty ambitions like the quest for Champions League qualification and league title pursuits.
This is reflected in the decisions of big team coaches who routinely field their weakest starting- elevens in these tournaments. They only start playing their strongest teams at much later stages like the quarterfinals when the competition starts presenting a real opportunity for obtaining some silverware.
As with everything else dealing with hindsight, when this strategy works and the team achieves their main goal, like a top four finish, it is hailed as brilliant. When it fails, however, the coach becomes the subject of criticism. Liverpool's victory over Manchester City is a typical case in point.
Brendan Rodgers' decision to rest Phillipe Coutinho and Jordan Henderson in the Besiktas game paid huge dividends as both players played a huge part in the team's impressive display that put City to the sword at Anfield. This result made the abysmal outing a few days earlier in Turkey a largely forgotten issue. On the flip side of this, you have Tottenham's Capital One Cup final loss to Chelsea.
Mauricio Pochettino's obviously had the league cup final in mind as he made the decision to rest his star players (Kane, Walker, Rose) for the Fiorentina game. Unfortunately, the Argentine's actions came back to bite him in his behind as Tottenham lost both games, crashing out of the Europa League in the process. On this evidence, it would have made more sense to select his best team for the encounter with La Viola.
For starters, the Italian team is very good and opponents have to give their very best if they are to emerge victorious as they showed in both sides' first leg meeting.
Therefore, it was apparent before the kick-off that even with a starting lineup featuring the likes Kane and Rose, Spurs would still have to be at their best to get anything from the game. So, it was a bit of a surprise when the coach selected Soldado as starting striker.
If recent events are anything to go by, the North London team's players are in excellent physical condition and there's no reason why Kane could not have played a prominent role in both games.
Against Fiorentina, he probably should have started, possibly contributed a goal or two (or at least give the opposition's defense something to think about), and get substituted just before the 70th minute mark.
Now, this may very well not have happened but I'd much rather risk a Kane for 60 minutes than put all my hopes on Soldado for 90 minutes if I really want to get something from a game. Besides, when the fact that Champions League qualification can be achieved via the Europa League is considered, this gamble becomes less of a bad idea– with the players at their disposal, Tottenham stood a very decent chance of winning the competition.
However, and as I stated earlier, hindsight is a wonderful thing so we should not be too quick to judge Pochettino. Afterall, he'd have been considered a genius if his plan had worked. Only a handful of managers would have done anything different in his situation.
To put things into perspective, a Capital One Cup victory and Europa League qualification would be considered a good achievement for Spurs (anything else like a top four finish is a bonus).
So, it wasn't unreasonable for the manager to risk everything to win the silverware in sight as opposed to hoping his team was good enough to win a Europa League trophy that is still in the early knock-out rounds and months away from the final. A bird in hand they say is worth two in the bush.
Regardless, if come the end of the season Tottenham fails to finish in the top four– a very likely scenario– fans could be forgiven for wondering what would have been had Pochettino just taken the Europa League a little bit more seriously.