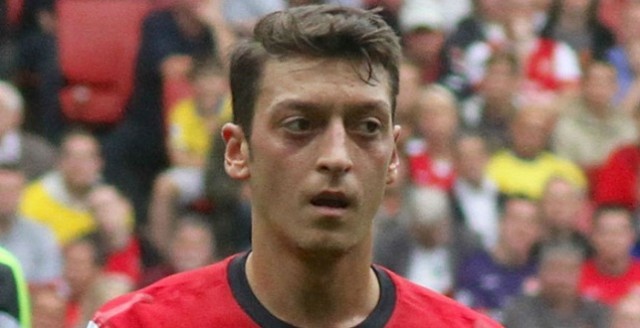 Since returning to the squad in late January, Mesut Ozil has perhaps enjoyed his most successful run of form since he joined Arsenal in August of 2013.  Ozil scored 3 and assisted on 2 more in his first 5 games back in the squad.
While not being a part of the scoring since then, against Middlesborough, Opta stats credited Ozil with creating 7 goal scoring chances. That tally was more than any other player in the FA Cup that weekend. He also notched two assists against Everton this past Sunday which gives him 5 in his last 5 Premier League matches.
As to why the German international has struck such a rich vein of form, look no further than the personnel which surrounds him. For the first time since the Invincible team of 2004, competition for places exists at almost every position for Arsenal. Couple the heated competition, with players who have pace and who are willing runners and the result is an abundance of options for which Ozil can choose.
Many have bemoaned Ozil during his time at Arsenal and are expecting more from the club's record signing. He is a player whose world class reputation is built upon his immaculate technical ability and the ease at which he connects the game and creates scoring opportunities for his teammates.
Ozil is not the type of player to pick up the ball 30 yards from goal and run through the defense to score. He is a player who relies on his delicate first touch, clever technical ability to create space and vision to supply teammates.
He had a poor showing against Monaco, but it seems as though even in the wake of the Everton match his performance still garnered criticism. Ozil provided 2 assists, had a 92% pass rate and 5 "key" passes (credited by whoscored.com) all while clocking more miles than any other player.
But he does not seem to be earning the praise a performance of that quality, usually merits. It's not as if Ozil was idle for much of the match either. Ozil managed to find the ball 62 times, 4th best on the day for Arsenal and only 4 touches less than the leaders, Kieran Gibbs and Alexis Sanchez.
The issue with Ozil does not seem to be related to his ability or his output but in his lack of perceived intensity. When compared to Alexis, Aaron Ramsey, Jack Wilshere, Alex Oxlade-Chamberlin and Danny Welbeck, all of whom can be seen constantly charging around the field to close down the ball or make runs forward, Ozil certainly fails the initial visual comparison.
This point is most obvious when it comes to putting a foot in, and making a tackle. Everyone seems to be screaming out for him to show some bite and competitiveness, two traits that could certainly elevate his game to the next level.
But in fairness to Ozil, his positioning and tactical awareness both with and without the ball tends to be very good, therefore he rarely needs to panic and make up ground. Additionally, if commentators and pundits were more inclined to make note of the times when Ozil tracks back to cover for Alexis or Cazorla the perception of his work ethic would be much different.
Ultimately, for the first time in his tenure at Arsenal, Ozil finally has a team around him which allows him to demonstrate his true ability. How he performs during the business end of the season will go a long way in determining his place in the hearts of Arsenal supporters and the minds of the media.
Provided Arsenal can stay fit, Ozil's current form sees him poised to be among the key pieces behind Arsenal's push for a Top 4 finish.