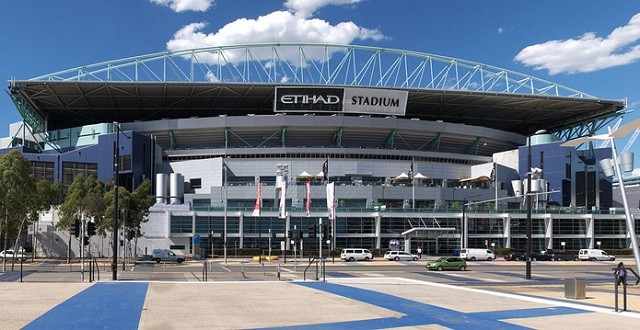 After a shocking second half performance, Manchester City saw their title hopes further wither away, anything but three points in this fixture would put the final nail in the coffin. Currently sitting five points back and having played a game more, potentially falling behind by ten or more points at this stage would essentially spell the end for the title race, something nobody wants to see besides a Chelsea fan.
It is of the highest importance that City get a quality performance from everyone on the field. Frankly, anything less than a 3-0 victory should come as a disappointment. Nothing against Leicester City, but a team that possesses the likes of Aguero and Yaya Toure should rebound in a very noticeable way after a crushing defeat.
Goalkeeper
Joe Hart has a knack for conceding spectacular goals. Liverpool had scored all of four goals from outside the box in the Premier League before Sunday when two spectacular strikes left Hart with no chance.
There isn't much to say other than Henderson and Coutinho were magnificent on the day. Don't expect any long range efforts to beat Hart here.
Defenders
While Kompany is in a bit of a rut by his standards, he will start yet another game as Manchester City's captain. Pay particular attention to his reaction, because he is the leader of the team. While he is out of form, he must still be able to rally the troops to reach the end objective. His leadership will be on full display, and how he commands the situation may have implications for the future.
Mangala looked reasonably comfortable dealing with most of Liverpool's attacking movement, and he should certainly start. He's ten years younger than Demichelis and should be an integral part of City's defense in the future. Pellegrini should give starts to Zabaleta and Kolarov. Why? Both are excellent going forward, and City need to come out firing on all cylinders. A slow start is the last thing Manchester City need at this stage.
Midfield
Yaya Toure will start. If Manchester City start the game without their midfield powerhouse, it will come as a surprise to many. The midfield against Liverpool looked to be overrun tactically, something that will not be a problem against a team in the bottom half of the table. With that being said, it's about dominating the middle of the park for City.
Leicester will be perfectly content to contain and wait for a break. Complacency has been a theme this year for the champions and cannot continue if there is to be a title push. This is the type of game Lampard should start and have great influence over. While his age does limit his total minutes, it is time to go with players who have proven themselves to be capable. This is why James Milner should also get the nod.
These two players have been the model of consistency throughout their respective careers. You know what you're getting when you put them out on the field. Silva should also be part of the eleven to provide a creative spark, since he has shown his quality and importance to the team in many ways many different times.
Forwards
Pellegrini would do well do select both Aguero and Bony. What Aguero has done for Manchester City isn't quantifiable. Bringing the title back in such dramatic fashion after what seemed like an eternity is something City fans will be eternally grateful for.
Bony saw more yellow than the ball in the time he was on the field over the weekend. Eventually Pellegrini has to give him the chance to spread his wings and perform. Nobody wants to see another episode like Scott Sinclair unfold.
(4-4-2)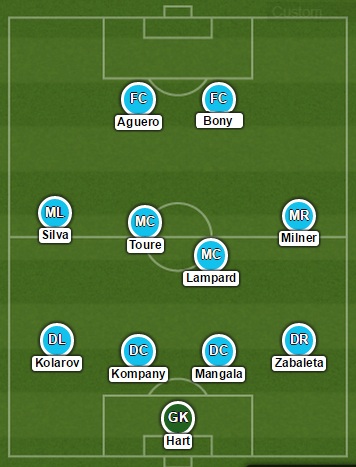 Via – Lineup Builder