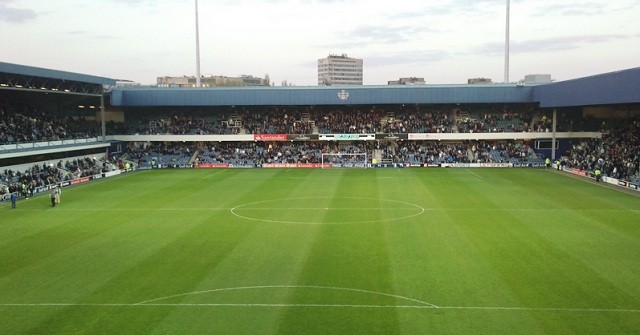 Arsenal face QPR Wednesday at Loftus Road in a bid to close the gap between them and Manchester City. Currently Arsenal sits in 3rd and City in 2nd with only 4 points separating the two. Manchester United sit in 4th but are only separated from Arsenal by 1 point. Dropping points against a poor side such as QPR is not acceptable for Arsenal, hence the feeling that this match feels like a trap match.
Arsenal could be without the services of Francis Coquelin who broke his nose against Everton on Sunday. Coquelin attempted to finish the match but was eventually taken off with a minute left in regulation after misjudging a header and "nosing" the ball instead.
This puts Arsene Wenger in a selection bind, as there is no clear healthy alternate defensive midfielder. Mathieu Flamini is the obvious choice but he has only recently rejoined first team training. Aaron Ramsey has been touted as a possible replacement but like Flamini, he has only just returned to first team training.
This leaves Calum Chambers who came on to replace Coquelin and has played in this position against Southampton earlier in the year. New boy Krystian Bielik could also be an option but that seems unlikely.
Other than Coquelin, the only other changes Wenger will look to make are for rotational purposes. This allowing for some to rest and others to gain match sharpness in preparation for their FA Cup quarter final matchup at Manchester United.
Here is Arsenal probable starting lineup.
Goalkeeper – Ospina
David Ospina had his best performance in an Arsenal jersey last weekend and kept Wojciech Szczesny's on the bench.
Right Back – Bellerin
He bounced back with an impressive performance over the weekend. He defended well and constantly looked to be a danger on the right hand flank.
Left Back – Monreal
Kieran Gibbs looked like he was playing within himself a bit against Everton. He was possibly afraid to commit himself to far forward as he didn't want to be beaten on the break. At the same time when he did get forward, he lacked creativity and purpose in the final third.
Nacho Monreal hasn't featured for a week and prior to that, his performance level hadn't dropped. It's likely that he steps in for this match in preparation for Man U, who he is likely to feature against.
Center Backs – Gabriel & Koscielny
Per Mertesacker deserves and needs a prolonged break and Gabriel is allowing him to do this. The Brazilian put in an impressive performance, bar two almost costly mistakes, and grew as the match went on. He put in an arguably goal saving tackle on Romelu Lukaku that showed his speed, timing, and tenacity.
Defensive Mid – Chambers
It seems unlikely that Coquelin will be fit for this match although he has a chance. No news or updates have been provided on his status, and it's not known if he needs surgery or if a mask will suffice.
If he does need a mask, he still would need to be fitted for one and its possible that a mask can't be made for him time for this match. Its probably best that he be spared from this match, increasing the likelihood he features in the FA Cup.
This match likely comes to soon for Bielik but he could feature on the bench. This seems unlikely too though.
Central Mid – Rosicky
This match seems a bit too soon for Ramsey to start in but he will absolutely feature at some point. In the mean time Tomas Rosicky will step in and allow Santi Cazorla a breather.
Attacking Mid – Özil
Mesut Özil was Arsenal's best player against Everton, along with Ospina. If you don't believe me, comprehend these stats.
Özil led the team in passing completing 43/47 passes, led the team in final third passes with 29/31, led the team with 5 key passes, had 2 assists, and was 5/6 with his crosses. If that isn't enough for you, look here.
Wide Right – Oxlade-Chamberlain
Wenger recently said that modern day attacking players need to be able to attack well, obviously, but also be able to immediately switch focus and defend when called upon. If they aren't able to do this, they won't play. Essentially he is saying that players need to be balanced, and one can't help but think that he may have been talking about Theo Walcott.
In the system that Arsenal plays, their wide players need to defend. When Walcott is playing wide, he is essentially operating as a wide striker and he doesn't provide the same defensive cover as Alex Oxlade-Chamberlain or Danny Welbeck might.
Walcott seems destined to be an impact player off the bench the rest of the season. What kind of implications that will have on his contract, which expires after next season, remains to be seen.
The Ox will continue to look to gain match fitness and reclaim his iron grip on the wide right position. He has been Arsenal's best player in this position both defensively and offensively when he has been healthy.
Wide Left – Alexis
He was withdrawn with about 10 minutes to play and seemed unhappy and frustrated. What's most likely is that he was unhappy about his performance, rather than being unhappy with his substation, and this frustrated him.
It's normal for players to have a dip in form at one point of the season. The Premier League is a long and arduous campaign. Alexis will pick up his form soon.
What he might need is a breather, but the Chilean is unlikely to allow Wenger to rest him.
Striker – Welbeck
He hardly featured against Everton and will be well rested for this game. This will allow Olivier Giroud to rest a bit, having refocused himself by bagging a goal against Everton. This will also allow Welbeck to get his first start as striker in months.
(4-5-1)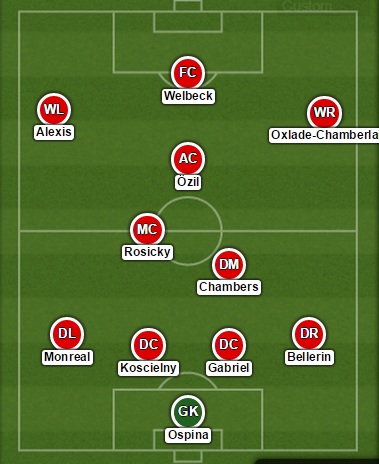 Via – Lineup Builder