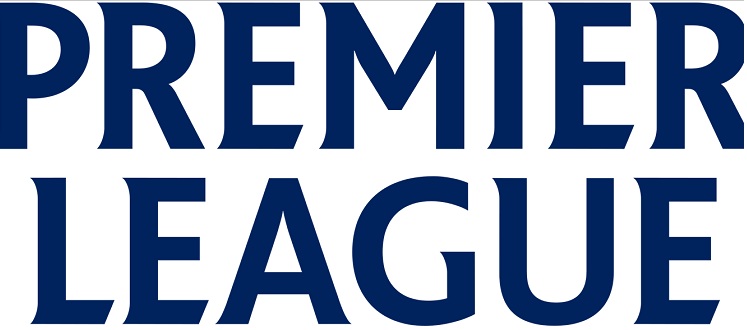 The biggest news this weekend was the Manchester City loss against Liverpool. That loss put them 5 points behind Chelsea, destroying any and all hopes they had of retaining the title. It also moved Liverpool to within 2 points of a Champions League spot.
Arsenal reached third after a less than convincing victory against Everton, whilst Manchester United needed a penalty and a man advantage to beat Sunderland, a game where the ref sent off the wrong player.
In other news, Crystal Palace stormed past West Ham in a very eventful game, and West Brom defeated a strong Southampton side that may start slipping down the table before the season ends.
This week, there was a group of players who stood out among their peers. Here is my TOTW.
Goalkeeper – Lukasz Fabianksi (Swansea City)
Fabianski has gone from goalkeeping cup games to being one of the first names on Gary Monk's team sheet. The move to Wales has allowed for his career to truly flourish. In the game against Burnley, Fabianski kept his 10th clean sheet* of the season and made 6 saves in the process. He helped his team see out a satisfying away win against a very underrated Burnley side.
Defender – Scott Dann (Crystal Palace)
You may never see him pass the ball out like Hummels, or curve free kicks into the back of the net like David Luiz, but Dann is a solid player in his own right. He is a throwback to the English defenders of the 80s, willing to put his head where other won't.
Dann scored the all important second goal with a deft header, and then led his side to a comfortable victory against a West Ham side, who have been highly praised this season.
Defender – Marc Wilson (Stoke City)
Wilson simply doesn't put a foot wrong. He doesn't seem to do things too rashly, and seems to actually think out his actions. His ability to read the game is vital to this Stoke side, and he limited Hull to just one shot on target.
He helped Stoke's defense to beat a Hull side — who are starting to look more and more like relegation material with each passing day — and build on their win against Aston Villa last weekend. He is vital to this Stoke backline.
Defender – Gareth McAuley (WBA)
Ever since McAuley was reinstated into the side on December 6, WBA have kept 7 clean sheets in 13 Barclays Premier League games. Before McAuley's reintroduction, WBA had kept just 4 clean sheets in 14 games.
Okay sure, hiring Tony Pulis as a manager is going to give you greater defensive solidity, but is it random chance that Pulis turned to the Northern Irish veteran to lead his team out of the relegation zone? No it's not. McAuley continued his excellent vein of form, contributing to the somewhat shocking victory against Southampton, a team challenging for a Champions League spot.
Midfielder – Jason Puncheon (Crystal Palace)
In one play, Jason Puncheon has the ability to frustrate and amaze in equal measure. He does have a tendency to hold onto the ball for too long and to take shots from ridiculous angles. But against a very strong West Ham side, Puncheon showed only his good side.
He picked up 3 assists, and was a real handful for the West Ham defense, causing them a lot of problems. If his form continues, he could find himself labelled the next England savior.
Midfielder – Philippe Coutinho (Liverpool)
The last time Coutinho scored against Manchester City, Liverpool were on course to win the League. On Sunday, the stakes may not have been as high, but for Liverpool, the win meant one step closer to the Champions League.
That makes it two screamers in as many weeks for the Brazilian playmaker. Besides his goal, Coutinho was a real nuisance for City's defense, and in particular Kompany, as he zipped around the field, looking for an opening to split the defense in half with a magical pass.
Midfielder – Jordan Henderson (Liverpool)
It's hard to believe that not too long ago, Henderson was being criticized for his price tag, as people complained that his performances did not match the price tag. £20 million may have seemed like an awful lot at the time, but now it looks like peanuts.
Liverpool have a player who can replace Gerrard, not only with his box to box running, but with midfield goals. What a goal that was! Steven Gerrard himself would be proud of that one. If Henderson can continue to develop and continue to score, then he can be a Kop legend in his own right. If he's even half as good as Gerrard…
Midfielder – Mesut Özil (Arsenal)

Two assists. If any other player had picked up two assists in a game, would there even be a question as to why he's in the team? No. But because he's Özil, two assists is just an average game for him. The first, a beautiful corner that Giroud finished with aplomb; the second, a pass to Rosicky that very few players could've seen. Oh, the standards you've set for yourself Mesut.
Forward – Glenn Murray (Crystal Palace)
Two goals and a red card. That's a Balotelli hattrick. Murray was hugley influential in Palace's game, scoring two vital goals as the Eagles continue rising up the table. The red card won't look great on his resume, but it didn't matter as the game had already been won. After spending a large part of his BPL career on the sidelines, it's nice to see him scoring.
Forward – Wayne Rooney (Manchester United)
Before the game, van Gaal was clamoring on about how United were in need of a 20 goal a season striker. Perhaps he should've first looked at his squad. Wayne Rooney has scored 10 goals in 23 appearances, and whilst those numbers aren't terrific, he has been playing most of his games in central midfield.
With the weekend game, Rooney became the first BPL player in history to score 10+ goals in 11 seasons. If that isn't a consistent goal scorer, I don't know what is.
Forward – Pappis Cisse (Newcastle United)
After a truly woeful season last year, where he only score 2 goals the entire season, Cisse has banished the demons to lead Newcastle up the table. That strike against Aston Villa was the all important game winner, and now means that Cisse is on 11 goals this season. The only problem is that with Cisse performing this well, it is only a matter of time until he gets sold.
Manager – Alan Pardew (Crystal Palace)
I could've gone with Brendan Rodgers, who masterminded a fantastic win over Manchester City, or Tony Pulis, who led his WBA side to victory against Southampton. But instead I'll choose Alan Pardew. He has led Crystal Palace's rise up the table, orchestrating four wins out of seven games. Let's not forget that this win came against West Ham, hardly pushovers.
In fact, I think that Palace had the hardest fixture, with City low on confidence after the Barcelona loss, and Southampton beginning to decline after an exceptional season. In addition, whilst both Liverpool's and WBA's wins were at home, Palace's win was away at Upton Park, never an easy visit. He is catching up to Newcastle and is only one spot below them. Newcastle must be kicking themselves now.
Substitutes: Foster; Can; Gabriel; Fletcher; Cork; Berahino; Crouch
(3-4-3)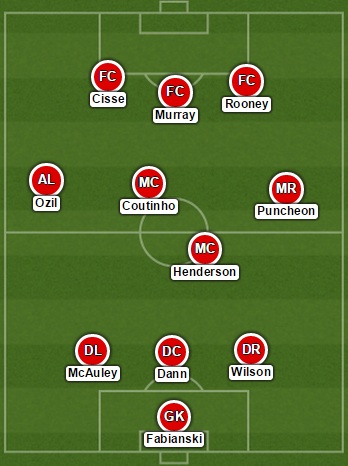 Via – Line Builder
*all stats are provided by Squawka