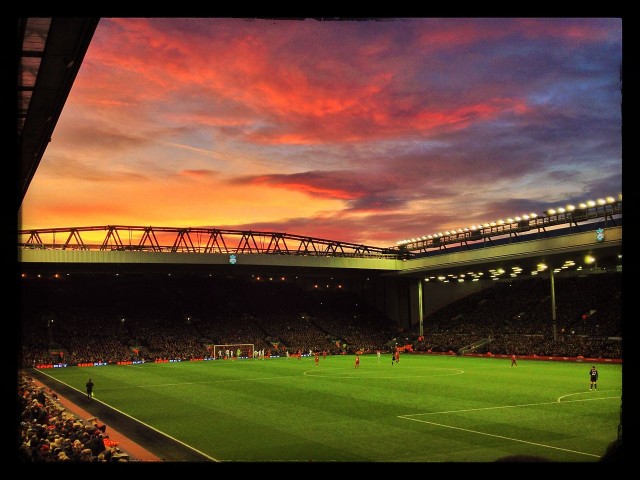 After the disappointing exit to Besiktas in the Europa League, Brendan Rodgers and Liverpool were able to get back on track right away with a valuable 2-1 victory against Manchester City. Despite coming into the match with a less than ideal amount of rest, the team produced a confident display that reflected their electric form at the moment.
They now face a Burnley side that is currently in the relegation zone and without a victory since January. While the Reds will be entering this match with loads of confidence, they should not forget that they will be facing a side that is dangerous and motivated to provide the upset.
Goalkeeper
Simon Mignolet improved as the match went on and was fortunate to only concede 1 goal since Sergio Aguero hit the post after already letting Edin Dzeko beat him to tie up the score. While Burnley is not exactly known as an offensive powerhouse, Danny Ings has 9 goals this season and he is more than capable of turning the match on its head with a single chance.
Center Backs
Emre Can returned to the back line after one start in center midfield, and looked much more settled in that role. Martin Skrtel led the defense against Aguero and Dzeko well but he will face another tough challenge with Ings coming to Anfield.
With the health of Mamadou Sakho still in question, Rodgers will probably start Dejan Lovren again. He rebounded well after missing the penalty in the Europa League and he will need to make sure that that result does not affect any of his performances the rest of the season.
The defense could be troubled by the width of the Burnley attack and will have to work with the full-backs to make sure that no dangerous crosses enter the box. They should also be encouraged by the fact that they were able to keep the much more dangerous City offense in check, aside from the 1 goal they allowed.
Right Wing Back
With Jordon Ibe out for up to 4 weeks with a knee injury, it looks like Lazar Markovic will be starting most of the matches. While his attacking contributions will be needed, he should make sure that he does not allow Ben Mee to get behind him, he scored the equalizer against Chelsea.
Center Midfield
Jordan Henderson scored a trememdous goal after 10 minutes and was also able to hold his own against Yaya Toure. Joe Allen was similarly outstanding in the middle of the pitch, he kept the ball moving and provided solid defense.
They will be facing the less physical midfield of Burnley and should have more time on the ball to find the right passes. They will also be getting some reinforcements soon with Steven Gerrard back in training.
Left Wing Back
Alberto Moreno has been playing much better the past few matches and he should put in another solid performance on Wednesday. With 2 Burnley players on his flank, he will likely be pushed back to help out the defense. With that said, Moreno should still have multiple opportunities to use his speed when Liverpool goes on a counter-attack.
Forwards
Raheem Sterling assisted both goals and was better in this match after disappointing against Besiktas. Daniel Sturridge came on as a substitute during the weekend but should get a start on Wednesday.
He hasn't scored in the Premier League since his return against West Ham but he should be able to break through a weak Burnley defense. Philippe Coutinho gave a masterful performance against City, he scored another goal of the season candidate to win the match but he was also the one who usually started every Liverpool offensive movement.
The three attackers will be able to create multiple chances against the team that has allowed 45 goals this season, the most in the League, and they all possess the ability to take those chances and convert them into goals.
(3-4-3)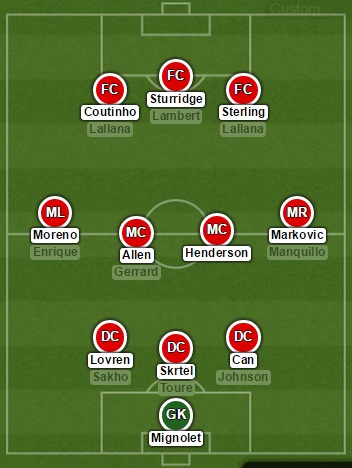 Via – Lineup Builder