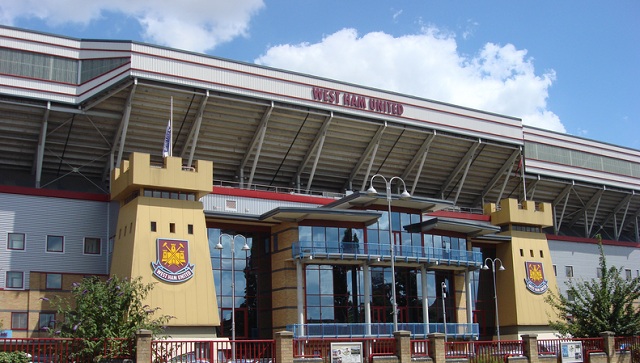 While Chelsea were off winning the league cup, West Ham spent the weekend stuck in the middle of the Premier League table after another sub-optimal performance. The two London clubs will meet for the second time this season this Wednesday (2:45 PM EST), at Upton Park.
After a strong start to the season (West Ham were fourth after 17 matches), The Hammers have only managed one win in their last ten; a dismal run of form that began with a 2-0 defeat to Chelsea on Boxing Day. Following their latest defeat at home to Crystal Palace, manager Sam Allardyce found himself the bookies favorite for the next manager to be sacked in the Premier League.
It is difficult to see West Ham turning it around anytime soon. Aside from the difficulty of a fixture against the league leaders they also have very little to play for. On 39 points and 9th in the league, West Ham are in no danger of being relegated and have a minimal chance of qualifying for Europe.
One could argue they are within striking distance of the Europa League (they sit seven points back of sixth place Southampton), however, no one would be shocked to find out if Allardyce and players both preferred not to partake in that tournament.
Chelsea on the other hand captured their first trophy of the season on Sunday and are in the running for two more. After dropping points against Burnley last week it looked as though the title race was back on with their lead cut to just five points. However, an impressive display from Liverpool against Manchester City on the weekend saw the gap remain at five and leave Chelsea with a game in hand.
Chelsea were impressive defensively and incredibly disciplined throughout the league cup final. Yet, this is a team that can play in a number of different styles and does so according to the opponent at hand. West Ham's strength is in their speed up front and along the wings. It will be important for Chelsea not to allow the space for Diafra Sakho and Ener Valencia to run directly at the back four.
However, The Blues are still without Nemanja Matic and John Obi Mikel. Against Spurs, Mourinho employed 20-year-old centerback Kurt Zouma alongside Ramires in the center of midfield. Zouma impressed but struggled to turn defense into attack in the way that Matic does.
The young Frenchman broke the play up well but often times lacked the composure to turn up field and cleared balls out of play as if they were cut across the six-yard box. This is not a particularly bad trait, though it does prevent sometimes limit Chelsea's ability on the counter-attack where they have been so successful this season.
It is imperative that Ramires and Cesc Fabregas close in the space alongside Zouma and provide him an easy outlet. In the second half against Spurs, the three midfield men were positioned directly in front of the back four and prevented Christian Eriksen and Harry Kane from using their speed to beat the defense.
It helped that Gary Cahill played his best game since December and John Terry continues to play like the best defender in the Premier League. The pair made a number of key blocks in the remaining minutes as Tottenham pushed for a late goal.
It had looked in recent weeks at times that the backline of Chelsea was fatigued from a lack of squad rotation. However, on Sunday the familiarity of Terry and Cahill with Cesar Azpilicueta and Branislav Ivanovic was key in shutting down a potent Tottenham attack. Their knowledge of one another will be integral in keeping another clean sheet against West Ham.
The Chelsea defense has also been a source of offense in recent weeks. Terry and Ivanovic have together scored a combined four goals in the last five matches. Their size is a constant threat from set pieces and Ivanovic has done well to get himself into the attack from open play but Mourinho will expect more from his forwards.
Eden Hazard is the most fouled player in the Premier League and Champions League and Chelsea's outlet on the wing. The Belgian has nine league goals and six assists this season. Only Fabregas and Costa have been involved in a higher percentage of the team's goals this season.
The success of Costa and Fabregas goes hand in hand with the team and are perhaps a reason why Chelsea has looked vulnerable in recent weeks. Costa has failed to score in his last six and Fabregas has not recorded an assist in seven. The pair connected for Chelsea's second goal on Sunday (though it was ultimately ruled an own goals).
Since the return of Ramires, Oscar has found himself in more a supporting role. With Matic out, Ramires is needed in the center and Fabregas is pushed forward, leaving Oscar without a spot in the starting eleven. However, Willian and Juan Cuadrado continue to underwhelm on the right and Mourinho may eventually opt to see what Oscar can do from the wing.
The more likely scenario is that Oscar will continue to come off the bench until the defensive stalwart that is Matic returns to the side. For now Mourinho looks set to keep Ramires and Fabregas in with Zouma and have Hazard and Willian provide outlets on either wing.
(4-5-1)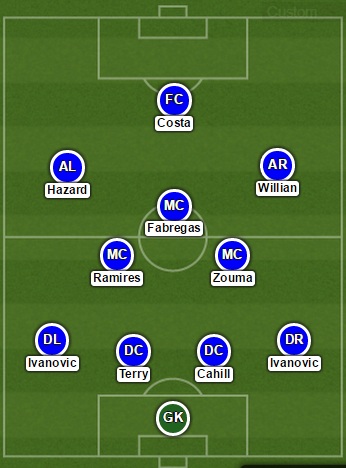 Via – Lineup Builder