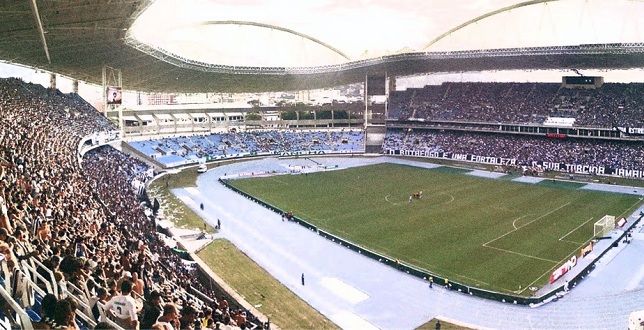 It wasn't always pretty for Palmeiras in their Paulistão match against Capivariano, but two late goals from Robinho gave Verdão a 2-0 victory. 
The win gives Palmeiras 15 points through 7 rounds of the Paulistão, which puts them comfortably in first place of Group 3. The loss keeps Capivariano at 6 points, still good enough for 2nd in the weak Group 4. 
The match started off quickly for Verdão, as the Argentine Cristaldo hit the woodwork within the first four minutes. Although Palmeiras controlled possession, they went the remainder of the first half without another real chance. Capivariano had their best chance of the match at the 39th minute of the first half when their captain Hélio's header off of a corner kick went into the side-netting.
The second half began like the first, with Palmeiras creating the chances. Cristaldo had an attempt in front of the net, but a nice save by Douglas Friedrich, the Capivariano goalie kept the ball out of the net. Palmeiras' next chance came off of a free kick taken by Zé Roberto in the 16th minute of the second half, which went high and wide of the target.
Palmeiras were consistently frustrated by both Capivariano and the officials during the second half, to the point that a 0-0 draw appeared possible. However, Verdão kept possession and were eventually awarded a free kick in the 35th minute of the second half thanks to a foul drawn by Gabriel. Robinho took the kick and slotted it into the top corner of the net to give Palmeiras a 1-0 lead.
Capivariano attempted to bring men forward, but were simply not strong enough to hold possession, and Robinho added a second goal to give himself a brace and seal the match in the 43rd minute of the second half.
Palmeiras were not always impressive today, but Robinho's brace was enough for the 3 points. Verdão have now won 4 matches in a row, and have not conceded a goal in any of those 4 matches. Granted, the competition have not been of the highest quality, with Palmeiras facing the smaller sides of São Paulo, but a stretch of 4 consecutive clean sheets for the Palmeiras keeper, Fernando Prass, is a positive development nonetheless. 
Verdão certainly miss the playmaking capabilities of the Chilean Jorge Valdivia, and reports are unclear when he will return to the lineup. It will no doubt take time for Palmeiras to fully integrate the 19 new signings into the lineup, and though the results have been solid, with the only losses coming against fellow Brasileiro Série A sides Ponte Preta and Corinthians, Palmeiras are clearly still a work in progress.
Palmeiras return to action on Wednesday when they travel to face Vitória da Conquista in the first leg of the first round of the Copa do Brasil.