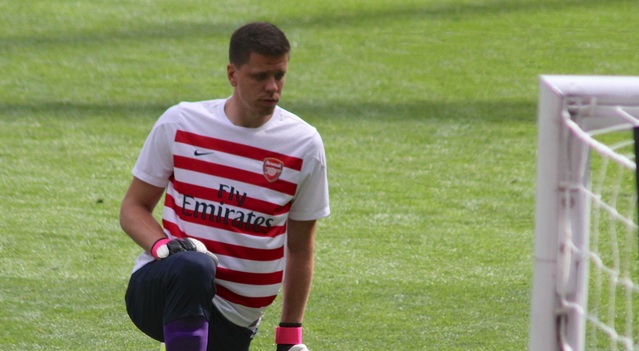 After a shocking team performance midweek versus Monaco, Arsene Wenger should be looking at rotating his team line-up for the weekend game against Everton. One such change that he should be pondering is the reinstatement of Wojciech Szczesny as goalkeeper. Should Wenger replace David Ospina with Szczesny?
Yes, yes he should. Even though Ospina isn't entirely to blame for all of Arsenal's defensive woes during the Monaco game, a world-class keeper keeps his team in the game, against all odds. Think of Thibaut Courtois in Chelsea's first leg against PSG; a game where he made save after save to keep Chelsea in the Champions League. I'm not saying that Szczesny could've single-handedly won Arsenal that game — and he couldn't have, Arsenal were too poor — but he may have been able to mitigate Arsenal's collapse.
Granted, Ospina is indeed a solid and reliable option at the back, and an excellent shot-stopper. But then again, any top goalkeeper is a skilled shot-stopper. In addition, Ospina is always cool and collected, and does everything at his own pace. He also has the concentration to spectate the game for long periods, and then produce a save when called upon. But he has some major drawbacks.
The first of which is his height, or lack thereof. Standing at 6-feet tall may not seem that small, but for a goalkeeper in the Premier League, where you have teams like Stoke who enjoy crossing the ball into the box, problems arise. He cannot reach the ball as comfortably as he would like, which often leads to issues with catching the ball.
This creates another one of his problems which is his constant punching of the ball. When Ospina punches a cross or parries a shot, it always seems to go straight to the opposition. Just catch the ball, it's less nerve racking!
Szczesny, on the other hand, has the potential to be special. As he is 6-foot-5, Szczesny has no issues with getting to the ball. In fact, I believe that he relishes the physical battle, allowing him to show the forward who's in charge. And he certainly catches the ball far more than Ospina.
His long-range passing, a trait very important in a side that plays with a target man (Arsenal), is accurate enough to reach Giroud, its intended target more often than not. But questions remain about his mentality and concentration, two traits that Ospina has in spades. If you were able to combine Ospina and Szczesny, then you would have a world-class keeper. Oh, if only…
What made Szczesny get kicked out of the side in the first place? It was a combination of a loss in form and an incident that portrays just how far Szczesny still has to develop.
However, Szczesny loss in form, going from Golden Glove winner to pariah, coincided with Arsenal being without 2 key defenders, in Koscielny and Debuchy. In the 17 BPL apperearances he made, he kept just 3 clean sheets*.
In that time period, he conceded an average of 1.24 goals per game, and he made an average of 1.4 saves per goal. The numbers aren't great, but they aren't terrible. Courtois has an average of 1.81 saves per goal this season, and he's a Belgian jungle cat (bless you Ray Hudson). It was during this time, that Szczesny's decision making became poorer, and it felt like he had taken it upon himself to turn Arsenal's fortunes.
However, Szczesny didn't have Coquelin in the side providing extra support to the defense. He also didn't have the benefit of playing in a side that actually attempted to defend. Losses to teams like Swansea, where Arsenal defended like little children, didn't help his reputation. These defensive changes may make Ospina look a better player than he really is.
In comparison, during his 6 BPL appearances, Ospina has 3 clean sheets and makes an average of 3.75 saves per goal. A remarkable number. But due to Arsenal's new-found defensive tactics — actually deciding to defend — Ospina has only conceded an average of 0.67 goals per game.
Sure, another reason that Szczesny was left out of the side was that he was caught smoking in the showers after a game against Southampton. That seems like a good enough reason to be left out. This incident shows just how immature Szczesny still is, and just how much he still has to grow.
Despite all of his faults, Szczesny could grow to become one of the best goalkeepers in the world. He does of course, have the ability to keep his side in the game. A perfect illustration of the ability that he has was on display when Arsenal played Liverpool in 2012. With the score still at 0-0, Liverpool were handed a dubious penalty — Suarez did what Suarez does best … dive — and not only did Szczesny save Dirk Kuyt's penalty, but he saved the rebound too.
He threw himself towards the rebound shot and turned it around the post. Not palming it right back to Kuyt, but around the post. Arsenal would go on to win the game 2-1, thanks to Szczesny. If Liverpool had scored that early on, Arsenal might not have won the game. In that game, he did what world-class keepers do: win points for their team. He now needs to perform like that on a regular basis to reach his full potential or end up like any number of disappointing goalkeepers.
* all stats are provided by Squawka