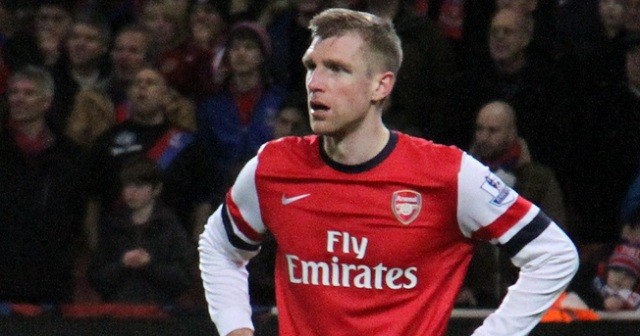 Arsene Wenger's pre-match press conference, perfectly summed up the feeling around this match and how Arsenal needs to response.
"The only way is to respond to disappointment, work for each other and fight for each other in the next game."
Hopefully the response involves a disciplined performance, which balances both attack and defense equally. A healthy rotation of the squad to keep everyone fresh and ready for QPR during the midweek and Manchester United the following Monday, should lead to a balanced performance in Arsenal's match against Everton Sunday at the Emirates.
Wenger admitted the need to rotate his squad this weekend as Arsenal face a crucial two weeks of their season. In the next two weeks they face tough opposition in Everton in the league, an FA Cup quarterfinal against Man U, and the return leg in the Champions League against Monaco, which Arsenal will need to win by a three-goal margin.
Unfortunately, Arsenal will be missing Aaron Ramsey and Jack Wilshere who are still out injured. Ramsey today returned to full training, and Wilshere had a small procedure done to remove screw in his ankle. This procedure should keep the Englishman out for a couple of days, NOT weeks.
We may see Gabriel Paulista make his full Premier League debut in place of Per Mertesacker who had a poor performance during the week and has played every game possible for Arsenal, bar the League Cup.
Theo Walcott should come in to replace Danny Welbeck who will be rested, and we may see Tomas Rosicky for either Alexis Sanchez, Santi Cazorla or Mesut Özil.
Either way, a positive performance with a good response and result is imperative this weekend, and should lift the squad to finish their season in a responsible manner.
Here is Arsenal's probable lineup:
Goalkeeper – Szczesny
I'll admit it, it's unlikely that Wojciech Szczesny replaces David Ospina, but I can hope. Szczesny is the better goalkeeper and I think that Wenger has made his point that Szczesny needs to be more mature.
It's hard to argue that Ospina was at fault for any of the three goals, but he should have done better on the third one, and I would put money on Szczesny saving 1 of the 2 other goals.
Unfortunately Wenger has a checkered history when it comes to goalkeeping choices. Manuel Almunia still elicits a loud groan from Gooners worldwide.
Right Back – Bellerin
Hector Bellerin was caught up field too often and put Mertesacker in difficult positions constantly. Bellerin wasn't the only one to do this against Monaco and really the more experienced players should have noticed this and communicated this to him and everybody on the pitch.
His performance isn't a reason to drop him quite yet as Calum Chambers hasn't won this spot for now.
Center Back – Gabriel & Koscielny
Mertesacker bore the brunt of the lack of depth in defense in the beginning of the season. After enduring a long, exhausting but successful World Cup, Mertesacker came back into the squad almost immediately after returning from holiday. It's likely that this is starting to catch up to him and the former German international good use a breather.
Gabriel will step in with energy and confidence carried over from a good performance against Middlesbrough. He will want to prove himself in front of his new home fans and show that he can provide genuine competition to the top two center backs.
Left Back – Monreal
Kieran Gibbs, like Bellerin, was caught up field too often and neglected his defensive responsibilities at times. Wenger is likely to revert back to using Nacho Monreal, who doesn't venture too far forward, but is still more effective in the attacking phase of the game at times.
Defensive Mid – Coquelin
He was hauled off and replaced by Alex Oxlade-Chamberlain to inject more attacking intent into Arsenal's game.
Monaco was not Francis Coquelin's finest performance, but the lack of balance in Arsenal's midfield did not give him much to work with either.
Center Mid – Cazorla
In the end its likely Wenger's stubbornness will persist and he will employ Cazorla in a deeper role again. This works against teams such as Middlesbrough, but not good Premier League teams. Everton is a good Premier League team.
If Ramsey or Wilshere were healthy they would start and provide balance, in a sense though, Wenger's hands are tied with this selection. It's hard to argue that Rosicky would provide more balance than Cazorla, as he too is an attacking minded player.
Attacking Mid – Özil
I outlined yesterday why Özil did not perform poorly against Monaco, here, and I do not want to rehash it. At the end of the day though Özil plays in a position that is dependent on his teammates movement. If they do not provide him an option or an outlet, you are not taking full advantage of him. Luckily for him, a player who does know how to use Özil properly gets a start in this match.
Wide Right – Walcott
Walcott is that man who knows how to use Özil. He was the only player to start his runs from wide and cut inside. This stretched Monaco's defense and he was put through once, and almost got through another time.
Welbeck and Sanchez both like to venture central keeping the field narrow, Walcott on the other hand, starts wide and makes his runs to the inside, using his blaring pace to stretch defenses.
Wide Left – Alexis
As much criticism as there is directed at Özil, you could argue that Alexis deserves some criticism as well. Yes he works incredibly hard, and I do not fault him for that in fact I wish more players had the energy that the does. However, he gets caught on the ball quite a bit and he tends to slow Arsenal down at times.
It seems that he needs slight rest to reenergize himself mentally and physically. Alexis is still Arsenal's top performer of the season and arguably the signing of the season in the Premier League. He is dangerous with the ball on his feet and is always looking to score or create for his teammates.
But, we have seen him perform better this season. Better things are to come of him.
Striker – Giroud
He was truly abysmal against Monaco and should have scored at least a brace. He was rightfully hauled off at the 60th minute, but we should not turn on Olivier Giroud. He had been in blistering goal scoring form and sometimes players have an off day, they are human remember.
Starting him in this match is important because sending him to the bench would send him the wrong message. Giroud of all players can't wait for the next match and is looking to have a huge impact on this game. A goal would do wonders for his confidence and put his performance against Monaco well in the past.
(4-5-1)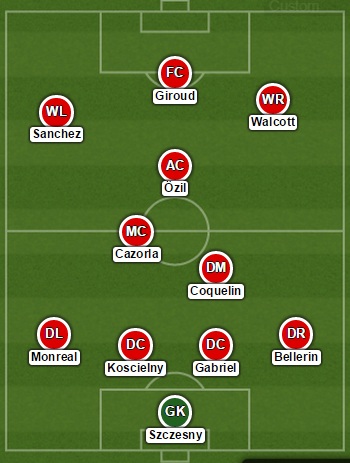 Via – Lineup Builder