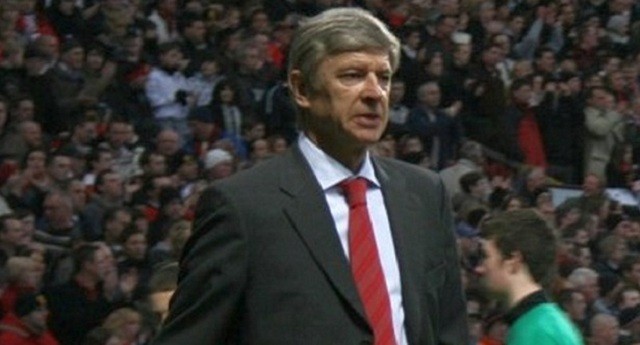 After a hugely disappointing night in North London on Wednesday, Gunners everywhere are turning for answers. Arsenal were graced with some luck for once in the Champions League, being handed one of the more hopeful draws in Ligue One's Monaco. After years of drawing Barcelona and Bayern Munich, Monaco was a dream come true for Arsenal. So how did a night full of promise end so horribly?
Arsenal entered the match with a lineup that greatly trumped Monaco's in terms of talent and stardom. Also, the Gunners have been flying high in the premier league as of late, winning five of their last six matches. With their stars healthy and in form, there was every expectation of Arsenal relishing the moment and trouncing Monaco on their way to the Quarterfinals. But like years past, the Gunners have fallen embarrassingly in huge games. The problem lies in the lack of discipline in the squad, and the manager is mostly to blame.
A big problem was made by the Frenchman before the game had even begun. Arsene Wenger deployed a lineup that was waiting to be exposed by a deceivingly good Monaco side. Nacho Monreal has been fantastic as of late in Arsenal's Premier League run, and snubbing him out of the starting lineup for a rusty Kieran Gibbs left Gunners scratching their heads.
While Gibbs is certainly a threat in the attack, he was caught forward far too often, as was counterpart Hector Bellerin. Also like Bellerin, Gibbs never really influenced the final third, and couldn't get back to help to the effect of Monreal. It was a mess from the start, and showed how vulnerable the Arsenal defense really is.
If your full backs aren't getting back in cover, you better be sure that your centre backs are playing very well. Neither were the case for Arsenal on Wednesday, and they conceded three goals for it. Mertesacker and Koscielny both took risks on the second and third goals respectively, both missed their challenge, and both were punished. Mertesacker has long been pinned for being slow, and he showed it against Monaco.
Carelessly and desperately lunging his leg forward around midfield, he helped spring Dimitar Berbatov on the way to Monaco's second goal. Wojeick Sczcesny's father will be the first one to tell you the German has perpetually been struggling, and it will need to be addressed. Koscielny was no man of the match himself, as he lacked the sharpness and awareness needed to advance to the Champions League Quarterfinals.
Another issue with the lineup was the holding midfielders, once again. While Francis Coqelin has played well lately, he just isn't good enough for Arsenal to win the big games. He provides a fairly adequate defensive cover, but he lacks size for aerial and physical challenges and technical creativity going forward. This basically means that he needs help, and we found out quickly that Santi Cazorla was not capable of providing that.
When paired with someone like Aaron Ramsey, Coqelin and the Arsenal midfield is more stable. Ramsey is more of a true center midfielder and has the wherewithal and defensive ability to track back and provide cover. Once the game got going Cazorla was trying to be too involved in the attack in the final third, which he rightfully should be due to his recent form, but not in this situation.
Ahead of him were the likes of Mesut Oezil, Alexis Sanchez and Danny Welbeck, so Cazorla needed to hold back and have a more defensive mindset. He didn't though and Monaco broke the counter attack open, although the little Spaniard never should have been in that scenario.
When it finally came to finishing, discipline was again a problem. Oliver Giroud had six attempts before he was subbed off after just an hour, none of which were on target. Two of those six were wide open goals that should have been easy for the French striker with his eyes closed. Giroud does always make decent runs and find himself in the right place, but his finishing on Wednesday night was unlike what were accustomed to. A mindset is to blame, as we know he has all the physical traits.
Whether naivety or lack of discipline was the case for Arsenal's failures on Wednesday, neither are acceptable and blame falls on the shoulders of the manager. It is understood that they are making a strong push and contention for top four in their Premier League campaign, so their minds may be occupied. But this is the Champions League, and should deserve full attention. I mean, this is what you finish in the top four for. This was their easiest chance to advance in years, and this should have been Arsenal's night.
Arsene Wenger knew all of this, and he blew it. With their heads hung in embarrassment, Arsenal must now travel to Monaco and try to do something that no team has ever done in this scenario, advance. As it is an improbable feat, Wenger's men will have the chance to win back Gunners everywhere, with a comeback for the history books.