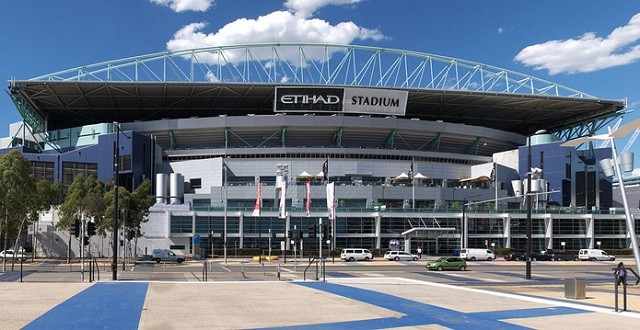 Barcelona produced an exceptional performance against Manchester City in the last sixteen of the Champions League. The Catalans seized the Etihad Stadium on Tuesday night as Manchester City failed to impress over the Spanish giants.
Manchester City looked goal shy at the Etihad, while Barcelona's Luis Suárez placed two past Joe Hart to seal the game. The second leg of The Champions League will take place in Barcelona's home stadium, The Camp Nou on March 18th, with the eventual winners moving on to the quarterfinals of the competition.
From a tactical standpoint, Barcelona deployed incredible versatility to achieve a win over Man City. Executing their traditional 4-3-3 formation, Barcelona's midfield presence outshone City's compact lineup at the middle of the park and left the English side open to attack on numerous occasions.
City implemented a 4–4–2 formation with Agüero and Džeko as the two front men, which clearly did not work. Pellegrini will have to analyze every possible situation if Luis Enrique decides to play a more defensive game at Camp Nou.
For starters, Pellegrini can engage Barcelona with a single striker. There is no doubt Agüero was more of a threat as a lone striker than Džeko ever was. Placing an additional left or right midfielder might make the difference for City, as it was ever so difficult for City's back four to distribute the ball up the field.
Yaya Touré, a former Barcelona star, returns from suspension and will be expected to make his way into the starting eleven in the Camp Nou. With a 4-5-1 formation or frankly just another 4-3-3 with a different approach, might just make the difference for Man City to clutch victory from the Spanish opposition.
A pressure hungry frontline consisting of Messi, Neymar, and Suárez made it impossible for City's back four to completely get any passes to their midfield, which drastically suffocated their first half presence.
Messi made all the difference for Barcelona and was the consistent factor that unlocked City's stacked midfield. He backtracked, played a Xabi-esque position, and was the leading man that led to both goals. Messi's only slip up came from a blocked penalty opportunity to kept City's hope intact.
Pellegrini adjusted his squad during the second half, and by doing so changing the tempo of the match, which was mostly in favor of Barcelona's possessive style. With a change in Nasri in support of Fernandinho and Wilfried Bony for Džeko, City was able to put one past Marc-André ter Stegen a minute into Bony's Champions League debut.
Clichy's red card only hampered City's momentum shift and might have been the difference City needed in order to secure a tie or even a win. One thing is for sure, Pellegrini have his work cut out for a hungry Spanish team ready to prove its worth as they have failed to keep a consistent form in La Liga.