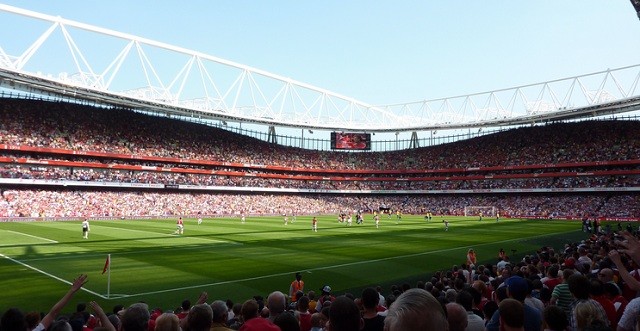 It was suppose to be a "kind" draw for Arsenal as they squared up in their Champions League Round of 16 tie against French side Monaco. But in the end Arsenal were left to rue their missed opportunities and poor defensive shape.
It felt all too familiar as Arsenal huffed and puffed throughout the first half yet failed to produce a shot on goal. Both Danny Welback and Alexis Sanchez produced chances for Arsenal and it was Santi Cazorla who looked bright and provided a number penetrating passes for the aforementioned Sanchez and Welback as the duo tried their best to find space behind Monaco's back four.
But the manner in which Monaco took the lead on 38 minutes will be seen as particularly painful. After Welbeck was stripped in possession, it was Geoffrey Kondogbia's deflected 30 yard effort that beat David Ospina to put the French side ahead.
What was particularly worrisome about the goal, to Arsenal Manager Arsene Wenger, was the amount of space in which Kondogbia was afforded. Arsenal were left exposed after giving away possession at midfield. Monaco broke quickly and exploited the gaps in Arsenal's defense.
Arsenal produced a strong opening to the 2nd half, but they were again hit on the counter as an old nemesis, Dimitar Berbatov came back to haunt them. Arsenal were caught napping and Anthony Martial latched onto a ball in behind the Arsenal backline and squared a pass for Berbatov who made no mistake with his finish. For the second time on the night Arsenal were inexplicably caught out of position and Monaco made the Gunners pay.
Before being substituted, Olivier Giroud failed to capitalize on the chance of the match and then only moments later Welbeck missed a similar opportunity, both were approximately 8 yards out with the goal at their mercy, yet faild to convert.
Substitute Alex Oxlade-Chamberlin seemed to give Arsenal a lifeline late in the match, as his curling effort from the edge of the box cut the deficit in half. But the joy was short lived as moments later in the final minute of stoppage time, Yannick Ferreira-Carrasco again restored Monaco's 2 goal lead. Carrrasco was the beneficiary of an Oxlade-Chamberlin turnover from midfield and from there, but the game and possibly the tie out of reach.
3-1 may have been flattering for the visitors, as for Arsenal it was a game which held similar characteristics to when Manchester United visited the Emirates back in November. Monaco defended well, provided little opportunity for Arsenal to create, looked dangerous on the counter and took their chances. Arsenal will feel as though they had chances in the match, but ultimately their attack lacked creativity, their team defending was at times unforgivable and untimely giveaways were their downfall.
This is the fourth year in a row where Arsenal will be headed into the return leg of their Round of 16 tie looking to overturn at least a 2 goal deficit.