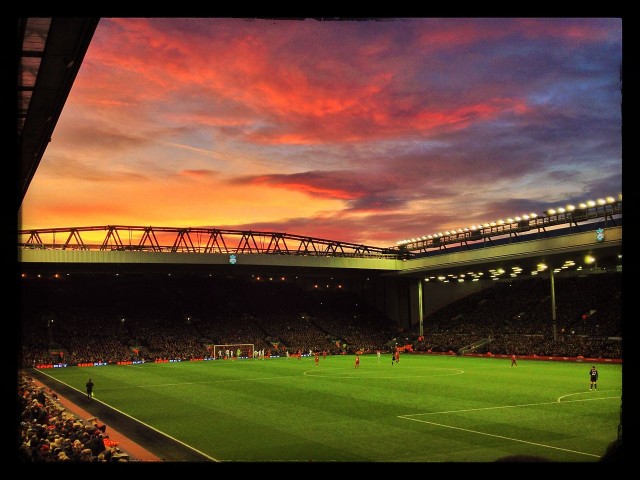 Manchester City desperately need to make up ground on the league leaders Chelsea. While their Premier League opponent will not have near the quality as Barcelona put out on the pitch in the midweek Champions League clash, City will be up against an in form Liverpool team. The Liverpool players have put together a string of positive results that indicates their season may be about to turn a corner.
Unfortunately for the Reds, injury woes have potentially diminished the team available to Brendan Rodgers as they face a City team who will be up for the task, as they cannot afford to fall further behind Chelsea. With the return of Yaya Toure, City will have another option in midfield. Wilfried Bony will probably get his chance to impress Sunday, because a Clichy red meant he did not get much of a chance to assert himself.
This is a pivotal game for both teams with City trying to remain in the title hunt and Liverpool sniffing at a top four finish. The difference in this game could very well come down to the injury list. Liverpool have the likes of Gerrard, Sakho, and Henderson struggling with fitness, while Manchester City have a squad at full strength.
Goalkeeper
This one should be a no brainer every week. Joe Hart has solidified his position as both England and Manchester City's top choice. His penalty save against Messi in the dying moments against Barcelona has kept the tie interesting heading into the second leg.
Defense
The usually stellar City defense looked a step slow at the start against Barcelona. Look for Mangala to possibly come into the side for Demichelis to deal with the pace of Liverpool's attackers.
Kompany will anchor the back, holding the armband. Zabaleta and Kolarov will be set to run up and down the flanks for the Citizen's cause. With Clichy's red card midweek, Pellegrini might be hesitant to throw him back into the side.
With the return of Sturridge and the inevitable return of the dance, City's back line needs to be prepared for a striker who feels as if he has much to prove coming off a series of injuries.
Containing Sturridge will be key for City from a possession standpoint. If he finds joy up top early, it could be a dance party. As City throw men forward, particularly the outside back, the counter is a threat that needs to be watched closely, because Liverpool attackers certainly have pace.
Midfield
Yaya Toure – the man has been welcomed home after his month long absence from the team. Surely he will feature in the side, especially since he was suspended for the Champions League Matchup. Most probably Fernando will start alongside him in midfield, providing a nice complement to the Ivorian's play.
With a powerful spine to the midfield, look for Nasri and Silva to play outside. Having fielded such a strong center of the park, Nasri and Silva will have room to maneuver and find their space.
Forwards
Unless Aguero is in desperate need of a break, he will start this crucial match. Dzeko seems to do better off the bench, and especially after getting the nod midweek, Bony will probably get his shot to go the distance. If the game is still in question, look for Dzeko to come on after seventy/seventy-five minutes.
(4-4-2)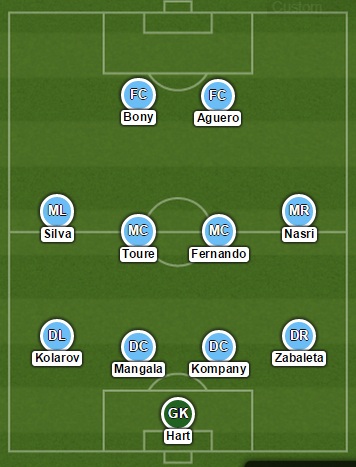 Via – Lineup Builder