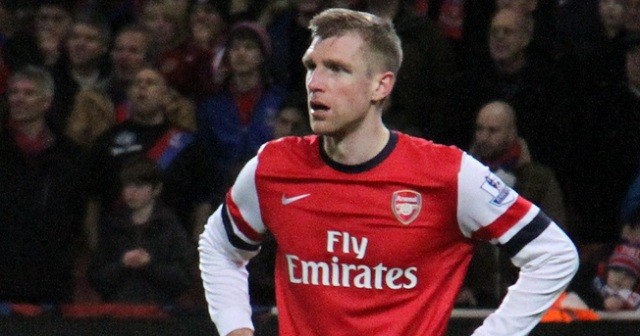 Arsene Wenger has lamented Arsenal's "suicidal" defending last night against Monaco, claiming his players played with "their hearts not with their heads."
Arsenal started brightly creating a couple chances in the early stages of the game, only to fall behind 2-0 after poor defending.
The Gunners came back in the 91st minute to make it 2-1, but again they defended with naivety and conceded a third goal with the last kick of the game.
Of the performance Wenger claimed that Arsenal's balance was off as they constantly sought to attack and neglected their defensive responsibilities. He also cited a lack of mental sharpness as a possible reason for Arsenal's horrid display, but ruled at complacency as a factor.
Per Mertesacker, who had a very poor game and was responsible for the second goal, claimed Arsenal need a "wonderful night" in their return leg in Monaco. The retired German-international acknowledged how poor Arsenal played, and said his team can only hope for a special European night in Monaco.
Arsenal seemed off balance the entire night, they had too money attacking players on the field, and their fullbacks were too committed to going forward most of the game.
It took Monaco three passes for them to break easily into Arsenal's half after the Gunners would lose possession, which happened to often.
Arsenal truly missed a central midfield like Jack Wilshere, Aaron Ramsey, or Mikel Arteta who could organize the midfield and apply some structure. That is not Francis Coquelin's job; his job is to protect the back four.
It was interesting to see Coquelin removed for an attacking minded player, although considering the score it made sense, it did leave Arsenal incredibly vulnerable and is more evidence showing how much Arsenal missed a midfielder like the aforementioned three.
Santi Cazorla played as the box-to-box type midfielder Arsenal needed on the night, but he is not suited to that role against a Champions League team. Against a team like Middlesbrough it works because Middlesbrough like the attacking options to punish Arsenal on the break.
The signs were there in previous shaky performances against Leicester City and Crystal Palace. Arsenal lined up with the same attacking minded midfield and they were in constant danger when caught on the break.
Fortunately for Arsenal, Ramsey and Wilshere should be available before the return leg to provide the needed balance. The fact that Olivier Giroud, the entire back four, and David Ospina had horrible performances didn't help Arsenal either.
David Ospina should be dropped, he is not a goalie with an upward trajectory potential wise, and he likes the height, the confidence, and has poor distribution skills. It's hard to argue he is a better shot-stopper than Wojciech Szczesny but he isn't worse, that's the only thing going for him.
He should have done better on the first goal. Yes, it was a deflected shot, but he had enough time to make a quick attempted adjustment and at least try to make a move to the ball. I understand that that is easy for me to say, but he is a professional and Arsenal is a top squad who deserve a top quality goalie who is able to make such reactions. Ospina is not that goalie and Szczesny is more likely to be. Remember, Szczesny was the co-Golden Glove winner last season alongside Petr Cech. Footballs fans and pundits have too short a memory sometimes.
Ospina should have saved the third goal, Szczesny's length would have aided him there, and although the second goal was not the Columbians fault, one wonders again if he had the height and arm length that Szczesny does, could he have saved it.
One last detail from last night's match. Theo Walcott's introduction showed a key component that Arsenal lack attacking wise. He is the only player who makes runs inside from a wide position. This benefits Mesut Özil, who was better than some would like you to think.
Özil is not that type of player who is going to dominate all aspects of the game. He is strictly a number 10 and is efficient at that. He is not responsible for organizing Arsenal's poor defense; he is strictly responsible for creating chances. If his teammates are not performing and making the correct runs or any runs for that matter, Özil's impact on the game is limited. Rather than focus the attention on Özil's struggles, you should look at what his teammates offered him last night.
Having said that, this was Özil's first below average performance since returning from injury, and he has been a key component of Arsenal's good form since the beginning of January. The past two months have been somewhat of a footballing renaissance for him and his contributions should not be forgotten. Criticism of him is not justified.
It is too easy to target and criticize Arsenal's record signing because of the amount that they spent on him. The expectation that every time he touches a blade of grass on a football field, magic will happen, is ridiculous. Magic does not exist, and Özil is a world-class number 10, who plays in a position and fulfills a role that depends on the movement of his teammates.